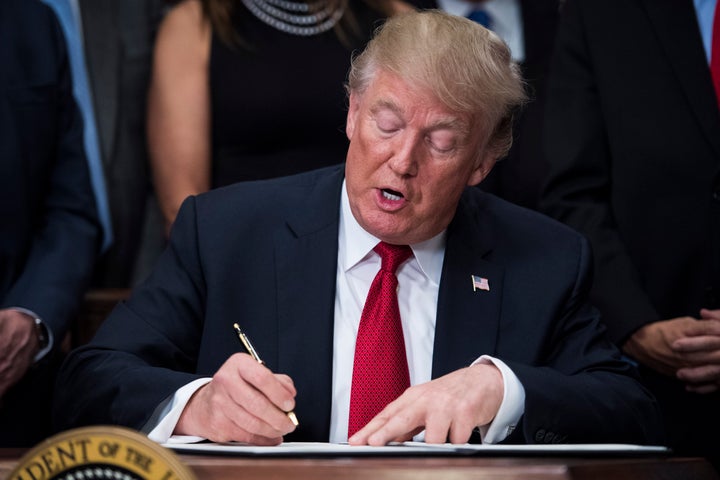 Five-thousand dollars. That's my rough annual calculation of what President Donald Trump's decision to stop making Cost-Sharing Reduction (CSR) payments to health insurers will cost a Maryland couple in their early 60s purchasing a CareFirst Blue Cross Blue Shield Silver HMO plan from the Maryland Health Exchange under the Affordable Care Act (ACA).
They're far from alone. Across America, two to three million Americans — many self-employed — who participate in the Affordable Care Act's health insurance exchanges but earn too much to receive premium subsidies may have to pay 20 to 30 percent more for their health insurance.
What's so maddening is that people will have to pay more for no positive public purpose — in fact, for no defensible reason at all.
The Affordable Care Act (ACA) provides for CSR payments to be made to insurance companies to defray the costs of providing lower deductibles and other out-of-pocket costs to lower-income people participating in the exchanges. The insurers are required by law to minimize cost-sharing for lower-income customers, so premiums will rise by an estimated 20 to 30 percent to compensate for President Trump's CSR cut-off. 
For exchange participants earning under 400 percent of the poverty level, federal subsidies will increase to make up the difference. That protects millions of vulnerable Americans — one reason for the ACA's success — but it does mean that the federal deficit will increase by $200 billion, according to the Congressional Budget Office (CBO). So from a purely fiscal standpoint, ending CSRs is cutting off your nose to spite your face.
For many of the rest of us, it's a disaster. Keep in mind, these 20 to 30 percent rate hikes will slam families of two earning more than $65,000 and families of three earning more than $81,000. The vast majority are squarely in the middle class.
Some will find themselves unable to afford the higher premiums and join the ranks of the uninsured. Others, like my wife and I, who are both self-employed, will purchase Bronze plans with deductibles of $6,500 or more per person to avoid the Trump rate hike, which in many states applies only to medium-deductible (roughly $3,500 per person) Silver plans. So we pay more one way or the other.
And we'll be hurt in other ways. Some insurers may pull out of the health exchanges, deciding that participating when the federal government reneges on its promises isn't worth the risk. So ACA participants will find less competition and fewer choices. Or no options whatsoever — the CBO estimates that ending CSRs will result in 5 percent of Americans living in areas with no ACA insurers.
So this is lose-lose-lose — bad for many health exchange participants, bad for taxpayers, bad for our health care system. Why do it? And why do it at the most damaging possible time, just as open enrollment is about to start for 2018?
The only explanation I can offer is that this is governing by temper tantrum. Donald Trump has been desperate to repeal the ACA because his primary goal as president seems to be undoing President Obama's achievements. With Congress — just barely — falling prey to the reality that taking away health care coverage for 32 million Americans would be an act of political suicide, Trump is trying to destroy the law from inside the executive branch. In addition to ending CSRs, his October 12th executive order, cutting the open enrollment period in half, and slashing funding encouraging people to sign up are all hand grenades aimed at the heart of the ACA. 
We often think of temper tantrums as annoyances. But when the president of the United States holds one, the damage to millions of Americans can be appalling. As it is in this case.
Of course, our plight doesn't compare to the millions of Americans in Puerto Rico who have gone weeks without power and water, to DACA recipients at risk of deportation, or to all of us threatened by the possibility of nuclear war with North Korea. But middle- and upper-middle-income Americans are an important political constituency to the Republican Party. And this Trump rate hike is not what his supporters thought they were voting for.
A bipartisan compromise bill authored by Sens. Lamar Alexander (R-Tenn.) and Patty Murray (D-Wash.) would restore CSR payments and take other steps to ensure that the ACA works as intended. But the reaction from Trump and Republican leaders in Congress suggests its prospects are slim. And another bill authored by Sen. Orrin Hatch (R-Utah) and House Ways & Means Committee Chairman Kevin Brady (R-Texas) would restore CSRs, but at the unacceptable price of making other changes that would sabotage the ACA.
So I urge all Americans who will pay thousands of dollars more a year because of Trump's actions — and all others outraged by this cruel, reckless decision — to let the president and Congress know we won't stand for it. And make them pay the consequences of government by temper tantrum.
Bruce Kozarsky is a writer living in Takoma Park, Md. He and his wife are self-employed and receive their health insurance through the ACA's Maryland health exchange.
REAL LIFE. REAL NEWS. REAL VOICES.
Help us tell more of the stories that matter from voices that too often remain unheard.
BEFORE YOU GO