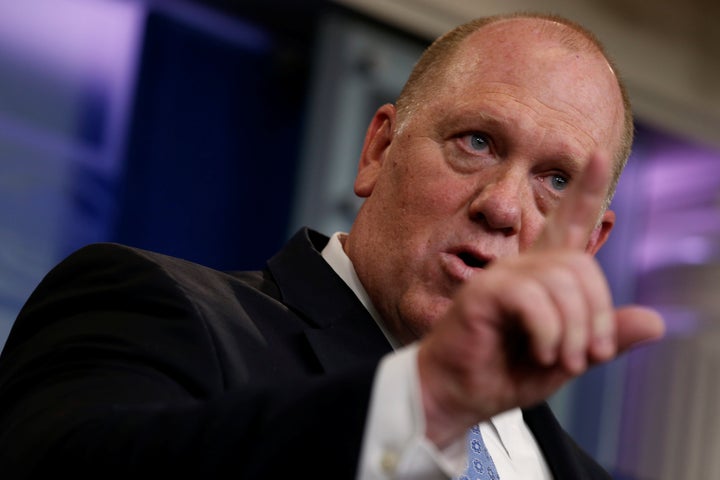 Acting Director of Immigration and Customs Enforcement Thomas Homan will retire from government service, he announced Monday, after spending the last 14 months serving as the most controversial deportation chief in the agency's brief history.
"It has been the honor of my life to lead the men and women of ICE for more than a year," Homan said in a statement. "The decision to leave federal service after more than 34 years is bittersweet, but my family has sacrificed a lot in order for me to serve and it's time for me to focus on them."
Homan had initially filled the position on an interim basis last year while the White House looked for a formal nominee, an ICE official said Monday. Though the White House nominated Homan to the position in November, he informed the Department of Homeland Security early this year that he intended to step down because of family considerations, according to the official.
Homan told HuffPost earlier this month that his family had received threats since he took charge of the agency.
But Homan had also recoiled at the notion of passing through a politically contentious Senate confirmation hearing, according to the The Wall Street Journal, which first reported the news.
Despite receiving the nomination to head ICE six months ago, Homan's confirmation hearing had yet to be scheduled. A group of 17 mostly Democratic senators penned a letter Friday pressing DHS to cough up documents it had given to the Senate's Homeland Security Committee and questioned whether he should continue to head the agency after 14 months without confirmation.
"The absence of a Senate-confirmed head of ICE for more than a year hinders Congressional oversight and the efficient operation of the agency and is troubling in any circumstance," the letter said. "We understand that the Trump Administration may be concerned about Mr. Homan answering questions under oath about his leadership of ICE, as well as the possibility that Mr. Homan's nomination could be defeated in the Senate."
The Senators went on to accuse Homan of carrying out "radical – and in some cases possibly illegal – changes in immigration enforcement policies and practices." The cited the separation of hundreds of undocumented children from asylum-seeking parents after crossing the U.S.-Mexico border, reversing the presumptive release of pregnant women from immigrant detention, and discarding a decades-long policy of halting deportations for individuals at the request of Congress.
Those changes were "accompanied by inflammatory and inaccurate statements," the letter said, noting Homan's alleged use of the derogatory epithet "tonk" to refer to unauthorized immigrants, which HuffPost first reported in a lengthy profile earlier this month. The term is a Border Patrol slang that derives from the sound of bashing an immigrant over the head with a metal flashlight. (Homan denied using the term.)
In an administration bogged down by infighting and high turnover, Homan had appeared to easily win Trump's confidence, pressing ahead with the White House's deportation agenda enthusiastically, despite the political blowback.
But Homan's abrupt departure leaves the signature agency charged with Trump's deportation efforts leaderless and without a clear successor.
"Everyone is surprised," a former DHS official told HuffPost. "ICE has never had a deep bench and over the last year and a half it's become increasingly weak. I would hope they're looking outside the agency for someone with fresh ideas."
Homan had also recently complained to co-workers that he'd been increasingly marginalized by DHS Secretary Kirstjen Nielsen, who left him out of negotiations with lawmakers on immigration reform earlier this year, according to The Washington Post.
"There's a lot of paperwork involved," Homan said at the time. "We're on the finishing touches."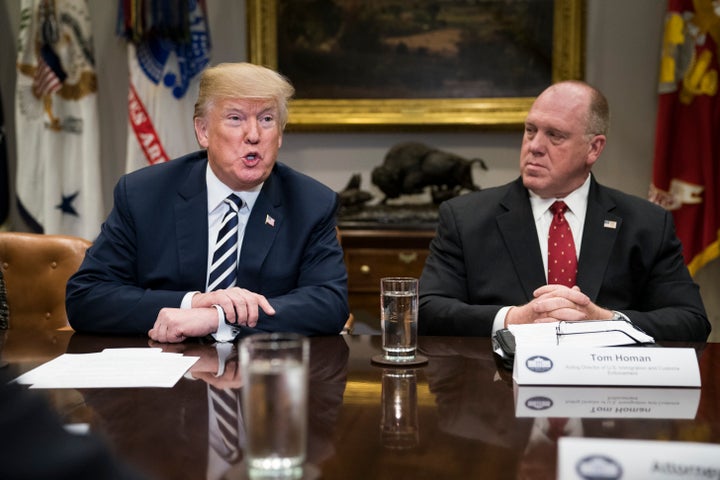 Monday's announcement brings to a close a three-decade career in law enforcement that began when Homan joined the police department of the 2,000-person village of West Carthage in upstate New York. After serving four years as a Border Patrol agent in the 1980s, Homan steadily rose through the ranks of immigration enforcement, first as an investigator with the now defunct Immigration and Naturalization Service, and later as an administrator with ICE, which was created in 2003.
Homan's background in the rank-and-file brought with it an uniquely detailed understanding of all aspects of immigration enforcement and his tenure was characterized by a glorification of the deportation officers whom he views as unfairly vilified by legal groups and the national news media. Even among critics of Trump's immigration crackdown, Homan himself has remained widely respected among current and former DHS officials.
But he also brought a uniquely combative attitude to a position that has traditionally been filled by lawyers who shy away from making contentious statements about immigration enforcement ― one of the country's most divisive political issues. Homan earned the ire of both immigrant rights groups and Democratic politicians by asserting that, under his watch, unauthorized immigrants "should look over your shoulder, and you need to be worried."
In perhaps his most bombastic statement, Homan in an appearance on Fox News urged the Justice Department to consider prosecuting local officials who embrace "sanctuary" policies that limit local cooperation with ICE.
Even as he prepared to exit government service, Homan remained a booster of his deportation officers and took a jab at the national press.
"I am humbled and inspired by the 20,000 American patriots who serve this agency and protect our nation, increasingly in the face of unfair and false criticism from politicians and the media," Homan said in Monday's statement. "Because of their tremendous dedication and hard work, we have made significant progress this past year in enforcing our nation's immigration and customs laws, and in protecting public safety and national security. I will continue to be a strong advocate for the workforce and for the ICE mission."
Popular in the Community