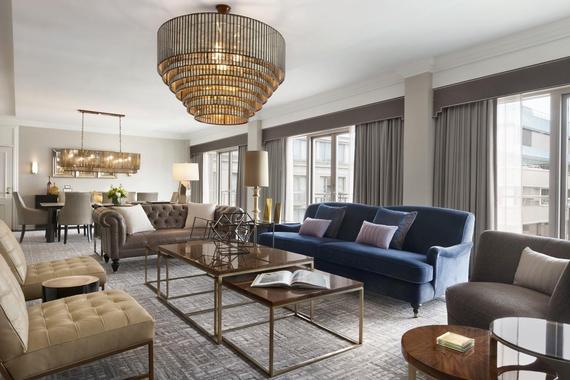 It should come as no surprise that there will be spectacular opportunities for unbridled celebrations during the 58th Presidential Inaugural in January 2017. Washington, D.C. is home to some of America's legendary hotels, catering to the world's elite. The Trump International Hotel announced that it has already sold out, including a half-million-dollar package in the 6,300-square-foot Townhouse Suite, a dinner for 24 in the suite's oversize dining room, 24/7 car service, and two first-class round trip tickets from anywhere in the US. But it's not too late to book other big -- or in the president-elect's parlance yuge --- once-in-a-lifetime --- packages. Here's are a few:
Multi-Million Dollar Baby: JW Marriott Washington D.C.
The priciest of all inaugural packages is at the JW Marriott. For a cool $2.5 million you can party with 300 of your closest friends when you book the bespoke "Presidential Ovation." This package includes four presidential suites, 325 guest rooms, a $400,000 food and beverage credit that will be applied to customized menus, along with a craft bourbon barrel tasting. A highlight of this four-day extravaganza will likely be the viewing party on the 7,300-square foot terrace overlooking the inauguration parade route, along with the city's famous monuments. All of your adventures will be captured for posterity by a professional photographer.
As the only five-star, five-diamond hotel in the city, the Four Seasons Hotel Washington, D.C. is a major power center. While there are six Presidential Suites, there's only on Royal Suite, which will be available for four nights during Inauguration for $80,000. Behind bullet-resistant glass with closed caption surveillance and a private entrance, the 4,000-square-foot space is bejeweled in Swarovski crystals. You take home Presidential stationery book box and a limited edition print in a handmade leather folio wrapped in feature genuine 23-karat gold.
First Family (and Pooch): Fairmont Washington, D.C., Georgetown
The $500,000 Presidentially Yours Package at the Fairmont bestows you with the title of "President and First Lady" within the hotel. Four guests and a "First Dog" can book a four-night stay in the 1,800-square-foot Presidential Suite and get flights from anywhere in the U.S.. Guests will have their closet stocked with designer duds by Saks 5th Avenue Chevy Chase and have a dedicated hair and makeup squad. In your honor, a signature cocktail will be created by staff mixologists, which can be served during a private reception in the suite for 20 including champagne and Beluga caviar. And for the fur baby, custom chef-made meals and dog walking are on the roster.
Known as The Residence of Presidents because it has played host to every sitting U.S. President dating back to President John Tyler (1841-1845), the Willard is offering its "Live Like a President" package. The $450,000 price tag includes round trip airfare from anywhere, on call limo service, four nights in a 3,000-square-foot suite overlooking the Pennsylvania Avenue parade route between the U.S. Capitol and White House, a five-course private wine dinner for eight served by a team of butlers. Plus, you'll get two exclusive experiences: lunch with iconic TV and radio personality Larry King and a behind-the-scenes Smithsonian tour.