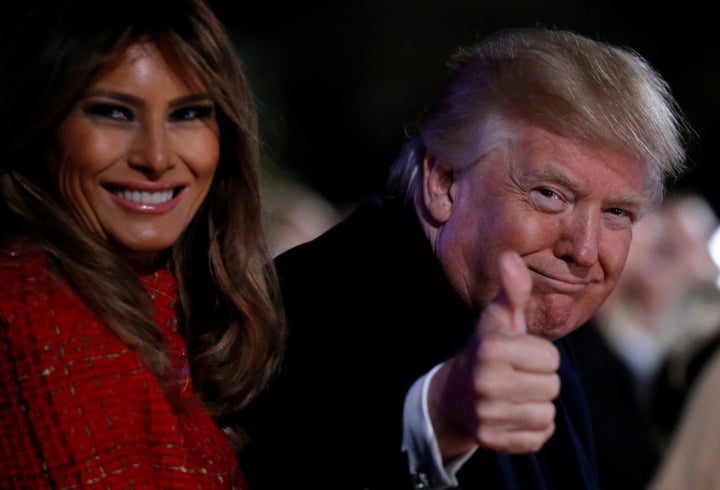 Hillary Clinton voters were far more likely to hear about Trump's Wednesday anti-Muslim tweets than Trump voters were, according to a new HuffPost/YouGov poll of 1,000 Americans. And although the president provoked Clinton supporters who were aware of the retweets—95 percent said that they strongly disapproved—his base didn't feel nearly as passionately. Fewer than half of Trump voters familiar with the posts said they strongly approved of him sharing the videos. (24 percent "somewhat" approved.)
The propagandist videos in question were titled: "Muslim Destroys a Statue of Virgin Mary!" "Muslim migrant beats up Dutch boy on crutches!" and "Islamist mob pushes teenage boy off roof and beats him to death!" In sharing them, Trump retweeted Jayda Fransen, the deputy leader of Britain First, a fringe anti-immigration British group, multiple times. (Fransen was once charged with "religious aggravated harassment" and has been banned from entering mosques in England.) Although the unverified videos purported to show Muslims engaged in violence, one did not involve a Muslim migrant, and the others were based on four-year-old events and lacking context, according to the New York Times.
While the president often uses Twitter to communicate to his more than 43 million followers, just 6 percent of Americans, including 9 percent of Clinton voters and 6 percent of Trump voters, actually saw the videos posted on the social network. Instead, 54 percent of Clinton voters and 28 percent of Trump voters said they "saw news stories about them." Thirty-five percent of Clinton voters and more than 60 percent of Trump voters reported that they hadn't seen anything at all about the posts.
Nonetheless, of those Trump supporters who were aware of the videos, about half said the description of the videos were an "accurate depiction of events," suggesting that when the president does share misleading content on Twitter, he may lend it an air of credibility. (Or affirm existing prejudices.) However, 36 percent of Trump voters weren't sure if the descriptions were accurate. While, almost 80 percent of Clinton voters said they believed the titles were "factually inaccurate or misleading."
The White House—which noted that Trump may not have known about Fransen's connection to Britain First when he tweeted his post—suggested that it doesn't matter if the videos are real. What matters, White House Press Secretary Sarah Huckabee Sanders said, is that "the threat is real."
But even the president's supporters aren't wholeheartedly buying that argument: 46 percent of Trump voters say it does matter if the videos are real or not, while 31 percent say that it doesn't. (More than 80 percent of Clinton voters argue that the truth matters.)
Trump is now facing international condemnation for sharing the videos, including from British Prime Minister Theresa May, who called the retweets the "wrong thing to do" and denounced Britain First as a "hateful organization" that "seeks to spread mistrust and division in our communities."
"Trump's actions are putting the lives and safety of American Muslim children and families at risk," said Nihad Awad, the national executive director of the Council on American-Islamic Relations, a Muslim civil rights group.
But of those Trump voters who were aware of the videos, the vast majority—81 percent—said they did not see his retweets as an act of discrimination against Muslims. Clinton voters felt very differently: 94 percent said they were.
Use the widget below to further explore the results of the HuffPost/YouGov survey, using the menu at the top to select survey questions and the buttons at the bottom to filter the data by subgroups:
The HuffPost/YouGov poll consisted of 1,000 completed interviews conducted Nov. 29-Dec. 1 among U.S. adults, using a sample selected from YouGov's opt-in online panel to match the demographics and other characteristics of the adult U.S. population.
HuffPost has teamed up with YouGov to conduct daily opinion polls. You can learn more about this project and take part in YouGov's nationally representative opinion polling. More details on the polls' methodology are available here.
Most surveys report a margin of error that represents some, but not all, potential survey errors. YouGov's reports include a model-based margin of error, which rests on a specific set of statistical assumptions about the selected sample rather than the standard methodology for random probability sampling. If these assumptions are wrong, the model-based margin of error may also be inaccurate. Click here for a more detailed explanation of the model-based margin of error.