President-elect Donald Trump named a fast-food chief executive to be the next labor secretary Thursday. If confirmed, Andrew Puzder ― the head of CKE Restaurants, which owns the Hardee's and Carl's Jr. burger chains ― would be responsible for enforcing the country's labor laws and holding unscrupulous employers accountable.
Puzder apparently has some experience when it comes to wage law enforcement, albeit on the other side. According to a review of Labor Department records, Hardee's Food Systems Inc., a subsidiary of CKE Restaurants, agreed to pay $58,000 in back pay to a group of 456 workers after a wage-and-hour investigation by the agency in 2006 and 2007. At the time, Puzder was head of CKE, which fully controlled Hardee's Food Systems, according to financial disclosure forms.
Records indicate all the money was owed for overtime. Asked for more information on the case, the Labor Department would provide only limited details. The investigation was company-wide, and Hardee's Food Systems had failed to include workers' incentive bonuses when it computed overtime pay, making the payouts smaller than they should have been. The department does not say whether an investigation was initiated by the agency or resulted from a worker's complaint.
A Hardee's spokeswoman referred questions to an official with the Republican National Committee on Friday. That official could not immediately be reached for comment.
Under the Fair Labor Standards Act, hourly workers are due time-and-a-half pay for any hours they work over 40 in a week. If he becomes labor secretary, one of Puzder's top responsibilities would be enforcing the overtime standard. In addition to the Hardee's Food Systems case, several Hardee's franchisees have been investigated over wage theft allegations in recent years.
In one case in Tennessee, a franchisee agreed to pay 29 workers more than $7,600 in back pay. In a case out of Michigan, a franchisee was found to have shorted seven workers nearly $5,000. And a Missouri franchisee agreed to pay four workers nearly $4,000 for failing to meet the minimum wage. In each of those cases, the franchisee, rather than CKE Restaurants, was held responsible for the violations.
The Hardee's investigations should underscore why advocates for low-wage workers are concerned with Trump's choice. Puzder would be coming to Washington directly from the top of an industry that the Labor Department is responsible for policing. Wage theft is a widely documented problem in the fast-food business, which pays some of the lowest wages in the country. Labor Department investigators often find that restaurants have failed to follow minimum wage and overtime law.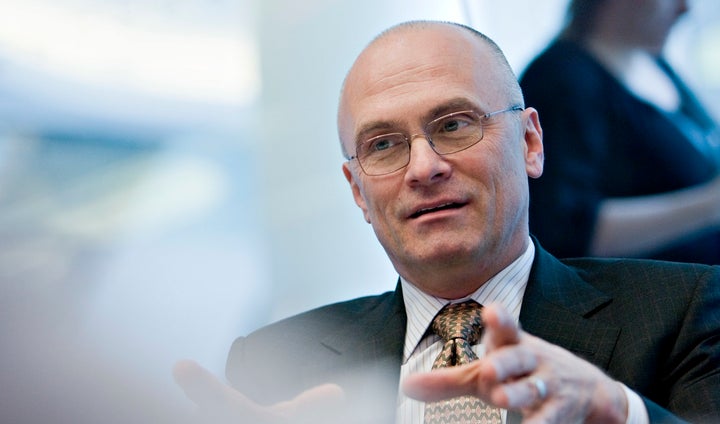 As the nation's workplace watchdog, Puzder would be the top official responsible for potentially suing Hardee's restaurants ― the very franchisees he has worked with as the head of the Hardee's brand ― when they don't pay workers what's due them.
Christine Owens, director of the National Employment Law Project, said a fast-food executive should not be charged with enforcing wage laws. "Puzder will be there for his low-wage-industry CEO buddies, who are now salivating over the prospect of rolling back the Obama administration's efforts to raise pay for low-wage workers, improve workplace safety, and increase corporate accountability for wage theft and other violations," Owens said.
You'd be hard-pressed to find a fast-food brand that hasn't been cited or sued for breaking wage laws over the years. During the 2016 fiscal year alone, the Labor Department found that 10,300 fast-food workers were owed more than $5.4 million in back wages. Investigators discovered violations in 86 percent of their fast-food cases.
As with other companies like McDonald's, CKE Restaurants itself is typically not the target ― its franchisees are. For example, in 2013, a Hardee's franchisee in Michigan agreed to pay nearly $10,000 to a group of workers after being taken to court by the Labor Department. Roughly half of that sum was for wage violations, the other half for damages, according to settlement records.
The franchisee, Ishaan Enterprises, had been paying workers in a way that avoided having to pay them overtime. When workers logged more than 40 hours in a week, they didn't get time-and-a-half pay on those extra hours ― they only got paid "straight time." One worker alone was owed nearly $2,700 in back wages.
Obama's Labor Department has made a point of targeting the fast-food industry for enforcement because they say they find so many violations there. Meanwhile, the Fight for $15, a union-backed campaign to raise the minimum wage and bring collective bargaining to fast food, has brought a host of lawsuits against companies like McDonald's over alleged wage theft and discrimination.
Trump has made clear through his nominations that he wants business-friendly Cabinet members who've criticized Obama's policies. His choice for health secretary, Rep. Tom Price, has fought to dismantle the Affordable Care Act, and his pick to head the Environmental Protection Agency, Scott Pruitt, has sued the very agency he would be leading.
Labor watchdogs worry that enforcement would be far more lax under someone like Puzder.
Investigations into wage theft or workplace hazards are carried out by career civil servants at the Labor Department, who keep their positions regardless of whether a Democrat or Republican occupies the White House. But, as at all federal agencies, priorities are set by the political appointees at the top. Enforcement can be strong or lax, depending on the administration and its deputies.
Puzder has been a public critic of the labor reforms championed by the Obama administration, including the White House's attempts to raise the minimum wage and grant overtime protections to more salaried workers. Puzder himself has penned opinion pieces and made television appearances criticizing the sitting president's reforms as job killers.
Earlier this year, the Obama administration tried to overhaul the nation's overtime rules to make them more generous to workers. Under the changes, which are currently blocked in court, an additional 4.2 million salaried workers would be guaranteed time-and-a-half pay when they work over 40 hours in a week. The overtime changes would be the most significant labor reform of the Obama era.
Writing in The Wall Street Journal in 2014, Puzder said the rules would hurt the workers they were intended to help, like the fast-food managers who work for Hardee's and Carl's Jr. Many of those managers would be newly entitled to overtime. "Overtime pay has to come from somewhere, most likely from reduced hours, reduced salaries or reduced bonuses," Puzder wrote.
Have you worked for Puzder, CKE Restaurants, or Hardee's/Carl's Jr.? Email us about it.
Popular in the Community