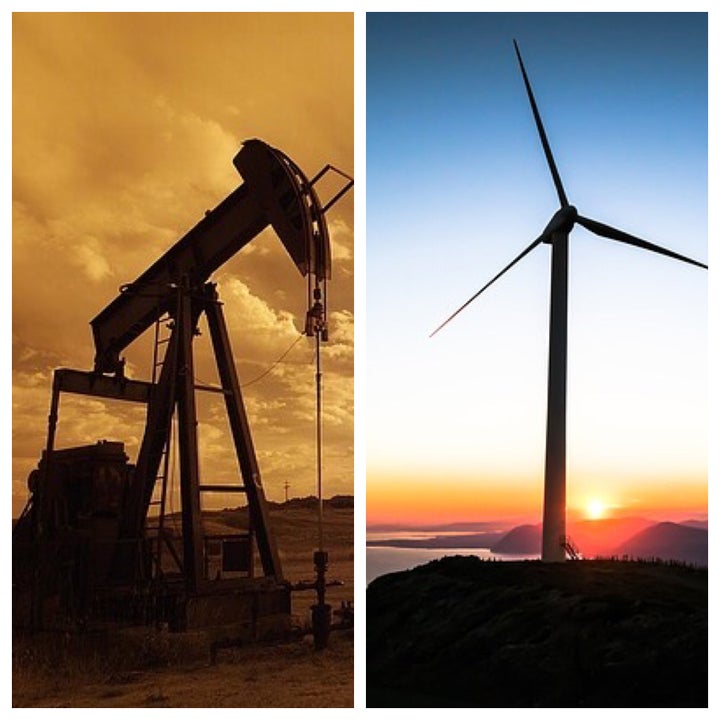 The semantics of climate change have evolved from global warming to climate change over the last 25 years, but have focused on the science. This week, Donald Trump pulled the U.S. out of the historic Paris Climate Agreement, in which 194 countries pledged to step up their commitment to cutting carbon emissions. In his announcement, Trump reframed the discussion away from the science of fossil fuel's effect on the environment toward economics:
"The Paris climate accord disadvantages the United States, to the exclusive benefit of other countries, leaving American workers, who I love, and taxpayers to absorb the cost in terms of lost jobs, lower wages, shuttered factories and vastly diminished economic production."
Trump's always planned on pulling out of the Paris accord because he's a self-proclaimed America Firster; he's cozy with the petroleum industry; and he thinks whatever Obama did is inherently bad. He chose an economic argument because he thought his background as a businessman would bestow unquestioned credibility upon him. Plus, his fake science and conspiracy theories might no longer fly.
But Trump's economic argument for why it's OK to sully the Earth and jeopardize our future is just as specious as his climate science reasoning, fixing him as the "laughing stock" of the world. Once again, Trump's hubris has backfired: the science and environmental reality of climate change won't go away; his fact-free economic reasoning is easily shredded; and pulling out of the Paris Agreement is wildly unpopular. The accord is supported by almost 70 percent of Americans, every major global economy, and scores of major U.S. and multinational corporations.
Trump's alienated himself and the U.S. from most of the world by making a morally bereft and financially short-sighted decision about climate. But he's made a fool of himself by making assertions about climate change based on Bad Science and Bad Economics, which simply don't add up to sound arguments.
Trump has a legacy of misunderstanding and spewing bad science about climate change. He ignores decades of peer-reviewed scientific studies on global warming that predicted the climate change that's happened. And he dismisses the current science on the state of the planet and future effects. Like fossil fuel advocates who push out misinformation and people who don't understand climate science (Trump is both), Trump confuses weather and climate to try to disprove climate science: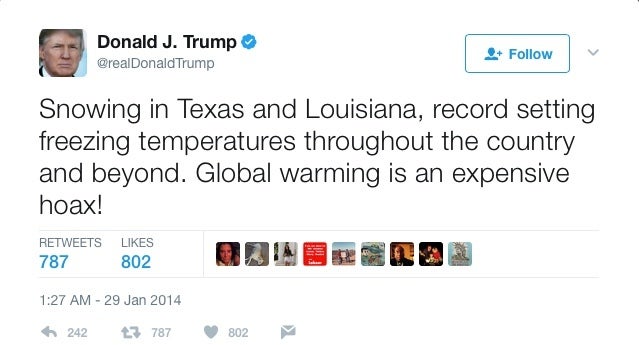 Of course, weather is the short-term natural variations in temperature, clouds, precipitation, humidity and wind in a region and climate is the long-term average of those characteristics in a region. Meteorologists summarize it as, "Climate is what you expect; weather is what you get." So, a snowstorm in the southern U.S. is a normal weather fluctuation and doesn't disprove the growing trend of climate change.
Trump regularly misstates the scientific facts, here suggesting the ice isn't melting in the Arctic and Antarctic: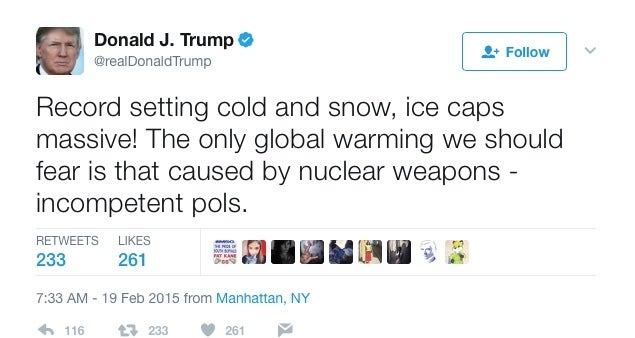 Ironically, the vast oil reserves beneath the Arctic are now drillable because global warming has melted the Arctic ice enough to reach them. In the many decades Big Oil was denying global warming, it was secretly preparing Arctic operations to reap huge profits from it. In 2012, Exxon Mobil's former CEO, and current Secretary of State, Rex Tillerson forged a symbiotic relationship with Vladimir Putin to commence those operations. Trump's stance on climate is reflected by his cabinet picks of four fossil fuel supporters from Texas and Oklahoma. It also may explain his bromance with Putin. Perhaps Trump's shift in his anti-climate change argument from science to economics hints at his true agenda – personal economics.
In his Paris Agreement speech, Trump misstates the science again to suggest the global pledges wouldn't have a significant effect:
"Even if the Paris Agreement were implemented in full, with total compliance from all nations, it is estimated it would only produce a two-tenths of one degree Celsius reduction in global temperature by the year 2100. Tiny, tiny amount."
The MIT scientists who published the April 2016 study Trump cited, actually reported that global warming would slow by between 0.6 degree and 1.1 degrees Celsius by 2100. That's huge when the overall goal is two degrees Celsius above pre-industrial levels.
When in doubt, Trump throws out inexplicable conspiracy theories, which appeal to the irrational. Here he blames the hoax of climate change on China: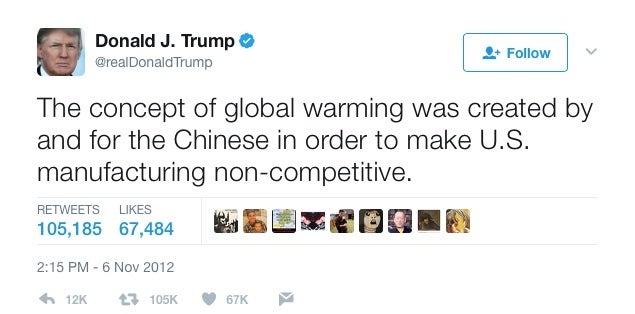 All this adds up to Trump's penchant for science fiction ― fueled by his lack of understanding of the scientific process and his unfettered pursuit of political and personal gain.
Trump's financial and jobs arguments aren't any better. In his Rose Garden climate accord speech he relies on hyperbole, saying the Paris climate accord imposes "draconian financial and economic burdens" on the U.S.
If that were so, why would the U.S.'s economic leaders – from tech, Google, Apple, Microsoft, Twitter, Facebook, Intel, Hewlett Packard, and Adobe; manufacturing and infrastructure, GE, Johnson Controls, Ingersoll Rand; consumer products, Procter & Gamble, Unilever, Coca-Cola, Tiffany, Levi Strauss, Mars, The Gap; financial services, Goldman Sachs, Morgan Stanley, The Hartford; automobile, Tesla, General Motors; and even fossil fuels, Royal Dutch Shell, ExxonMobil and BP – all support the Paris Climate Agreement? None of these companies wants to be "hamstrung" or penalized.
In fact, 25 big companies placed full-page ads in major U.S. media outlets to urge Trump to stay in the pact. In their plea to stay in, they cite key economic reasons that obliterate Trump's claims:
Strengthening Competitiveness: By requiring action by developed and developing countries alike, the agreement ensures a more balanced global effort, reducing the risk of competitive imbalances for U.S. companies.
Creating Jobs, Markets and Growth: By expanding markets for innovative clean technologies, the agreement generates jobs and economic growth. U.S. companies are well positioned to lead in these markets. Withdrawing from the agreement will limit our access to them and could expose us to retaliatory measures.
Reducing Business Risks: By strengthening global action over time, the agreement will reduce future climate impacts, including damage to business facilities and operations, declining agricultural productivity and water supplies, and disruption of global supply chains.
To make his assertions, Trump cherrypicks proof points without presenting the full picture. He says, "Compliance with the terms of the Paris accord ... could cost Americans as much as 2.7 million lost jobs by 2025." Referring to fossil fuel-associated industries, he further calls out his poster child, the obsolete coal industry, yet ignores the economics of the burgeoning renewables energy industry.
His math is simply inaccurate. According to a new report by the U. S. Department of Energy, solar power alone currently employs almost twice as many in the U.S. as coal, natural gas, and oil and petroleum combined. Adding wind and nuclear, clean energy outpaces traditional fossil energy jobs by almost three-fold. Advanced energy – seven business sectors committed to clean energy – employs 3.3 million in the U.S., while coal mining employs about 86,000.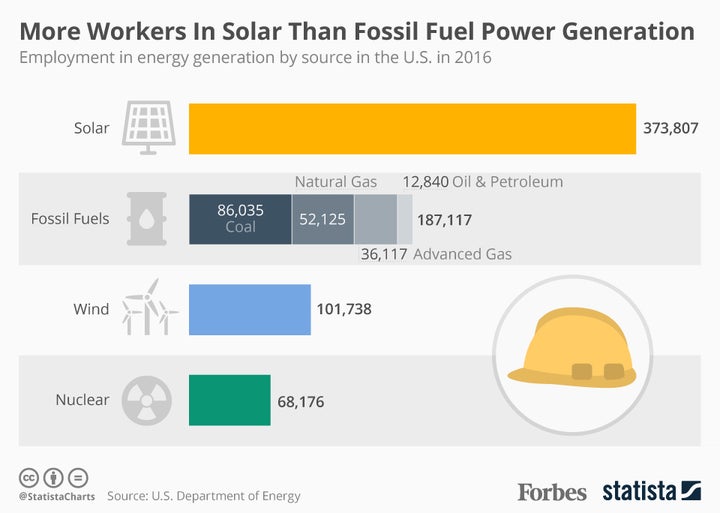 Advanced energy is one of the most vibrant global industries, generating $1.4 trillion in global revenue last year, "nearly twice the size of the airline industry, equal to apparel, and close to global spending on media, from newspapers to movies to video games," according to Navigant research. And it's growing twice as fast as the overall economy (7 percent vs. 3.1 percent). An International Renewable Energy Agency report predicts that global renewable energy will nearly triple employment by 2030 to 24 million jobs.
If unfounded dire economic predictions aren't enough, Trump heightens fear or anger towards perceived enemies. He suggests that China and India aren't being held to the same standards as we are:
"China will be allowed to build hundreds of additional coal plants. So we can't build the plants but they can. According to this agreement, India will be allowed to double its coal production by 2020. Think of it. India can double their coal production. We're supposed to get rid of ours."
Context matters. China and India are behind the rest of the developed world in having access to cleaner technologies, but are working at lowering their emissions at breakneck speed. To catch up, China's now building a new green power infrastructure as big as the U.S.'s entire electric grid. China's also pledged $3.1 billion in aid to the U.N. Green Climate Fund to help climate-vulnerable countries (now, the U.S. won't honor most of its $3 billion pledge). China's already shown exceptional climate and clean energy global leadership and is poised to fill the big void that Trump created by pulling the U.S. out of the accord. India plans to source 40 percent of its energy from renewables by 2030, passing Japan as the third largest solar market behind China and the U.S.
Finally, Trump resorts to blatant scare tactics. He says the U.S. "will be at grave risk of brownouts and blackouts." Two of the country's biggest providers of electricity to industries and consumers, National Grid and Schneider Electric, support the Paris Climate Agreement. They understand that using combined energy sources during the transition will prevent against blackouts.
All this adds up to fuzzy math and "Trumped up" economics fueled by Trump's fear of innovation and his patent disregard of the future. It's as if he's advocating for the long-term future of the manual typewriter while the personal computer is flourishing and demonstrating its promise.
During his Paris climate accord announcement, Trump asks, "At what point do they start laughing at us as a country?" If not at previous inflection points, surely it was the moment Trump pulled out of the Paris Climate Agreement. France's President, Emmanuel Macron captured the world's sentiment with his slogan, "Make The Planet Great Again!"
_________________________________________________________________
Anne Zeiser is a critically acclaimed transmedia and social impact producer and media strategist. She's stewarded films and iconic series for PBS, produced news for CBS, managed national brands for marketing firms, and founded Azure Media, which develops transmedia projects on air, online, and on the go that fuel social impact in communities, in schools, and in capitals. She's the author of Transmedia Marketing: From Film and TV to Games and Digital Media, from Focal Press' American Film Market® Presents book series.
Popular in the Community