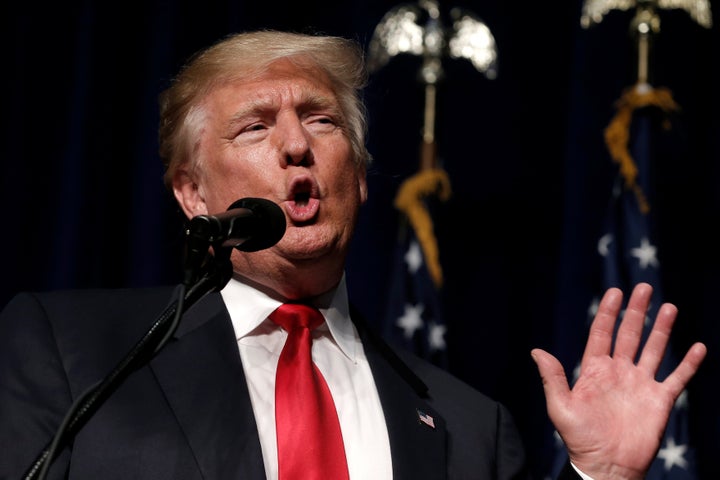 Republican presidential nominee Donald Trump has decided to end his controversial media blacklist, which had barred certain news outlets from officially attending his campaign events. The Huffington Post was one of the first news organizations on the list.
In an email to HuffPost, Trump campaign spokeswoman Hope Hicks confirmed that the ban had been lifted. CNN's Brian Stelter was the first to report the news, with a quote from Trump explaining his decision to embrace the spurned media: "I figure they can't treat me any worse."
The blacklist, if it were written down anywhere, was not made public by the Trump campaign. But a few outlets were certain to be on it: BuzzFeed, Politico, the Daily Beast, the Des Moines Register and the Washington Post. As Stelter points out, it appeared at times that Univision was among them as well.
It's common for presidential candidates to have a rocky relationship with the press, just as it's common for Republican candidates to claim unfair treatment by the big liberal media. But like many other features of the Trump campaign, the real estate mogul's decision to bar news outlets he didn't like was unheard of in a modern presidential race. His campaign went so far as to boot undesirables from its events.
The Daily Beast's Olivia Nuzzi offered some insight into how the ban worked. In a profile of Hicks, Nuzzi said the spokeswoman plays lone goalie to hundreds of media queries a day. But occasionally, her boss finds an article that infuriates him. "He circles it. 'This guy's banned! He's banned for a while,'" Nuzzi quoted a source saying.
Many journalists, unsurprisingly, thought the blacklist was stupid and unfair, not to mention a threat to free press. Many Trump supporters did not.
"While we are glad that the blacklist has been lifted, it is important to remember that this was an absurd policy to begin with and a dangerous precedent for any campaign to have set," said Sam Stein, HuffPost's senior politics editor. "We will continue to cover the Trump campaign as we have always covered it. And we look forward to the candidate sitting down for an interview with The Huffington Post in the near future."
The blacklist didn't stop reporters from banned outlets from covering Trump. Many of them still managed to attend his rallies, town halls and other events as part of the general public, rather than going through the proverbial front door as journalists. And at times the Trump campaign still played ball with blacklisted reporters when the gravity of a certain story compelled them to. That includes The Huffington Post, which runs a disclaimer under each Trump story calling him a racist and a xenophobe (see below).
But the blacklist still created a serious access problem for certain journalists whose job was to cover Trump's every move ― and was a worrisome indicator of how Trump might choose to handle the press should he actually win the White House. After all, this is the same man who called for loosening our libel laws so that story subjects like himself could more easily sue journalists over stories they don't like.
Popular in the Community