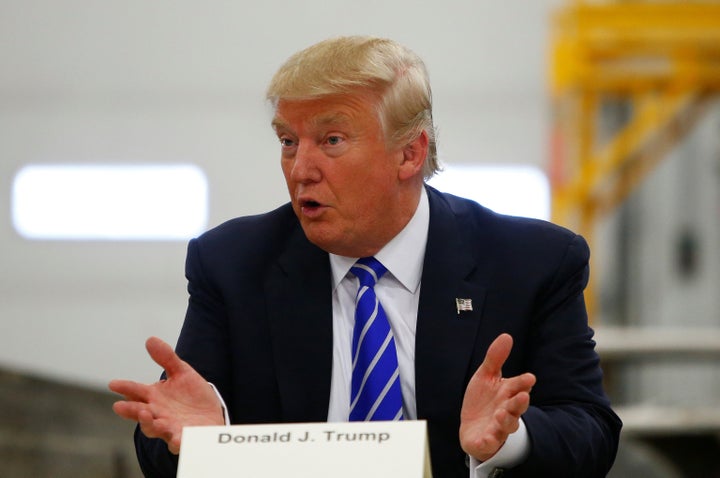 When David Zatezalo was the chief executive of Rhino Resources, his coal company had its share of run-ins with regulators at the U.S. Mine Safety and Health Administration. At one point in 2010, MSHA even threatened to put one of Rhino's mines on its list of egregious safety lawbreakers.
Seven years later, Zatezalo is now President Donald Trump's nominee to run MSHA. Zatezalo told HuffPost on Tuesday that he doesn't see any problem with a former industry executive serving as the top cop responsible for making sure miners are protected by their employers.
"I don't agree with that," he said of concerns that he may be too cozy with coal operators. "People can say what they're going to say. Actions speak louder than words."
If he's confirmed by the Republican-controlled Senate, Zatezalo would be just the latest business-friendly official installed in Trump's deregulation-happy administration. And like many of the appointees before him, Zatezalo has a resume that appears better suited to an industry trade group than a watchdog government agency.
Though he started out as a rank-and-file union miner, Zatezalo climbed his way to the top of the industry over the decades, eventually helming Lexington, Kentucky-based Rhino. He also served stints as chairman of the Kentucky and Ohio coal lobbying groups.
Zatezalo, who retired from his Rhino post in 2014, told the Wheeling Intelligencer that coal executives including Murray Energy CEO Bob Murray ― a major Trump donor and longtime critic of the federal government ― essentially recruited him for the MSHA job.
"There aren't a lot of people in the industry I don't know, and people said, 'You'd be great for that position. I'm going to call [Senate Majority Leader Mitch] McConnell and tell him he needs to support you for this,'" Zatezalo told the paper.
MSHA was created in 1977 in the wake of deadly mining disasters to enforce the rights of miners and to make sure they aren't put in harm's way. The agency is responsible for inspecting all of the nation's mines (not just coal), identifying workplace hazards and fining operators when they're breaking the law. MSHA differs from the Occupational Safety and Health Administration in that it's tasked with protecting workers in a single, dangerous line of work.
So it worries mine safety advocates that, assuming Zatezalo wins Senate confirmation, the agency's reins will be handed to a former executive. Many coal operators view MSHA's inspections and citations as an annoyance that slow down production and cost them money. Zatezalo's friend Murray, for instance, has referred to MSHA inspections as "total harassment."
"You always want to give someone the benefit of the doubt, but history tells us that people chosen from industry typically don't do a good job," Tony Oppegard, a Kentucky lawyer who represents miners in safety cases, told HuffPost. "I don't expect him to be a zealous advocate of mine safety. I don't think Trump's team would have chosen him if that was the case."
When Zatezalo was running Rhino in 2011, the company had to pay $44,500 in fines after a foreman was killed when a wall collapsed in a West Virginia mine. The same year, MSHA accused Rhino employees at a Kentucky mine of tipping off workers underground when agency inspectors were about to make their rounds. As the Charleston Gazette-Mail reported, the agency went so far as to seek a court injunction against Rhino over the practice.
"What will his focus be ― will it be on miners and mine safety, or will he have a philosophy that MSHA is there to help mine operators, provide a lot of compliance assistance, and be wary of taking a tough stand?"
MSHA is required by law to inspect every workplace in its purview multiple times each year. Absent action by Congress, that won't change even with an MSHA chief who wanted to scale back enforcement and be a friend to industry. But there are other ways an agency leader could soften regulations and go easy on mining companies.
Celeste Monforton, an occupational health expert and former MSHA employee, said the MSHA chief could alter the criteria that lands a mine on the agency's "pattern of violations" list. That's the list that Zatezalo's company nearly wound up on in 2010.
Monforton said the agency's leader could also decide not to pursue high-dollar penalties against mine operators, or go easy on them in settlement talks over safety violations.
"What will his focus be ― will it be on miners and mine safety, or will he have a philosophy that MSHA is there to help mine operators, provide a lot of compliance assistance, and be wary of taking a tough stand?" she asked.
If he's confirmed, Zatezalo will be coming to MSHA at a time when black lung cases are spiking in much of Appalachia. It's up to MSHA to make sure mine operators are taking the right precautions to limit coal dust, excessive levels of which can destroy miners' lungs.
Monforton said there is still much that MSHA can do to protect miners from lung illnesses, including strengthening the regulations for silica dust, which comes from cut rock.
She said she hopes Zatezalo would remember his experience as a rank-and-file miner, rather than his role as an executive, in regulating mine safety.
"He has seen first-hand the tragedy and the suffering that goes on with people who develop black lung and silicosis," Monforton said. "It really would be a way for him to make a positive mark."
Popular in the Community