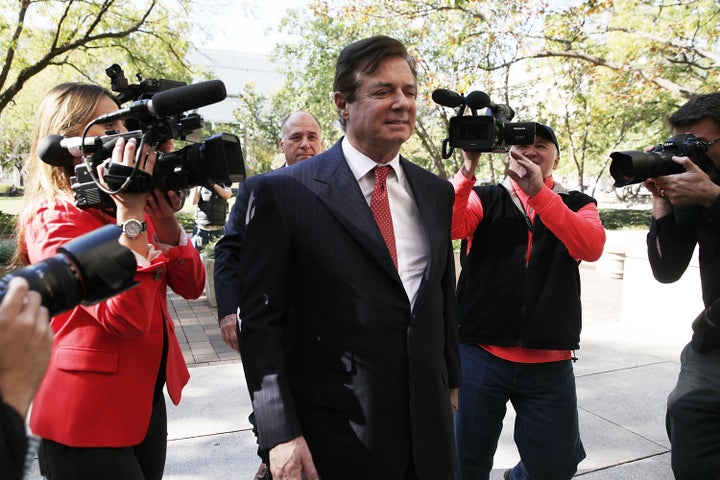 President Donald Trump leaves this week for an important 12-day trip to Asia where he will visit Japan, South Korea, China, Vietnam and the Philippines. But most of the president's attention is focused on the special counsel investigation into Russia's role in the 2016 presidential election following the indictments of two key Trump campaign officials and the guilty plea of a former campaign adviser.
U.S. intelligence agencies concluded in a report this past January that Russia interfered in the election at the direction of Russian President Vladimir Putin in an effort to help Trump win. Ultimately, Putin felt that Trump, if elected, would ease crippling U.S. sanctions on Russia that were initially imposed because of Russia's annexation of Crimea. President Barack Obama imposed additional sanctions last January because of Russia's meddling in the election.
Trump avoided criticizing Putin throughout his campaign, and, in fact, frequently praised him. In August, Congress overwhelmingly passed additional sanctions against Russia for its election interference, which Trump signed even though he said he was opposed to the measure. Of course, he had no choice because Congress would have overridden a Trump veto.
Questions arose throughout the campaign as to whether members of the Trump campaign had colluded with the Russians. Suspicions heightened when several key members of the Trump campaign failed to report meetings with Russian officials. Attorney General Jeff Sessions, former national security adviser General Michael Flynn and Trump son-in-law Jared Kushner all had to subsequently amend their disclosure forms.
President Trump has frenetically tried to derail the Russia investigation and clear his name. One of his first acts in office was to have a private dinner with then FBI Director James Comey. According to Comey, Trump sought Comey's personal loyalty and asked that the FBI director make a statement clearing him.  Comey had been investigating possible collusion between the Russians and the Trump campaign. On May 9, Trump dismissed Comey and later told NBC News, "When I decided to do it, I said to myself, I said 'you know, this Russia thing with Trump and Russia is a made up story, it's an excuse by the Democrats for having lost an election that they should have won.'" Critics immediately declared that Trump had obstructed justice, which is an impeachable offense.
The acting attorney general appointed Special Counsel Robert Mueller to take over the investigation. Mueller, a Republican, is one of the most highly respected attorneys in Washington, yet he became the target of attacks from the White House. Three congressional committees have been investigating Russia's role in the election since earlier this year. Mueller put together a top team of criminal attorneys and began interviewing witnesses. Their efforts began to bear fruit this week with the announcement that a grand jury had indicted former Trump campaign chairman Paul Manafort and his close associate, Rick Gates. Manafort and Gates had done millions of dollars in business with Russian oligarchs that they failed to report on their federal tax forms. Mueller may be using the indictments to squeeze Manafort for more information relating to Russian interference.
A few hours later, Mueller revealed that Trump campaign foreign policy adviser George Papadopoulos had pleaded guilty to perjury. Papadopoulos admitted that during the campaign he had tried to set up a meeting with Russian officials to obtain Hillary Clinton's "missing" emails in an effort to help the Trump campaign. At about the same time during the campaign, Donald Trump Jr., Paul Manafort, and Jared Kushner took a meeting at Trump Tower in New York, which was arranged by Russians seeking to pass on "dirt" about Hillary Clinton. Mueller has promised Papadopoulos a reduced sentence for his cooperation, and there is speculation that he has plenty more to offer about Trump campaign collusion with the Russians. Meanwhile, Trump and White House officials have tried to shift the story to Hillary Clinton for her alleged role as Secretary of State in approving the sale of uranium to a Canadian company controlled by Russians. The Trump claim is that the Russians donated $145 million to the Clinton foundation in return for her approval. The big flaw with this charge is that Clinton had no role in making the decision.
Monday's indictments and guilty plea have many White House officials near panic. There are internal debates over what the president should do next. Some Trump allies are urging the president to fire Mueller. But if he did so he would be inviting congressional Republicans to consider his impeachment. This would create a constitutional crisis that the nation hasn't seen since Watergate.
Meanwhile, Mueller and his team are continuing to interview witnesses, including White House staff, and more indictments are expected in the near future, according to some reports. At some point the president may be questioned under oath about his knowledge of obstruction of justice and collusion with the Russians. The criminal charge for collusion would be conspiracy. Of course, lying to a grand jury is perjury. So the president would, if called to testify, have to do something he is most uncomfortable doing, tell the truth.
REAL LIFE. REAL NEWS. REAL VOICES.
Help us tell more of the stories that matter from voices that too often remain unheard.
BEFORE YOU GO