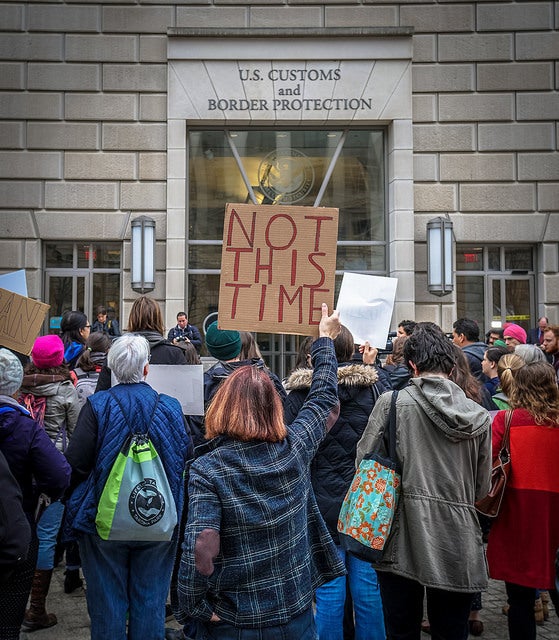 Trump's new expanded immigration order bans or restricts visas for travel to the U.S. from eight countries: Iran, Libya, Somalia, Syria, Yemen, Chad, Venezuela and North Korea. According to ABC News:
The new travel restrictions are effective immediately for those subject to the two earlier travel bans, and take effect October 18 for those subject to these new provisions. This ban does not apply to lawful permanent residents, those already in the United States on the effective date, those with valid visas on the effective date, dual citizens who are traveling on passports of a non-banned country, or those already granted asylum.
But what will happen to the persecuted LGBTQ people who have not yet been able to reach the U.S.?
Under U.S. immigration law, one may only apply for asylum if they are arriving in or already physically present in the U.S. Therefore, for the persecuted LGBTQ people who remain trapped in one of the restricted countries, this travel ban is akin to a death sentence.
The three new countries added to the travel ban (Chad, Venezuela and North Korea) also represent perilous places for LGBTQ people. While homosexuality is technically legal in these three nations, LGBTQ people on the ground continue to face persecution.
"For [a LGBTQ Venezuelan] and many other LGBTQ Venezuelans living abroad, leaving the country was a necessary step toward living more openly as a gender or sexual minority." - Kevin Truong in NBC OUT
Similarly, Chad has a long history of LGBTQ oppression. In 2014, Chad passed a law making same-sex relations punishable by 15 to 20 years in prison. In December 2016, the nation's parliament passed another law criminalizing homosexuality by a vote of 111 to 1.
"[A gay North Korean defector] did not hear the word 'homosexual' for the first 37 years of his life, saying he had no concept of what it meant, something not unusual in his native North Korea." - Paula Hancocks in CNN
In all eight of the countries named in the newest iteration of Trump's travel ban, LGBTQ people continue to face discrimination and danger. These individuals deserve the opportunity to seek asylum in the U.S. They deserve to live authentically without fear of severe persecution.
The Trump administration has just robbed them of this fundamental human right.
Now, without a way to get into the U.S., where will they turn to for safety?