A wide spectrum of religious organizations and leaders came forward on Monday to denounce President Donald Trump's revised executive order on immigration.
The new version makes it clear that people with dual nationality, green cards, and current visas aren't affected by the ban. It also strikes Iraq off a list of Muslim-majority countries from which some nationals will be barred from the U.S. for 90 days. Religious minorities will no longer be prioritized for admission and Syrian refugees are no longer barred indefinitely ― although they will still be affected by a blanket ban on refugee resettlement that will last for 120 days.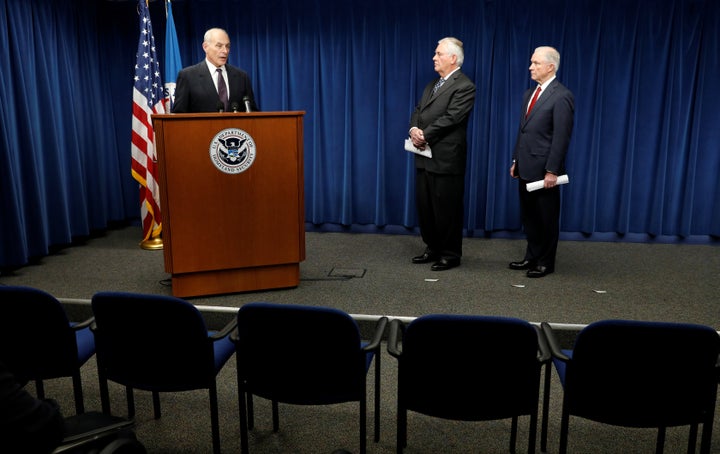 Faith-based organizations representing Catholics, Protestants, Jews, Muslims, and other interfaith activists responded to the new order on Monday ― with many saying that the order was still a Muslim ban in disguise.
"This executive order, like the last order, is at its core a Muslim ban, which is discriminatory and unconstitutional," said CAIR National Executive Director Nihad Awad.
CAIR's admonition of the ban was echoed by other faith-based organizations.
Church World Service, a multi-denominational Christian coalition that assists the government with refugee resettlement, announced that it "strongly decries" the White House's move.
"Make no mistake: this rewritten version will have the same impact, while avoiding the court proceedings that kept the initial executive order from being implemented. It is a refugee ban. It is a Muslim ban," the organization stated on Facebook.
The Franciscan Action Network, a Catholic advocacy organization, stated that the order was a "defacto" Muslim ban that contradicts Catholic values and the example set forth by Pope Francis.
"The Franciscan Action Network will stand in prayer and solidarity with Muslim sisters and brothers, as well as all refugees and immigrants, during the forty days of Lent," Sr Marie Lucey, FAN Associate Director, said. "While opposing bans and harmful executive orders, we also pray for a change of hearts and minds of this Administration and legislators who support anti-refugee and anti-immigrant measures."
"While we support our government in ensuring our safety and security, we believe that compassion and security do not have to be mutually exclusive. We believe that the order simply remains disproportionate," World Relief President Scott Arbeiter said in a statement. "In our national experience, the actions mandated by this executive order are inconsistent with the security record established by the refugee program since its inception and even since 9-11."
At a rally outside the White House on Monday, interfaith clergy and community leaders gathered together to call for the order's immediate repeal.
In a statement, T'ruah said that the new executive order is "more of the same Islamophobia that targets Muslims."
"The Jewish community understands all too well the danger of compromising the civil liberties of any national, ethnic or religious group, or of holding entire groups collectively responsible for the actions of individuals," the statement said. "Today's executive order undermines our values and weakens the moral fiber upon which our nation stands."
Sign up for the HuffPost Must Reads newsletter. Each Sunday, we will bring you the best original reporting, long form writing and breaking news from The Huffington Post and around the web, plus behind-the-scenes looks at how it's all made. Click here to sign up!
Support HuffPost
The Stakes Have Never Been Higher
Before You Go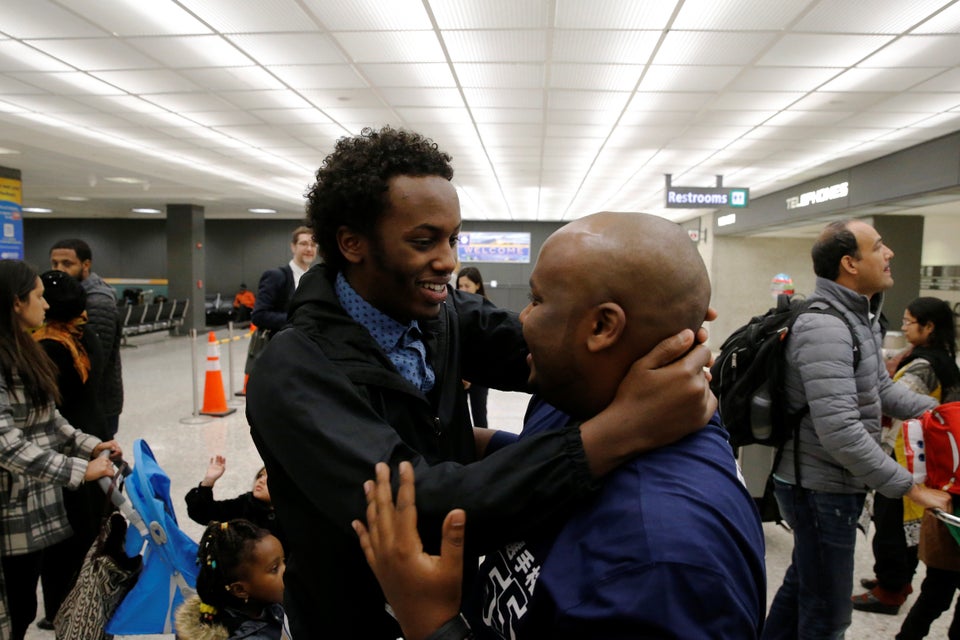 Families Reunited After Travel Ban Lifted
Popular in the Community