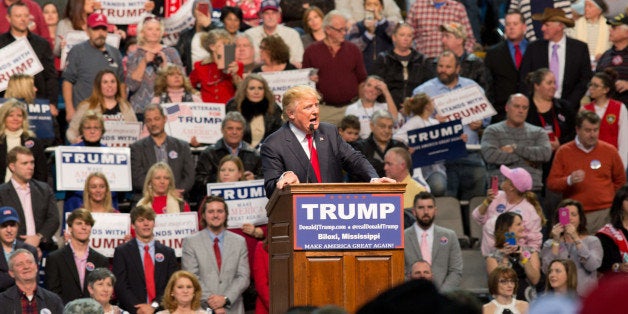 If you are a public school parent or teacher thinking of voting for Donald Trump, be prepared to kiss your school goodbye.
Donald Trump has never had much use for public schools, or for that matter, his own children when they were younger. As a boy The Donald attended the private (and expensive) Kew-Forest School in Queens, New York. Because of "behavior problems" there, he completed secondary school at the New York Military Academy, a private (and expensive) boarding school. Sons Eric and Donald Trump Jr. were shipped out to attend and live at the private (and expensive) Hill School in Pottstown, Pennsylvania, while daughter Ivanka went to the private (and expensive) Chapin School in New York City and then the Choate Rosemary Hall boarding school in Wallingford, Connecticut. At Hill the tuition for 2015-2016 school year was $54,570. Choate is currently a relative bargain at $48,890 a year. Tiffany Trump escaped with her mother, Trump's middle wife, to Calabasas, California, where she attended the private Viewpoint School. The youngest Trumpster, Barron, age 10, still lives at home and attends the private (and expensive, annual tuition is over $45,000) Columbia Grammar and Preparatory School on the Upper West Side in Manhattan.
All of this makes The Donald as much an expert on public education as he is on the military, foreign policy, or life on the economic margins. But that isn't stopping Trump from promoting his education plan, one designed to destroy public education in the United States. The basic Trump proposal is to divert $20 billion in federal grants from public school districts to charter, private, parochial, and online schools, effectively bleeding public school systems to death.
Trump calls his school plan choice, as if ordinary Americans will ever be able to choose the kind of schools he chose for his kids. He demands that Americans trust him and boasts they should give him a chance because he will be a great president. The thing is, we already know Trump's school plan is a recipe for disaster.
We can't trust private for-profit "schools" to educate our children. This month, ITT Technical Institutes, a private for-profit business closed shop. Thirty-five thousand students in 38 states were locked out. The federal Education Department dropped ITT Technical Institutes from the federal financial aid program because the "school" accepted students who were not qualified for the technical programs being offered and misled students about future job prospects.
Students in charter schools frequently perform more poorly on standardized exams than students in traditional public schools. Donald Trump actually presented his education plan to the public in a speech at the Cleveland Arts and Social Sciences Academy, a charter school that received grades of "D" and "F" from Ohio's school ratings agency in math, reading, and closing achievement gaps.
But this school is not unique. Studies by the Center for Research on Education Outcomes (CREDO) found that students in Ohio charter schools perform worse in reading and mathematics than comparable students in traditional schools, while students in California charters had lower scores in math than their public school peers. A study by the University of Minnesota Law School determined that " charter schools, which on average score lower that the Chicago public schools, have not improved the Chicago school system, but perhaps made it even weaker." Non-partisan reports by the Spencer Foundation and Public Agenda concluded "There is very little evidence that charter and traditional public schools differ meaningfully in their average impact on students' standardized test performance."
Too many charter school companies are only in it for the money and they walk out on students and communities if the dollars do not roll in. At the start of the 2000-decade, Edison Schools partnered with 130 schools and managed 80. By the end of 2015 it only managed five. In 2000 the for-profit Advantage Schools chain operated schools that enrolled over 10,000 children. Today Advantage Schools operates eight charter schools in seven states. After Hurricane Katrina, New Orleans hired for-profit companies to manage new charter schools. By 2013, every one of those companies had walked out on the city and is children.
Private school tuition vouchers, what Trump calls having federal dollars follow the students, are not a new idea. A plan started in Milwaukee, Wisconsin, in 1990 and there are voucher plans in Cleveland, Ohio, Louisiana, and Florida. By 2015, American taxpayers were spending $1 billion a year to help families pay private school tuition with little evidence of academic gains. In Milwaukee, only 13% of voucher students were proficient in math and 11% in reading in 2015, worse than students in the city's public schools. In Cleveland, most voucher students performed worse in math, although they did better in reading. In New Orleans, struggling students who use vouchers to attend private schools continue to struggle to learn. Across Louisiana, voucher students at private schools posted poor scores in math, reading, science, and social studies, fewer than half of the voucher students in some private schools achieved basic proficiency. Students at seven of the private schools performed so poorly that the State Superintendent barred them from accepting new voucher students.
"School Choice" is frequently an excuse to maintain racial and economic segregation, especially in the United States South where segregation academies have proliferated since federal courts ruled de jure segregation illegal in the 1950s and 1960s. A good example is Selma, Alabama. Selma's two high schools, Southside and Selma City, have student populations that are virtually 100% African American. White families in Selma, and some of the more affluent Black families, send their children to the Meadowview Christian School where the student population is over 90% White.
So if you are a public school parent or teacher thinking of voting for Donald Trump, be prepared to kiss your school good-bye.
Related
Popular in the Community