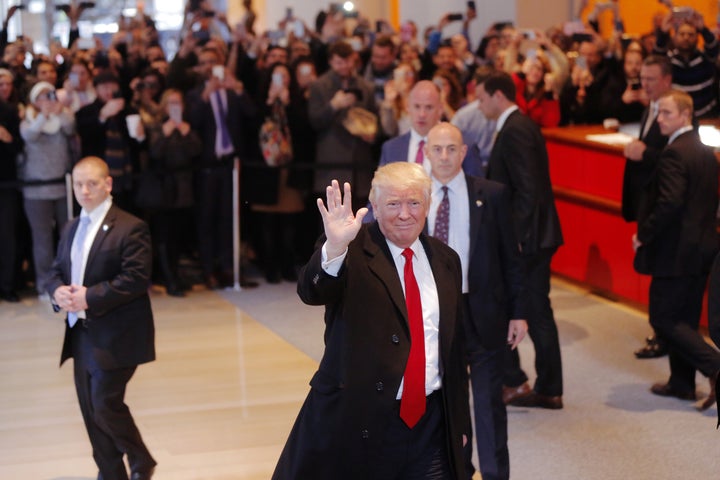 During these dangerous and uncertain times, Israel needs a strong ally in the White House. Support among Jews for Donald Trump, both during the Republican primaries and in the general election, was tepid at best.
His share of the Jewish vote was seven percentage points less than Republican nominee Mitt Romney received in 2012.
Nevertheless, the refrain, "At least Trump is good on Israel," has become more common. Yet, typically when Jewish and pro-Israel voters talk about Trump being "good on Israel" as their sole reason for supporting him, they mean it in a reflectively hawkish sense that rarely finds any reason to criticize the world's only Jewish state.
During the presidential campaign, Trump was inconsistent in voicing support for Israel.
He had said during the primary campaign that he would be "a neutral guy" when it comes to the Israeli-Palestinian conflict; just weeks before Election Day his official campaign site continued to promote this view featuring a video of him saying, "I want to remain as neutral as possible" on the issue.
He also said that Israel should pay back the billions of dollars in U.S. military defense aid it receives, specifically claiming: Israel "can pay big league."
And, as has been much discussed, he played into anti-Semitic stereotypes in a speech to leading Jewish Republicans, doubled down on his use of a Star of David in an anti-Semitic tweet and was reluctant to disavow the support of David Duke and other anti-Semites — though he eventually did.
Since becoming the president-elect earlier this month, we have gotten a taste of what President Trump and his administration will be like.
In one of his first and most important appointments, he selected Steve Bannon to be his chief strategist and senior adviser.
As CEO of Breitbart News, Bannon gave a leading platform to the alt-right, what I consider a white supremacist movement that regularly and unabashedly peddles in anti-Semitism, sexism and racism. The appointment was widely and strongly criticized in the Jewish community, including by Judaism's two largest denominations.
How could it be only coincidental that the Anti-Defamation League found an election-year surge in anti-Semitism against Jewish journalists and that a Washington, D.C., conference broke out in a "Heil Hitler" salute and chant in celebrating Trump's victory?
The conference, which took place at the Ronald Reagan Building just blocks from the United States Holocaust Memorial Museum, compelled the museum to issue a rare statement:
"The targeting of Jews was central to Nazi racist ideology. "The Germans attempted to kill every Jewish man, woman and child they could find. Nazi racism extended to other groups. By the end of World War II, the Germans and their collaborators had murdered six million Jews and millions of other innocent civilians, many of whom were targeted for racial reasons."
It called "on all American citizens, our religious and civic leaders, and the leadership of all branches of the government to confront racist thinking and divisive hateful speech," and ended with an ominous and serious warning, "The Holocaust did not begin with killing; it began with words."
In response to the "Heil Trump" salutes, a Trump spokesman generally condemned racism, but he did not specifically denounce the racist movement.
Despite President-elect Trump's numerous tweets on other subjects, ranging from personally commenting on a meeting with The New York Times and the latest episode of Saturday Night Live to repeatedly denouncing the cast of Hamilton, on this, he was silent for days.
Nonetheless, perhaps this resurgence of anti-Semitism and Trump's lack of eagerness to denounce it will still allow for the kind of hawkish pro-Israel policies that motivated "good on Israel" voters to support Trump.
In the few short weeks since candidate Trump became the president-elect, he and his advisers have begun to roll back the perennial, albeit unfulfilled, Republican promise to move the U.S. Embassy in Israel from Tel Aviv to Jerusalem and they have completely abandoned any pretext that a Trump administration would follow through on another campaign pledge to "rip up the Iran deal."
Additionally, the ultra-hawkish Zionist Organization of America rebuked Trump's leading candidate for secretary of defense, Gen. James Mattis, saying that "he's hostile to and misunderstands Israel."
ZOA said that Mattis's characterization of the American-Israeli alliance:
"revealed a lack of appreciation for and understanding of the extraordinary value to American security resulting from a strong American-Israeli alliance and a secure Israel."
Of course, when it comes to policy, especially in the Middle East, Trump has been wildly inconsistent. As to whether he will be "good on Israel" — even in the hawkish sense that those single-issue voters used as the basis for their support for Trump — no one can be sure.
What is certain is that those voters who supported Trump solely because of what they believed to be his pro-Israel policies made an awful lot of compromises — on issues ranging from domestic policy and civil liberties to Trump's fitness to be commander in chief and repeated slowness to condemn anti-Semitism.
It may turn out that a Trump administration will be "good for Israel" after all, but we just don't know. Meanwhile, they still voted for him and we're all stuck with the rest of him.
Popular in the Community