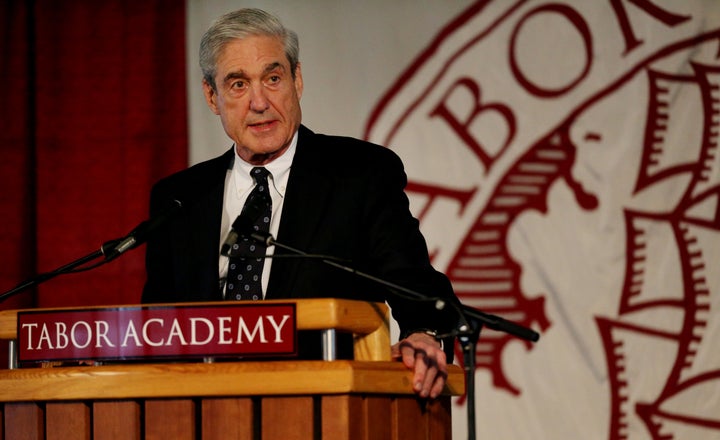 Special counsel Robert Mueller's mission is remarkable: to determine whether President Trump or his associates bartered the power of the presidency in exchange for electoral or financial assistance from a foreign adversary bent on undermining U.S. democracy.
U.S. intelligence agencies unanimously concluded that Russia disseminated e-mails stolen from the Democratic National Committee and the Hillary Clinton campaign to help Trump become president. The CIA, former director John Brennan told Congress, believed that Russia was trying to influence members of the Trump campaign to act — wittingly or unwittingly — in Russia's interests.
Perhaps President Vladimir Putin of Russia merely saw Trump as a vain ignoramus susceptible to flattery and enamored of autocrats. Whatever the case, the skeletal facts already public require an investigation unimpeded by politics — or the chorus of enablers who stoke Trump's desire to terminate Mueller.
One little-known area of inquiry involves Trump, the right-wing British politician Nigel Farage, and WikiLeaks founder Julian Assange.
Farage led the Brexit campaign, which served Russia's aim of weakening the European Union. Robert Mercer — a patron of White House chief strategist Steve Bannon, and one of Trump's principal donors — assisted that campaign, an intrusion being investigated by British electoral authorities.
Farage campaigned for Trump; like the president, he advocates closer relations with Russia. Farage is also connected to Assange, whose Wikileaks disseminated the e-mails stolen by Russia. Most recently, as reported in The Guardian, Farage was photographed leaving the Ecuadorian Embassy in London, where Assange has taken refuge.
Perhaps this is a chain of coincidence, not a channel of communication. But during the campaign, Trump adviser Roger Stone exchanged messages with Guccifer 2.0, a Twitter account used by Russian intelligence. Intriguingly, Stone seemed to know in advance when WikiLeaks would release e-mail stolen from Clinton's campaign chair. Finally, the Wall Street Journal reports one instance of known collusion, wherein a Florida-based GOP operative advised Guccifer 2.0 on how to release stolen emails to most damage Democrats.
Another touchstone is contacts between Russian officials and the Trump campaign — most conspicuously, Michael Flynn, who may well be harboring damaging information about Trump.
Flynn is close to Putin; took speaking fees from Russian interests which he failed to disclose; and held numerous conversations with Russian officials during Trump's campaign before becoming national security adviser. He then discussed sanctions relief with the Russian ambassador, Sergey Kislyak — and lied about it to the FBI, the vice president, and Trump's chief of staff.
What ensued was singular: With Nixonian desperation, Trump protected Flynn.
Upon learning of Flynn's lies from the DOJ, Trump told no one, feigning ignorance of a Washington Post report detailing Flynn's mendacity. Only when the Post exposed Trump's knowledge was he compelled to dispatch Flynn.
Immediately, Trump asked then-FBI director James Comey to sideline the Flynn investigation. Upon failing, Trump importuned Intelligence Director Dan Coats to intercede with Comey. When Comey persisted, Trump fired him in the apparent belief — shared with Russian officials — that he had shut down the investigation.
These actions bespeak a Trump afflicted by uncharacteristic loyalty — or deeply afraid of what Flynn knows. And now Coats, National Security Agency director Michael Rogers, and Attorney General Jeff Sessions have stonewalled the Senate Intelligence Committee about conversations with Trump regarding Comey and the Russia investigation.
Curiously, Sessions met twice with Kislyak in 2016, then denied such communications during his confirmation hearings, and now claims not to remember their substance. Campaign foreign policy adviser Carter Page — a frequent target of Russian intelligence officials — met with Kislyak but also professes forgetfulness. The likely subject matter in both cases? Sanctions relief, as well as softening our opposition to Russian aggression in Ukraine, including changes in the GOP platform inserted by Trump's campaign.
Here we come to Trump's finances. His denials notwithstanding, both Donald Jr. and Eric Trump previously admitted that Trump's empire relies on Russian money. Mueller's scrutiny of those ties will implicate Trump's undisclosed tax returns.
Like former campaign chief Paul Manafort, another subject of inquiry, Jared Kushner's Russia connection is both political and financial. In several conversations, Kislyak and Kushner discussed opening a secret channel of communication conducted through the Russian Embassy.
Feckless amateurism? Perhaps. But Kislyak connected Kushner with Sergey Gorkov, an alumni of Russia's intelligence academy whose bank, VEB, is a financial arm of the Kremlin that advocates sanctions relief. This while Kushner was seeking foreign money to rescue his investment in a troubled Manhattan office tower. Improbably, Kushner forgot these meetings in seeking a security clearance. Among Trump's inner circle, it seems, Kisylak induces mass amnesia.
Robert Mueller must do his work.
Richard North Patterson's column appears regularly in the Boston Globe. His latest book is "Fever Swamp." Follow him on Twitter @RicPatterson.
REAL LIFE. REAL NEWS. REAL VOICES.
Help us tell more of the stories that matter from voices that too often remain unheard.
BEFORE YOU GO