WASHINGTON ― The Trump administration has yet to prove it is fully complying with new Russian sanctions legislation just over one month after the State Department sparked a wave of criticism by announcing it would not yet apply any of the new penalties the law permits it to enact.
The legislation, passed last summer in response to Russian meddling in the 2016 election, requires the State Department to work to curb Moscow's income by discouraging foreign countries and companies from doing deals with the Russian defense and intelligence sectors and sanctioning those who go through with major purchases.
But the department has refused to give reporters specifics on what ― if anything ― it's doing. And it has given lawmakers no new details on its work since a classified briefing on Jan. 29, the day the decision was announced, according to aides for two of the Senate's top foreign policy figures, Sens. Bob Menendez (D-N.J.) and Chris Murphy (D-Conn.).
Since that briefing, members of Congress have been publicly fuming against the administration for its apparent inaction, highlighting subsequent warnings from Director of National Intelligence Dan Coats and National Security Agency head Mike Rogers that Russia's desire to meddle remains strong as fresh elections loom.
"It's like telling Russia, 'You were welcomed in 2016 to interfere in our elections, and we look forward to your interventions in 2018,'" Menendez, the top Democrat on the Senate Foreign Relations Committee, said on CNN last month. "That cannot stand."
Democrats have deliberately made the Russian sanctions issue one of their top talking points over the last month. Special Counsel Robert Mueller and three congressional committees are still investigating whether members of the Trump campaign colluded with the Russian scheme to boost Trump in the 2016 election. For those who believe there was a quid pro quo, the administration's approach to the law ― passed with a veto-proof majority in part because both Republicans and Democrats worried the new president would go easy on Moscow ― looks like one more piece of evidence.
The State Department maintains that it has already made progress in trying to deter potential Russian military customers through private discussions with foreign officials and by instructing all missions abroad to closely monitor talk of arms deals with Moscow.
"This administration has consistently shown that it will levy costs on Russia in response to its malign behavior," a department spokesman told HuffPost. "Already since the passage of the legislation, several billion dollars in planned or announced Russian arms deals have been abandoned, imposing increasing financial costs on the Russian government."
The spokesman did not provide particulars.
U.S.-friendly countries that have publicly considered purchases of Russian equipment over the last few months include Turkey, Saudi Arabia, Qatar, India and the Philippines. The embassies of all but Qatar did not respond to repeated requests for comment. A Qatari spokesman noted that his defense minister recently told a Washington audience his country had not yet finalized a deal to buy Russia's S-400 missile defense system and said it would follow all U.S. laws.
The Trump administration's defenders say the lack of new sanctions against Russia could be a sign the system to prevent Russian arms deals is working, as sanctions only need to be applied to foreign companies or countries if an agreement is completed. Sen. Bob Corker (R-Tenn.), chairman of the Senate Foreign Relations Committee, said in a statement at the end of January that that month's deadline only marked the beginning of the period when sanctions can possibly be applied.
But the lack of even a slap on the wrist so far could suggest to foreigners that the United States is not serious about the law, experts argue.
"If they want to stop these kinds of sales, they are going to have a find a couple of companies to sanction to send a signal," said Peter Harrell, a former top State Department sanctions official now at the Center for a New American Security. "When you make public some of the deals you've gotten turned off it puts pressure on the remaining countries to exit too."
The administration's announcement in January of no new sanctions, and the public unveiling the same day of a list of significant Russian oligarchs cribbed from Forbes magazine ― rather than a detailed list of possible future Treasury Department sanctions targets ― made it look weak on the question of Russian money flows, Harrell added.
Trump "made a mockery of the entire legislation," said Max Bergmann, another former State Department official now at the Center for American Progress.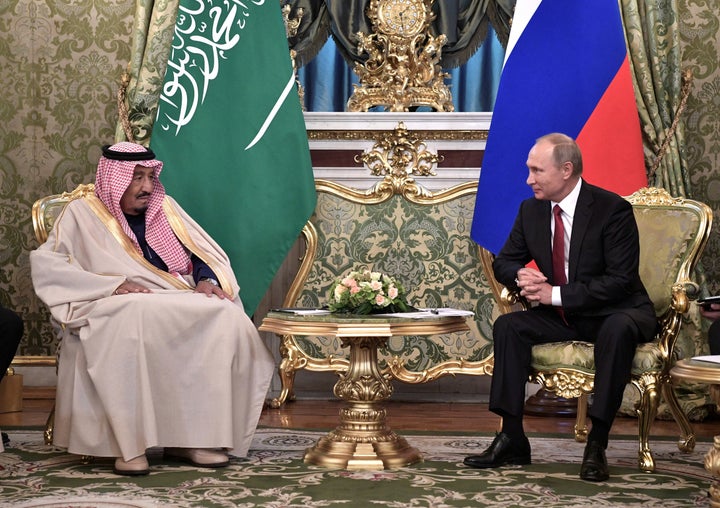 The classified briefing convinced members of Congress that the State Department has begun some work on Russia but lawmakers are still unsure if it is a priority, an aide to Menendez told HuffPost. He said that the administration has also yet to apply other sanctions mandated in the law, including those targeting Russian cyber actors for attacking individuals or democratic institutions around the world.
Two days after the briefing, 20 Democratic senators wrote to Secretary of State Rex Tillerson to demand more information, including about personal work on the issue that might prove crucial in dealing with some governments. They have yet to receive a response, according to the Menendez aide.
The aide and the former officials all noted that there are limits on how public the State Department can be about this kind of diplomacy and that Trump has expanded sanctions on Russia established by authorities predating the 2017 law. Treasury Secretary Steven Mnuchin has also publicly promised some separate sanctions on Russian oligarchs under the legislation soon.
As a result, there's a clear risk the attack line on Trump's sanctions policies could mislead the public on how U.S policy functions if serious work is being conducted behind the scenes.
And even among Democrats inclined to distrust the Trump's administration's foreign policy aims, there is a push from some in the party to talk less about Russia altogether because of the sense based on polling that voters care far more about issues like health care and economic justice, a Hill aide told HuffPost. The aide noted that members have been paying close attention to recent polling suggesting that conclusion from the Democratic PAC Priorities USA.
But congressional staff and influential members in both parties are still paying close attention to how Trump implements the new law, and concern about it will likely grow as the midterms get closer.
"If we haven't seen more action over the next month or two, I certainly would expect more pressure" from Capitol Hill, Harrell said. "I think Russia doesn't particularly care about U.S. public statements at this point. If you want to deter them you need pain."
The Trump administration could at least indicate which potential Russians arms sales abroad it sees as significant so Congress can have a benchmark by which to judge its work preventing the deals, the aides to Menendez and Murphy said.
And it could even start its work of pressuring those dealing with Russians with relatively uncontroversial targets, the Menendez aide added, citing Russian airstrikes and personnel helping the Assad regime in Syria. The administration could use the new law to sanction specific figures or entities involved in outrages like the ongoing bombing of a starving rebel-held enclave outside Damascus.
"It's the lowest of the lowest hanging fruit," he said.
Popular in the Community