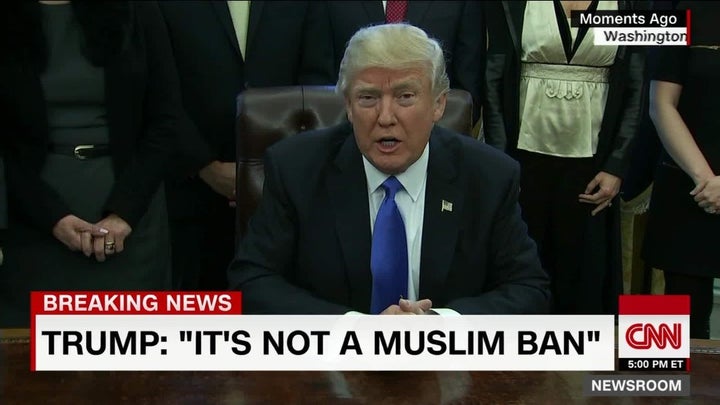 The ACLU Executive Director, Anthony D. Romero, claims that President Donald Trump's Executive Order suspending the admission of aliens from Iraq, Syria, Iran, Sudan, Libya, Somalia, and Yemen for 90 days is "a Muslim ban wrapped in a paper-thin national security rationale."
If the objective of the Executive Order had been a Muslim ban, it would not have been limited to those seven countries.
According to the PEW Research Center, the ban affects only about 12% of the world's Muslims. Moreover, of the seven countries, only Iran is among the 10 countries that have the largest Muslim populations.
As of 2010, there were approximately 1.6 billion Muslims in the world, and nearly two-thirds (62%) of them lived in the Asia-Pacific region.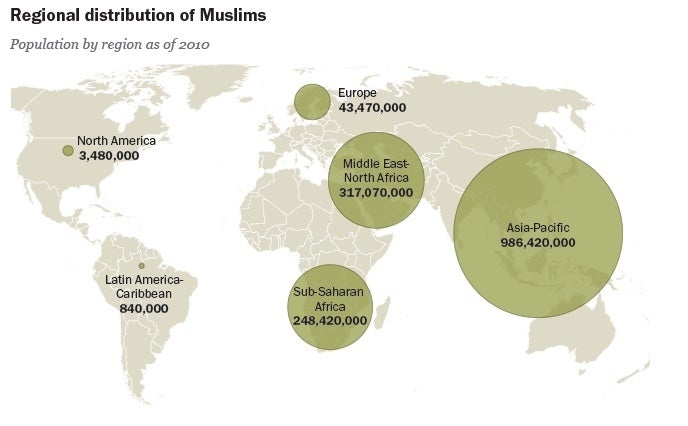 It excludes people in Visa Waiver countries from using the Visa Waiver Program if they have been present in Iraq, Syria, or any other designated country or area of concern at any time since March 1, 2011.
ESTA is an automated, Internet system that determines the eligibility of visitors to travel to the United States under the Visa Waiver Program. It collects biographic information and answers to Visa Waiver Program eligibility questions.
The process for obtaining a visa is more thorough. For instance, it includes an examination of the alien's documents and a personal interview at a United States Consulate Office.
Designation requires a finding that the governments of the countries designated have provided support for acts of international terrorism repeatedly and that they have met the criterion for "Countries or areas of concern," the pertinent part of which reads as follows:
(D) Countries or areas of concern
(i) In general. Not later than 60 days after December 18, 2015, the Secretary of Homeland Security, in consultation with the Secretary of State and the Director of National Intelligence, shall determine whether the requirement under subparagraph (A) shall apply to any other country or area.
(ii) Criteria. In making a determination under clause (i), the Secretary shall consider—
(I) whether the presence of an alien in the country or area increases the likelihood that the alien is a credible threat to the national security of the United States;
(II) whether a foreign terrorist organization has a significant presence in the country or area; and
(III) whether the country or area is a safe haven for terrorists.
Nationals of Visa Waiver countries who are excluded from the Visa Waiver Program on this basis still can be admitted to the United States. They just have to have a visa, which requires more thorough screening than getting online authorization from ESTA to travel under the Visa Waiver Program.
President Trump is not satisfied, however, that the visa screening process is sufficient to ensure that aliens who have been approved for admission do not intend to harm Americans and that they have no ties to terrorism.
President Trump's Executive Order directs the Secretary of State and the Director of National Intelligence to determine what information is needed from any country to decide whether one of its nationals who is seeking admission to the United States is who he claims to be and is not a security or public-safety threat.
The Executive Order also requires finding out which countries will be willing to provide the needed information. If the governments of the seven designated countries agree to provide this information, the ban will not be extended, but their nationals will have to pass through the new screening process to get a visa to come to the United States.
In the meantime, the Executive Order permits the Secretaries of State and Homeland Security to waive this ban on a case-by-case basis when a waiver is in the national interest.
DHS already has applied this waiver to the entry of nationals from those countries who are lawful permanent residents returning from a trip abroad. He has stated that, "absent the receipt of significant derogatory information indicating a serious threat to public safety and welfare, lawful permanent resident status will be a dispositive factor in our case-by-case determinations."
It certainly would have been better if President Trump had provided more guidance on such waivers and set up procedures for requesting them before issuing the Executive Order. He also could have delayed its effective date to prevent people from being caught by it in transit to the United States.
Nevertheless, it is apparent that it is not "a Muslim ban wrapped in a paper-thin national security rationale."
REAL LIFE. REAL NEWS. REAL VOICES.
Help us tell more of the stories that matter from voices that too often remain unheard.