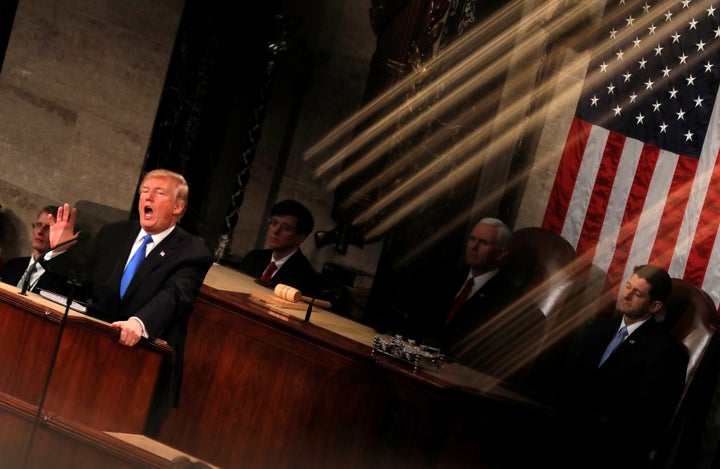 Trump delivered his first State of the Union address to mildly positive reviews, a new HuffPost/YouGov poll finds, but left most of those who paid attention with the same opinions of his actions and temperament that they had when he started.
By a 9 point-margin, 51 percent to 42 percent, Americans who watched Trump's speech or saw at least some news coverage of it say they approve. That's a less warm reception than he received for his speech to Congress last year, which drew a 23-point net approval rating.
State of the Union addresses tend to be well-received for a simple reason ― people who already like the president are more likely to tune in. Trump's speech, according to the HuffPost/YouGov poll, was no exception. Nearly two-thirds of Trump voters said they'd watched at least some of the speech, compared to just 30 percent of Clinton voters and 31 percent of third-party voters and non-voters. Trump voters were about three times more likely than Clinton voters to say they'd watched the entire speech.
Overall, just over a quarter of all Americans say they watched the full address, 13 percent that they saw at least part of it, and 31 percent that they watched or read news coverage of the speech. A majority of Trump voters (88 percent), Clinton voters (78 percent) and everyone else (57 percent) said they'd heard at least something about the State of the Union. HuffPost asked everyone who'd paid at least some attention to the address for their thoughts, because even those who didn't watch the speech directly are likely to have formed an impression. Research has found, media coverage of events like speeches and debates can be just as important as the content.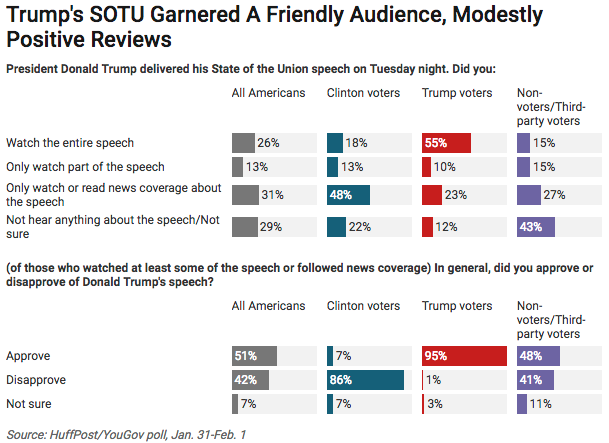 Despite the positive ratings, Trump's address also followed another storied State of the Union precedent: It failed to change many minds. A 56 percent majority of people who followed the State of the Union say the speech had no effect on their impression of Trump's actions, and a 61 percent majority say that it didn't change their impressions of his temperament.
Nor was the speech seen as much of a pivot. Sixty-four percent say that the tone and content of the speech were similar to most of what he's said and done since becoming president, while just 24 percent saw it as substantively different. And even among those who saw a difference, more than 60 percent expected that Trump would soon revert back to his usual patterns of behavior.
Views of the address, like views of nearly everything related to the current administration, are deeply polarized. Ninety-five percent of Trump voters who paid attention to the speech, but just 7 percent of Clinton voters who did, approve. Non-voters and third-party voters are somewhere in the middle, with 48 percent approving.
Most Trump voters say the State of the Union improved their views of Trump's actions, and a 44 percent plurality say that it improved their views of his temperament. Some of that response could just be his already-staunch supporters reaching for a way to affirm that they like both Trump and what he had to say.
But it does raise the possibility that, by foregrounding the more restrained version of the president, the speech could help him hold onto the recent uptick in support he's seen recently among his own voters.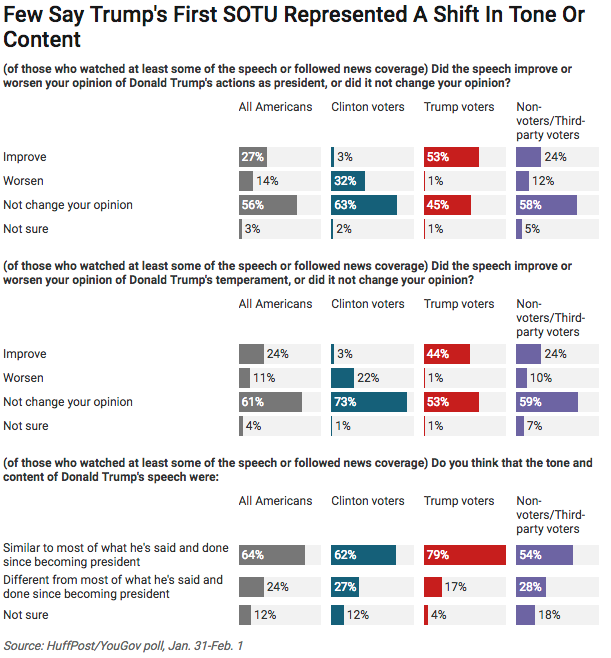 People who paid at least some attention to the address say, 47 percent to 18 percent, that Trump's speech was optimistic, rather than pessimistic. (For comparison, 40 percent felt his inaugural speech, which included references to "American carnage," was optimistic.) They were split, 38 percent to 35 percent, on whether it was more unifying or divisive. 
Those polled say, 44 percent to 34 percent, that Trump spent enough time on the issues they care about most. Asked to pick which two issues Trump focused on most in his speech, they're most likely to name immigration (48 percent) and the economy (39 percent), with tax reform (23 percent) taking third place.
Use the widget below to further explore the results of the HuffPost/YouGov survey, using the menu at the top to select survey questions and the buttons at the bottom to filter the data by subgroups:
Other polling and data on the State of the Union:
CBS News: "Three in four Americans who tuned in to President Trump's State of the Union address tonight approved of the speech he gave. Just a quarter disapproved."
NBC News: "The majority of Americans who tuned in or followed news coverage of President Donald Trump's State of the Union address Tuesday night thought that the president hit the right notes, according to the results of an NBC News/SurveyMonkey poll released Thursday."
CNN: "Almost half of Americans who watched President Donald Trump's first State of the Union address ― 48 percent― say they had a 'very positive' impression of the speech, down from 57 percent of speech-watchers after his first address to match Barack Obama's rating after his first State of the Union address, according to a new CNN poll conducted by SSRS. It's the lowest net positive rating for a State of the Union address since at least 1998, when CNN first asked the question."
Politico: "President Donald Trump earned high marks for his first State of the Union address, according to a new POLITICO/Morning Consult poll of Americans who watched the speech earlier this week."
More from CNN: "During his first State of the Union address Tuesday, [Trump] mentioned the words 'immigrants' and 'immigration' more than any other president in the last 100 years since President Woodrow Wilson started the trend of delivering the State of the Union as a speech instead of a written report."
Gallup: "President Donald Trump delivered his first State of the Union address Tuesday night. Here is a look at the public opinion context for eight themes that Trump emphasized in his speech."
The HuffPost/YouGov poll consisted of 1,000 completed interviews conducted Jan. 31-Feb. 1 among U.S. adults, using a sample selected from YouGov's opt-in online panel to match the demographics and other characteristics of the adult U.S. population.
HuffPost has teamed up with YouGov to conduct daily opinion polls. You can learn more about this project and take part in YouGov's nationally representative opinion polling. More details on the polls' methodology are available here.
Most surveys report a margin of error that represents some, but not all, potential survey errors. YouGov's reports include a model-based margin of error, which rests on a specific set of statistical assumptions about the selected sample rather than the standard methodology for random probability sampling. If these assumptions are wrong, the model-based margin of error may also be inaccurate. Click here for a more detailed explanation of the model-based margin of error.
REAL LIFE. REAL NEWS. REAL VOICES.
Help us tell more of the stories that matter from voices that too often remain unheard.