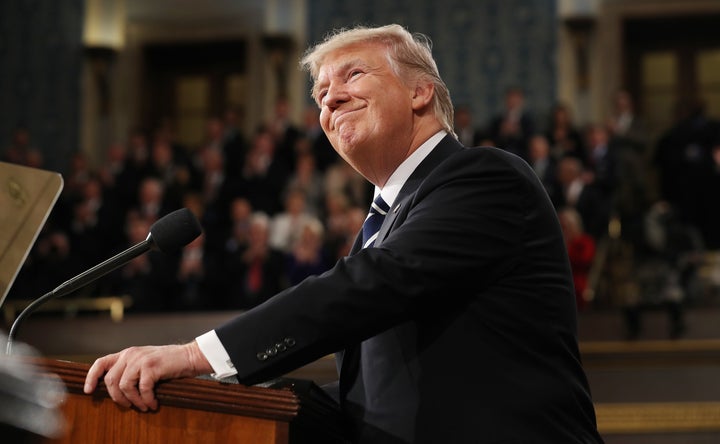 President Donald Trump's speech to a joint session of Congress in late February won him praise from pundits and an uptick in his approval rating. As the news cycles move on, however, perhaps more fundamental challenges remain, including a negative public reaction to high profile items on the Trump administration's agenda.
Specifically, Trump's early emphasis on immigration contrasts with a public more eager for a focus on economic progress, and Republican health care proposals are perceived to "do less" by a public hoping for expanded efforts to reduce the cost of health care coverage. Other potentially popular proposals – such as infrastructure improvements or "merit-based" immigration reform – may get lost in the conflict amidst other less popular initiatives including a border wall and proposals to cut corporate tax rates.
The Speech and Trump Approval – Those who said they watched the speech (56 percent of our sample) were mostly impressed with it. Two-thirds (67 percent) of speech watchers had a positive impression and 59 percent said the policies that Trump has proposed will move the country in the right direction.
Not surprisingly, the self-identified speech watchers were also far more Republican and approving of President Trump than other adults. Specifically, 36 percent of speech-watchers identify as Republicans and 28 percent as Democrats (compared with 33 percent Democratic, 19 percent Republican among those who said they did not watch the speech).
These results are similar to those obtained by various "instant" surveys of speech viewers (though our pool of self-reported speech watchers likely includes many who watched news coverage rather than the speech itself).
President Trump's overall job approval rating among all adults was modestly higher (48 percent) among the Americans we interviewed for the five days following Trump's speech (March 1 to 5), than it had been the previous full week (44 percent), although only two points higher than it had been in our tracking for three straight weeks before that (46 percent).
This small increase is generally consistent in direction with the findings of other public polls, though slightly larger in magnitude. Polling averages have shown Trump's approval rating rising 1 to 2 percentage points since the speech.
Despite the uptick, more specific impressions of Trump have not shifted significantly. Following the speech, we again provided respondents with a list of characteristics and qualities and asked them to select those that best apply to President Trump. Most selections ticked up slightly compared to two weeks ago, but at roughly the same levels measured in early February.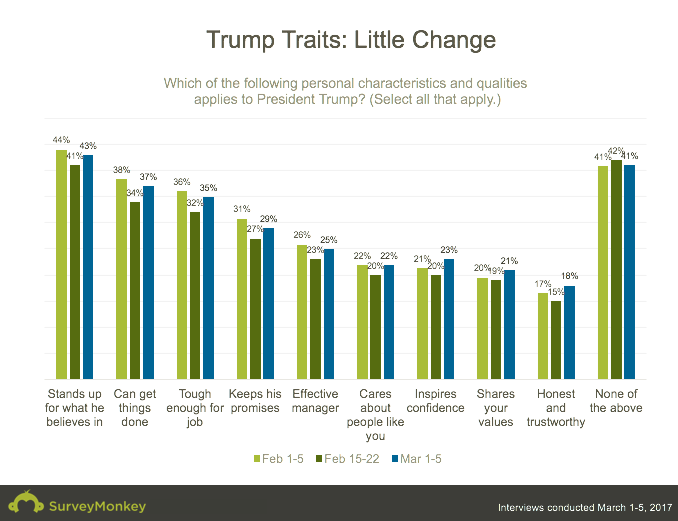 Looking past the minor fluctuations that are inherent in tracking polls, approval and other perceptions of President Trump remain largely stable over the past six weeks.
Where's the emphasis? – One critical factor in the relative stability of Trump's approval may be the mismatch between the issues that matter most to Americans and those they perceive as receiving greatest emphasis from the new President.
Although the economy remains the leading choice, Americans select a variety of issues as important. When asked to choose from a list of seven options, 27 percent choose "jobs and the economy" as the issue that matters most, followed by health care (19 percent), immigration (12 percent), education (11 percent), terrorism (9 percent), the environment (9 percent) and foreign policy (3 percent).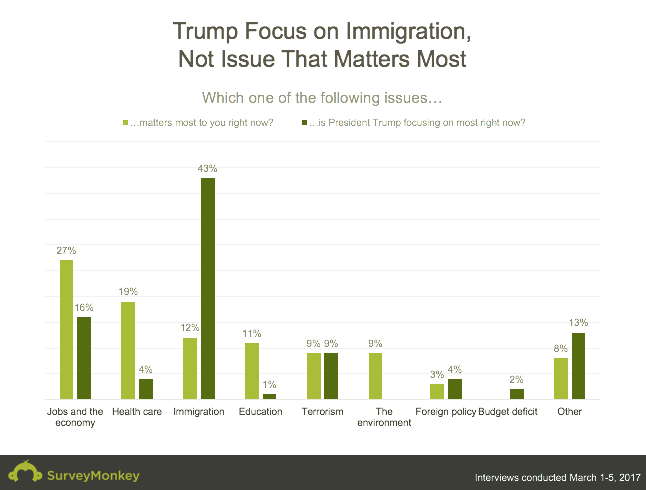 Yet when asked which issue President Trump is focusing on most right now, 43 percent select immigration, followed by jobs and the economy (16 percent) and terrorism (9 percent), with all other single issues mentioned by 4 percent or fewer.
Immigration – The president's perceived emphasis on immigration, alone, tells only part of the story. Americans are also conflicted about Trump's specific immigration proposals.
After last week's speech, for example, our survey found broad support for the concept of merit-based immigration, with 64 percent supporting "a new system for legal immigration where new immigrants are selected based on their ability to support themselves financially" (and 33 percent opposed).
At the same time, however, the idea of building a "wall along the entire U.S. border with Mexico," draws more opposition (53 percent) than support (44 percent). In early February, we also found similar net disapproval of Trump's initial travel ban executive order that barred entry to citizens from seven predominantly Muslim countries from entering the U.S.
ACA/Obamacare – A similar disjuncture exists between public opinion and Trump's position with respect to the Affordable Care Act (ACA), the health insurance reform law also known as "Obamacare." An overwhelming majority of Americans prefers to either change the law so it does more (46 percent) or let the law stand (17 percent). Far fewer want to change it so it does less (7 percent) or repeal it completely (28 percent).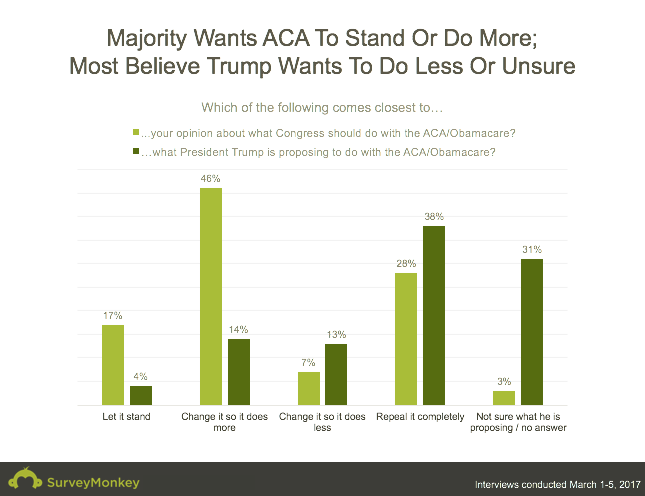 Yet when asked about Trump's position, relatively few believe Trump would let the ACA stand (4 percent) or change it so it does more (14 percent). Just over half believe he would repeal it completely (38 percent) or change the law so it does less (13 percent). Nearly a third (31 percent) are unsure what Trump is proposing or do not answer the question.
This perception of Trump's position – mostly either unknown or believing he would weaken the existing law – helps explain why just 28 percent of Americans believe Trump's proposed changes will improve their "ability to get and keep health insurance," and more (34 percent) believe it will make it worse. More than a third (35 percent) believe their access will stay the same. Similarly, more Americans believe Trump's proposals will worsen their health care costs (39 percent) than improve them (30 percent).
Partisans polarize on these questions as they do on most things involving the president, with a majority of Republicans believing health insurance will become more accessible and affordable, and most Democrats believing it will become less so.
However, among independents who lean to neither party, the skepticism is greater. More than twice as many believe their ability to get insurance will get worse (39 percent) than get better (16 percent); more than twice as many believe their health insurance costs will worsen (44 percent) than improve (18 percent).
Other issues – The Trump agenda faces similar conflicts on other issues. Some proposals floated in the speech are potentially popular, but others will likely run into public opinion roadblocks. A new initiative to boost infrastructure spending is overwhelmingly popular, and a narrower majority supports a significant boost to military spending. Yet Americans are more closely divided on the cuts to domestic spending proposed to help pay for the new military spending, and a narrow majority opposes cutting the tax rates paid by corporations. Specifically:
78 percent support legislation that produces 1 trillion dollars in new spending on roads, bridges, tunnels, airports and railways; 18 percent oppose it.
53 percent support increasing military defense spending by 54 billion dollars; 43 percent oppose it.
48 percent support cutting federal spending on programs other than military defense by 54 billion; an identical 48 percent oppose it.
45 percent support cutting the tax rates paid by American corporations; 51 percent oppose it.
Methodology: This SurveyMonkey Tracking poll was conducted online March 1-5, 2017 among a national sample of 4,551 adults ages 18 and up. Respondents for this survey were selected from the nearly 3 million people who take surveys on the SurveyMonkey platform each day. Data for this week have been weighted for age, race, sex, education, and geography using the Census Bureau's American Community Survey to reflect the demographic composition of the United States. Full topline results and detailed demographic breakdowns can be viewed here. This article is cross-posted at the SurveyMonkey Election Tracking blog.
REAL LIFE. REAL NEWS. REAL VOICES.
Help us tell more of the stories that matter from voices that too often remain unheard.