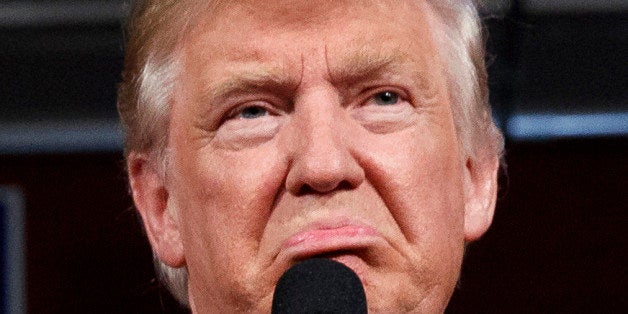 Ever eager to assure conservatives he's their best bet to cement an ultraconservative majority on the Supreme Court, Donald Trump recently announced ten more names he'd add to the pool of people he might name to the Court if elected. The new list made a token nod to diversity and brought the total of potential Trump nominees to 20:21 if you include the apparently blindsided Senator Mike Lee, who clearly didn't know he was a Trump pick and hurriedly bowed out. It also reinforced what was abundantly clear when Trump unveiled his first list of "great" Supreme Court picks: the men and women that Donald Trump wants on the Court have clear records of hostility to rights and freedoms we all take for granted.
Start with a name on Trump's latest list, Florida Supreme Court Justice Charles Canady. His far-right record includes a death-penalty ruling so indefensible that when it reached the U.S. Supreme Court even the court's arch-conservatives, Chief Justice Roberts, Justice Scalia, and Justice Thomas, agreed it was unconstitutional. As a Congressman, Canady led the charge to impeach President Bill Clinton.
Two more from the new list, Judges Neil Gorsuch and Timothy Tymkovich of the Tenth Circuit Court of Appeals, helped set women's health back decades in the infamous Hobby Lobby case, when they ruled that for-profit corporations can be treated as persons exercising religious freedom in denying reproductive health care to women employees.
Voting rights are an issue that seems to rub at least two Trump favorites the wrong way: Judge Diane Sykes of the Seventh Circuit Court of Appeals voted to reinstate Wisconsin's blatantly discriminatory voter ID law, while Michigan Chief Justice Robert Young wrote an opinion upholding the state's voter ID law that dissenting judges called "tragic" and likely to further harm the state's "impoverished and disadvantaged."
Then there's Justice David Stras of the Minnesota Supreme Court, who once lamented that the U.S. Supreme Court has ventured "into contentious areas of social policy--such as school integration, abortion, and homosexual rights." What kind of judge thinks school integration is still contentious? Apparently, one who Trump thinks is "great."
Next we have Utah State Supreme Court Justice Thomas Lee, who once questioned whether Utah Physicians for a Healthy Environment had standing to challenge the permit for a refinery that would add significant new levels of pollution to the region. Why? Because he assumed the economic interest of the doctors was actually better served by more people getting sick from the contamination of the air.
Another Trump favorite, Judge Steven Colloton of the Eighth Circuit, authored decisions letting Tyson Foods get away with $24 million in wage theft from its employees. No friend to workers, Judge Colloton wrote on another occasion that a woman who reported sexual harassment could not take legal action when her employer allegedly retaliated by firing her.
And there's Eleventh Circuit Court Judge William Pryor, who thinks Miranda v. Arizona, which requires that people be advised of their rights when arrested, and Roe v. Wade, which established a woman's right to an abortion, are "the worst examples of judicial activism."

The examples are troubling, because Trump clearly prefers judges who would turn back the clock on long-established fundamental rights, and who favor the powerful over the interests of everyone else.
The most frightening part is that the stakes this year couldn't be higher. Whoever is elected president in November will likely determine what the Constitution means for the rest of our lives. There are three justices will be in their 80s during the next president's first term, and there is the distinct possibility--if not probability--that there will be multiple vacancies to fill. And, of course, there is already one vacancy caused by the death of Antonin Scalia, for which President Obama has nominated the highly qualified, widely respected Merrick Garland. Senate Republicans, clinging to the hope that Trump will get to nominate someone for the seat instead, have refused to do their job and give Garland the vote to which he is entitled.
During the upcoming presidential debates, including the one this Sunday, Trump should be pushed to explain why he supports the judicial philosophies of the people on his lists. Because once Americans learn what these individuals really stand for, our bet is that - like Trump Steaks - the public won't buy what Trump is selling. Our research into voter attitudes has found that, overwhelmingly, Americans expect Supreme Court justices to ensure that the Constitution protects all of us, not just special interests. Voters care deeply about the Supreme Court. They want justices who will support the principle of liberty, equality, and justice for all of us. Donald Trump's Supreme Court justices, by contrast, would roll back a century of economic and social progress.
Nan Aron has written this post in her capacity as president of AFJAC.
Popular in the Community