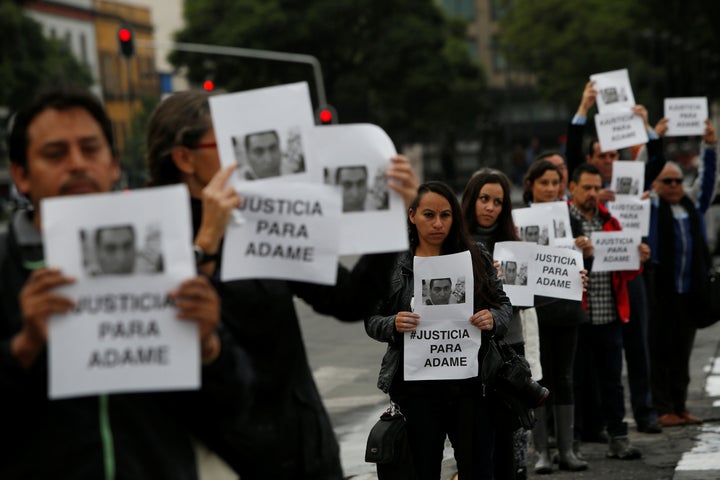 This past weekend, U.S. President Donald Trump posted a tweet featuring a gif of him physically attacking an effigy of CNN, generating rightful outrage amongst the public. This is just the latest in Trump's constant attacks on the media and incitement of violence against journalists, which has been a running theme since the early days of his campaign. While press freedoms in the United States, for now, remain largely unscathed thanks to the First Amendment, a powerful judiciary, and robust civil society institutions such as the ACLU, Trump's threats set a dangerous precedent. 
Media outlets will often self-censor what they publish in order to avoid being the targets of attacks or threats. Those who choose to speak freely often face enormous obstacles.
For Americans, this sort of disregard for the free press might seem unprecedented and shocking, but here in Mexico, this sort of thing is a reality we know all too well. Mexico is one of the most dangerous countries in the world for journalists. It is not uncommon for people who work in the media to receive threats, intimidation, and harassment. Media outlets will often self-censor what they publish in order to avoid being the targets of attacks or threats. Those who choose to speak freely often face enormous obstacles. 
A recent investigation from civil society organizations R3D and Article19, as well as the University of Toronto's Citizen Lab documented a mass attempt to hack devices belonging to journalists and members of civil society using spyware. This was done through a software named Pegasus, created by the firm NSO Group to target organized crime and sold exclusively to government agencies. Targets included radio and TV anchors and investigative journalists Carlos Loret de Mola and Carmen Aristegui, who were repeatedly targeted with phishing scams aimed at breaking into their devices and intercepting all their communications. In the case of Aristegui, her son was also targeted.
It is not uncommon for journalists to be disappeared or killed in certain states around the country due to collusion between organized crime and local security forces. In 2017 alone, seven journalists have been killed. According to The Guardian, at least four of them were murdered in retaliation for their work. The most recent death was that of Michoacán-based journalist Salvador Adame, who had been abducted several weeks before his body was found. Another recent high-profile case was the murder of Javier Valdez in Sinaloa. Valdez was known for hard-hitting investigative journalism often focused on exposing the brutality of organized crime and telling the stories of its victims. His murder sparked outrage in Mexican society and his funeral was attended by thousands. 
Torture and violent attacks are also a regular occurrence. On June 25th, the director of a Quintana Roo based news agency, Rubén Pat, was detained arbitrarily by municipal police after publishing information linking local authorities to organized crime. Before being released, he was beaten and threatened. He was never told why he was being held in custody, and several hours passed before he was even allowed to make a phone call. 
Pat is hardly the only journalist in Quintana Roo to be assaulted in recent months. Last month, reporter Carlos Barrios was attacked by an unknown assailant while leaving his office in Playa del Carmen. The unidentified man cut off part of Barrios' ear and made threats to both him and his editor, Eduardo Rascón. Both men had worked on pieces critical of the local government.
Progressives in the United States, and indeed, any Americans interested in the future of their democracy would do well in looking at what is happening south of their border as a cautionary tale of what can happen when a government starts to curb press freedom, either directly or indirectly. The warning signs are there given the Trump administration's fear of a free and open press. It is up to the American people, both Republicans and Democrats, to fight against it.
REAL LIFE. REAL NEWS. REAL VOICES.
Help us tell more of the stories that matter from voices that too often remain unheard.
BEFORE YOU GO