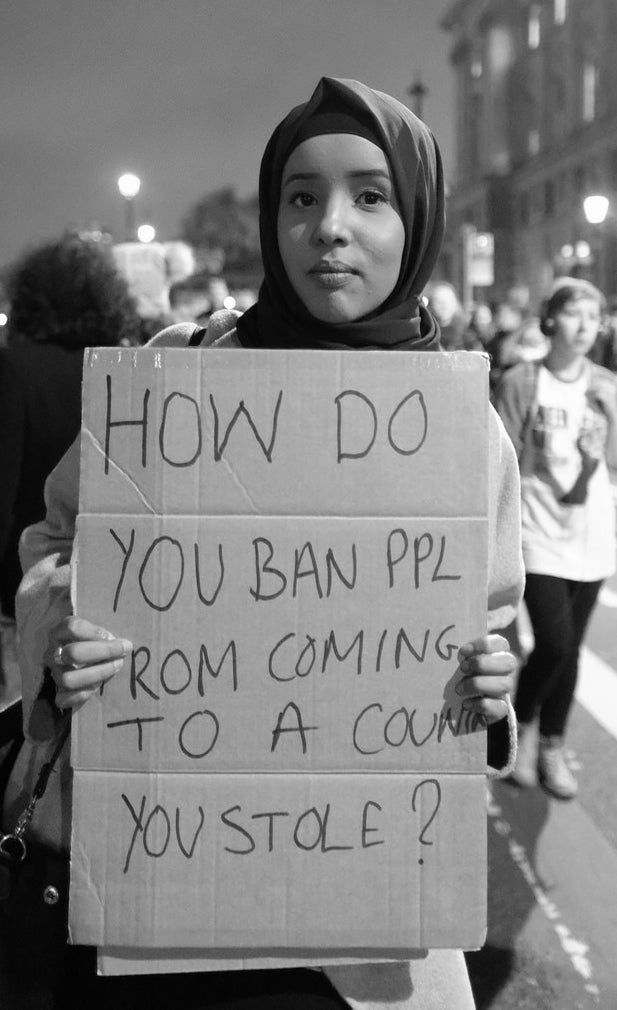 On May 25th, the fourth US Circuit Court of Appeals upheld the decision of the lower court in Hawaii to halt key portions of the executive order banning travel from seven Muslim-majority nations. Assuming that the President's June 5th tweets don't undermine his planned appeal to the Supreme Court this fall, it's likely that the administration will continue to fight for enforcement of the ban. For the time being, refugees continue to be admitted to the US. despite executive orders that have slashed annual quotas in half. However, if you are a Muslim seeking asylum, there is little reason for optimism, even in the short term.
While it is true that the US has accepted Muslim refugees at a higher rate than refugees coming from other religious communities, the same is not true for Muslims seeking asylum. How do asylum seekers differ from refugees? Refugees request protection and are subsequently given permission to enter the US as refugees. Asylum seekers, or asylees, are already in the US. Two forms of application are available to asylees: affirmative and defensive. The affirmative asylum process is for those who arrived at a point of entry in the US and apply within a year of that arrival. Defensive asylum is for those who are in danger of being deported, or who have been caught trying to enter the US without a valid visa. In either case, asylees must demonstrate a well-founded fear that removal to their home country will result in persecution at the hands of state or non-state actors.
Despite the stay of the travel ban, the current political and legal climate portends greater difficulties for asylees. In fact, many Muslims will find it harder to obtain asylum than at any time since 9/11. There are several reasons for this, three of which are the following:
Human rights violations carry less weight today than they have in the past. Although human rights have always been a significant concern for immigration judges in the US, and most studies show direct links between human rights violations in the country of origin and grants of asylum, there is ample evidence demonstrating that the US has systematically denied asylum to claimants from countries with some of the worst human rights abuses. Many asylum seekers whose petitions were denied are from Asian or sub-Saharan countries like Burma (Myanmar) and Zimbabwe. Roughly a quarter of all denials between 2012 and 2015 were of claimants from Muslim-majority countries in the Middle East, Asia, and Africa. This contrasts with the picture painted by reports that note an increase in the numbers of asylum grants within the shorter time frame of 2014-2015. Overall, data furnished by Homeland Security and the Justice Department, published in the 2015 Yearbook of Immigration Statistics, shows a steady decline in grants of asylum since 2012, despite global escalations in conflict and persecutions on the basis of ethnic, religious, sectarian, or sexual identity.
The increasingly onerous process of seeking asylum predates the Trump administration. Asylees undergo an intense vetting process and may have to wait for years until their cases are heard. Many asylees live in extended limbo during this period, and those who lack networks of family or friends to rely on for financial and emotional support suffer the most. This situation is likely to worsen before it improves, since there is a backlog of over 250,000 asylum cases pending in the Asylum Offices of the Immigration Courts. Although the president's executive orders call for more immigration judges and Asylum Officers, the process and means of doing so haven't been specified, ensuring that the backlog will continue. Additionally, the updated lesson plan for asylum officers distributed by US Citizenship and Immigration Services (USCIS) Asylum Division Chief John Lafferty last February makes it harder for asylees to establish a credible fear of persecution, and it gives asylum officers wider latitude to consider body language as "evidence" against an asylee's claims. Namely, an immigration officer can more easily cast doubts on the credibility of someone whose body language during an interview may actually reflect his or her feelings of trauma, intimidation by the asylum process, or inability to speak English well.
Muslims from some countries may find it easier to obtain asylum, but others will find it harder. Many factors drive judgments about asylum, and it is difficult to determine which combination of factors will count most. Sometimes, subjective opinions can weigh heavily. One such criterion is related to the asylee's likelihood of adaptability to the host culture. This means that asylees from English-speaking countries have better chances for obtaining asylum than claimants from countries where English is not widely understood. Another is related to perceptions of risk. With a rise in Islamic terrorist attacks in Europe and the US, asylum cases are increasingly affected by worries about the existing or potential radicalization of Muslim asylees from countries whose citizens have been linked to terror attacks in the US and Europe. However, this unease does not affect all Muslim asylees the same way. In fact, concerns about religious persecution sometimes generate a positive bias. For example, most asylum grants to Pakistani nationals are made on the basis of religious persecution. While violence against religious minorities (including Muslims from minority sectarian groups) is on the rise in Pakistan, when compared with asylees from Albania, Indonesia, or Saudi Arabia who face religious persecution at home, Pakistani asylees are more likely to be given asylum.
While the short-term prospects for asylum seekers from Muslim-majority countries may be dim, the long view doesn't portend much hope unless we see major shifts in policy toward immigration and immigrants. As long as terrorist attacks on US interests around the world take place, opposition to migration to the US from Muslim-majority nations continues, and bureaucratic backlogs in the legal system governing immigration persist, asylees will find it increasingly difficult to have their petitions for asylum granted.
REAL LIFE. REAL NEWS. REAL VOICES.
Help us tell more of the stories that matter from voices that too often remain unheard.
BEFORE YOU GO