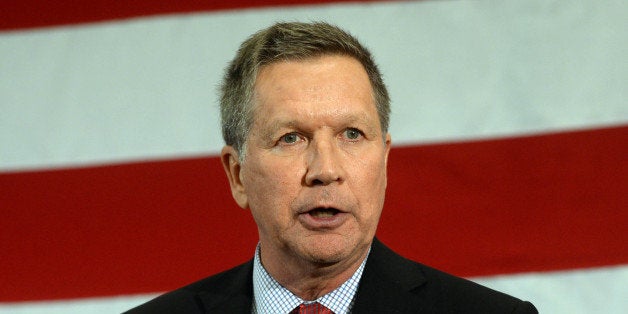 Say what you will about Donald Trump, but he cannot be ignored. America is fascinated with what he is doing, as the latest NBC/Survey Monkey poll numbers confirm. Trump received 23 percent support and was the first choice of likely GOP voters out of the field of 17 candidates on the debate stage Aug. 6. In today's news climate, no media cycle is complete without a mention of Trump. Regardless of what anyone thinks about him, what Trump is doing to embed himself in the national discourse is unprecedented.
The level of audience engagement that Donald Trump has achieved in a short couple of months has not only threatened to expose the underbelly of American politics, but has also attracted a national media spotlight that Trump virtually controls to point in any direction he chooses. He appears immune to attacks from other Republicans and he's not beholden to any individual or any organization. Moreover, Trump represents a loose cannon blowing holes in the façade that covers the political landscape. Even while the status quo Republican gatekeepers scramble to contain him, the American voting public is intrigued. And a majority of GOP voters are cheering for him.
A CNN/ORC poll conducted July 22-25 asked questions specifically about Trump's candidacy. Approximately 52 percent said they supported Trump remaining in the primary race, while 33 percent said they'd wish he would drop out. Another 15 percent said they think he should run as an independent.
National media and the advertisers that support them are benefiting handsomely from this disruption in the political primary process. The nationwide Donald Trump Show resulted in more than 24 million Americans tuning in to Fox News on Aug. 6 for the first debate of the 2016 presidential campaign season; it was the largest viewing audience for any presidential primary debate by a long shot and the most viewed non-sports cable program in history. There were several winners that night, including Trump and another business leader, Carly Fiorina.
But, in my view, no one eclipsed the rising star of Ohio Governor John Kasich and his new American vision of Inclusive Competitiveness that's poised to define his campaign. Although Kasich's late entrance into the national spotlight was understated, and following the debate media devoured Trumpisms like candy strewn during a parade, the true stage has been set for Kasich's star to rise. Here's why.
Over the next several weeks, there will be arguments made in support of Donald Trump, New Jersey Governor Chris Christie, Wisconsin Governor Scott Walker and former Florida Governor Jeb Bush among others based on their performance in the first debate. Emerging from the shadows of what some referred to as the "second-tier" candidates' debate, business leader Carly Fiorina also stirred the pot while playing the attack Trump card. Her poll number jumped considerably following the debate and 22 percent of the GOP faithful said Fiorina won the debate overall.
Even Fox News itself will be have a legitimate claim to victory, as the debate's record-setting television ratings presumably vindicated Fox's controversial approach to producing the first Republican debate of this campaign season. Fox was roundly criticized by media, pollsters and pundits for hijacking the electoral process, replacing the standardized early regional stumping process with national polling data as criteria for determining who would be included in the top 10 slots established for the main event of a dichotomous debate format. Trump capitalized on that new format first and ensured a national media spotlight would cover his every utterance.
Fox's strategy proved to be a winner. With more than three times as many viewers tuning into the main GOP debate as any previous debate in history, there was plenty of opportunity for several candidates to make their mark. Here's a rundown of who successfully capitalized upon this unprecedented opportunity to reach such a large swath of the nation...and why there's just one crystal clear winner among the field of GOP primary candidates.
Donald Trump: There's simply no denying that the buildup to this debate was predicated upon shockingly high poll numbers that "The Donald" had amassed with his distinctive style of oratory that single-handedly managed to consistently attract national media spotlights and drive his national poll numbers exponentially higher than his competitors. He was expected to entertain and he did not disappoint. But perhaps Trump played his hand too well. He clearly has an agenda other than winning the party nomination. And Fox News intended to put Trump's presumed ulterior motive on display from the opening question. Debate hosts planned an early "gotcha" moment designed to have Trump as the only candidate on stage with his hand in the air admitting refusal to pledge support to the eventual party nominee, if it were not him. Still, it was the barrage of "Trumpisms" for which audiences tuned in and stayed tuned in throughout the night. Even after he Trumpled on Fox News personality Megyn Kelly, he stood tall as the No. 1 candidate among GOP voters. That bodes well in Trump's favor despite being exposed.
Fox News: Although Fox News benefited tremendously from the NFL playoffs-like audience tuning in for a play-by-play account of each cringe-worthy moment of political debate combat and levity, the ratings must be attributed to Trump's bombastic never-surrender aggressive style of communication. Still, he was matched by a similar over-the-top aggressive framing of questions by Fox News debate moderators. The deliberately designed confrontation made for great political theater and benefited both Trump and Fox News.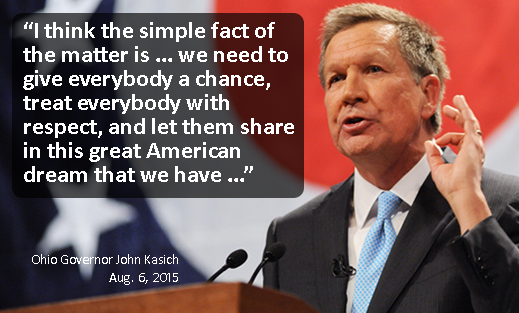 Ohio Governor John Kasich is the only GOP candidate with a statewide policy of Inclusive Competitiveness
Ohio Governor John Kasich: From the opening introduction, with a resounding applause from appreciative locals in Cleveland where the debate was held, Kasich leaped onto a national stage with a strong positive debut. He diplomatically handled Trump, giving him credit for "hitting a nerve" with voters while channeling the audience focus toward his own solutions. Kasich touted his well-deserved bona fides in transforming an economically starved industrial manufacturing state into a job-producing 21st-century innovation economy. He related to the plight of the common working man through his dad's service as a postal worker. He embraced both his Christian beliefs and a culture of inclusion in his response to the question of what would he say to his daughter were she to come out as gay. Big applauses for Kasich through the night kept viewers intrigued and wondering if perhaps he might be a viable candidate they had not considered. While standing in the No. 10 spot, with polls numbers so low that he barely squeaked by former Texas Governor Rick Perry to make it into the primetime event, Kasich was the biggest surprise of the night on the main stage. And he exited the debate as a stronger candidate than when he entered. In my view, that level of audience impact in the midst of a verbal bloodbath between other candidates and the debate hosts makes Kasich the crystal clear winner.

Business Leader Carly Fiorina: As the only female among the candidates, Fiorina was expected to get some special attention. But standing on the early evening stage, playing to an empty auditorium, the odds were stacked against every candidate who dared to show up under such caustic circumstances. Yet, Fiorina managed to emerge as the only candidate with anything worth repeating. She did that by attacking Trump and invoking the Clintons, a popular name that when mentioned can perk up the ears of conservatives. Fiorina put Trump and Clinton in the same sentence and the audience responded. Touche, Fiorina. Journalists pounced on her accusation that Trump was cozying up to the Clintons just prior to his announcement to run for the Republican nomination. That doesn't warrant a Fiorina victory lap, given she likely would've made more news had she simply remained backstage and refused to sit with the other candidates relegated to the kiddie table. Plus, she could've saved her Trump skewer for another buffet opportunity by abstaining from the "Happy Hour" debate just prior to the on-air introductions. Fiorina's memorable verbiage still doesn't suggest she has a solid vision that may resonate with voters. Of course, that doesn't seem to be a game any of the candidates are playing anyway, with the exception of Kasich.
Also Rans: The No. 2 and No. 3 candidates in the post-debate poll behind Trump, Ted Cruz and Ben Carson, received 13% and 11% support respectively. They were not memorable except for the fact they were able to leapfrog Jeb Bush, who appeared to be the favorite among anybody-but-Trump voters going into the debate. Chris Christie did make a last-ditch effort to demonstrate he is still relevant and could be a viable candidate for the Republican nomination (as he was in 2012). I don't think he succeeded. Marco Rubio held steady at 8% voter support going in and coming out. But he is now tied with Carly Fiorina, who is gobbling up media attention and poised to spring ahead of the Rubio bandwagon in the coming weeks. Since Fiorina is the only female in the GOP lineup, she enjoys an advantage in the competition to debate Hillary Clinton. And she may be making a play to join the winning GOP nominee.
Everyone else: The rest of the GOP candidate field can stop wasting their time now. None will be serious contenders for the Republican presidential nomination. They had one long shot. And that shot was played in front of the largest audience in political debate history. There will certainly be other debates. But the run-up to the next will be tougher to turn the media spotlight from Trump, and now Kasich.
Once the voting public begins to accept Kasich as a serious and viable candidate, which is likely, serious money will start to flow into Kasich's coffers. And serious media will pay more attention to him. And he could emerge as the serious contender to Trump, who is viewed largely as a popular figure, but not a serious contender for the GOP party nomination.
Calling all HuffPost superfans!
Sign up for membership to become a founding member and help shape HuffPost's next chapter