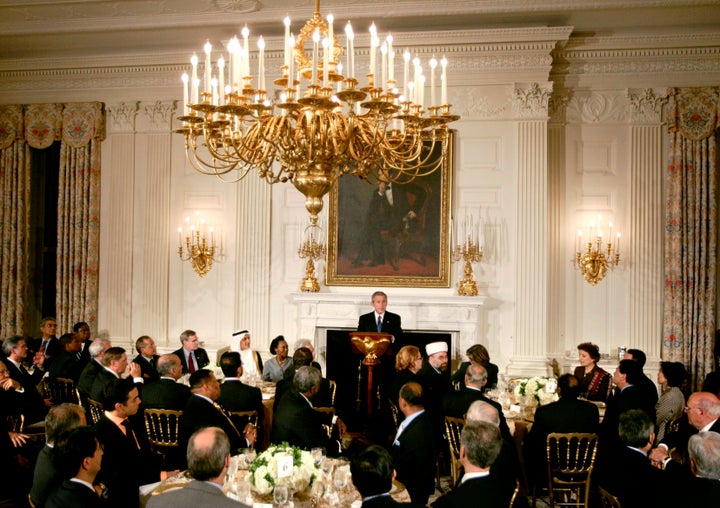 America's largest Muslim organizations will not be attending President Donald Trump's first iftar dinner on Wednesday night ― an absence that highlights the tumultuous relationship the president has had with American Muslim communities.
Since the Clinton administration, the White House has hosted holiday iftar dinners for foreign diplomats, Cabinet officials and Muslims from civil society organizations in honor of the Islamic holy month of Ramadan. The Trump White House declined to host an iftar dinner last year, but surprised many Muslim advocates by announcing that it was planning one for Wednesday.
The White House did not immediately respond to a request for comment.
Major Muslim cultural and advocacy organizations that have attended the Ramadan event under past administrations claim they were not invited this year.
The Islamic Society of North America, one of the country's oldest and largest Muslim organizations, was not invited to Trump's iftar. Colin Christopher, the group's interfaith director, told HuffPost that he believes the invitations this year were primarily given to diplomats.
"If the White House is interested in inviting foreign government leaders from largely corrupt, Muslim-majority countries that exhibit inequitable and unjust policies upon their own populations, that seems to be in line with the tenor of the current U.S. Administration," Christopher wrote in an email. "We are confident that they will enjoy their time together, ignoring the basic needs and human rights of their respective peoples."
The Council on American-Islamic Relations, a civil rights group with chapters across the country, told HuffPost that its representatives have attended iftars hosted by the White House, State Department and Pentagon under previous administrations. But no CAIR representative was invited to Wednesday's event.
In fact, CAIR spokesman Ibrahim Hooper said that he doesn't know of any mainstream American Muslim leader or activist who was invited to Trump's iftar.
As a result, Hooper said, "It is difficult to view the event as part of an outreach campaign to the Muslim community."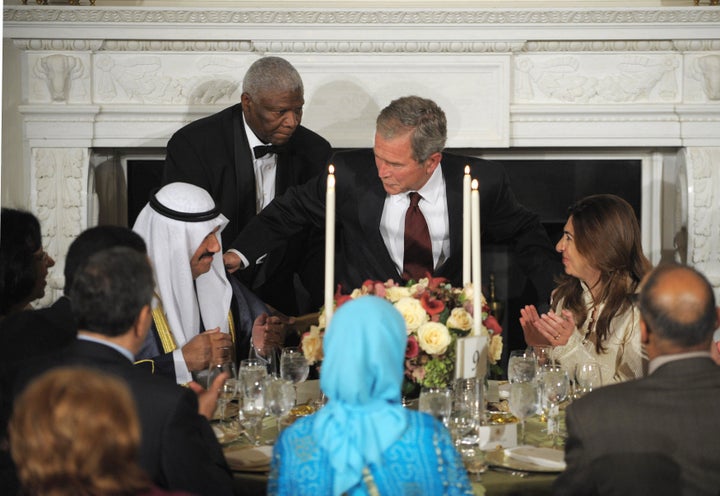 Trump had a tense relationship with American Muslim communities even before he entered the White House. As a candidate, he famously claimed that "Islam hates us" and called for a "total and complete shutdown of Muslims entering the United States." Civil rights advocates have criticized the president's travel ban as a backhanded way of delivering on his promised Muslim ban.
The travel ban originally applied to travelers from seven Muslim-majority countries. The latest iteration of the ban puts restrictions on visitors from five predominantly Muslim countries and adds certain travelers from two non-Muslim countries.
Muslim groups have also been alarmed by several high-level appointees in the Trump administration who have expressed far-right, Islamophobic ideologies. The president's secretary of state, Mike Pompeo, and his national security adviser, John Bolton, both have ties to anti-Muslim groups.
In protest of the White House iftar, CAIR is hosting an event at a park outside the White House on Wednesday evening. At the "Not Trump's Iftar" event, Muslim leaders will give speeches, participate in an evening prayer, and share a communal iftar meal to break the day's fast. Representatives from other Muslim organizations, such as the Islamic Circle of North America, MPower Change, and the Muslim Public Affairs Council (MPAC) will also be attending the protest event.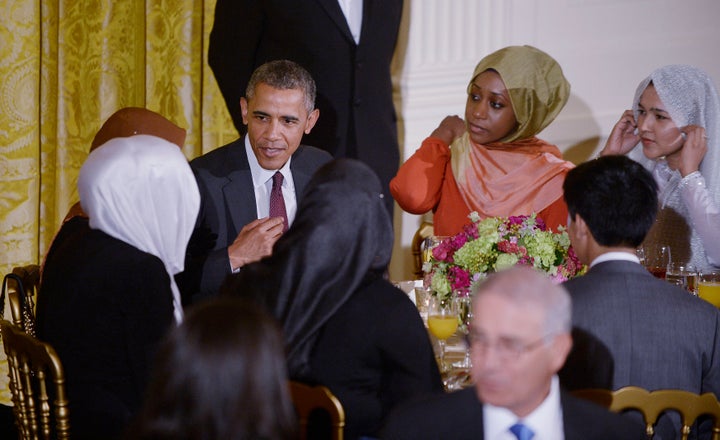 Several activists are encouraging Muslims invited to Trump's iftar to boycott the event. Darakshan Raja and Dr. Maha Hilal, co-directors for the Justice for Muslims Collective, wrote that it would be impossible to engage constructively with an administration they claim has been committed to stripping away the rights of American Muslims.
"Breaking bread during Ramadan is best done in the spirit of social justice, not in service of those who are implementing violent and dehumanizing policies against Muslim communities and more broadly people of color," the co-directors wrote in a piece for HuffPost.
But other groups aren't so sure that the event should be boycotted.
Ani Zonneveld, president of Muslims for Progressive Values, told HuffPost she attended a White House iftar in 2015. Zonneveld claims that if American Muslim leaders and organizations boycott the event, Trump can say he extended a hand of peace and was rebuked. She said her group was not invited to Trump's iftar, but would have sent a representative if it had received an invite.
"There is a teaching in the Quran, if your oppressors extend a hand of peace, then it is better to extend back a hand, for God loves peacemakers," Zonneveld told HuffPost in an email.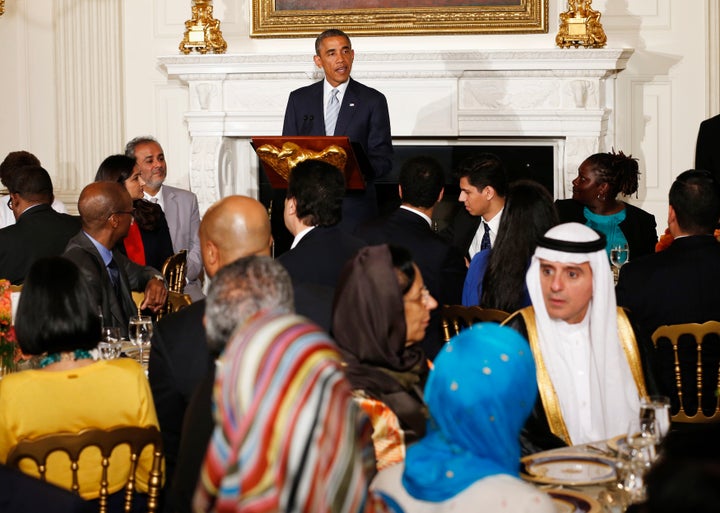 Hoda Hawa, MPAC's director of policy and advocacy, told HuffPost that her organization has attended iftars and Eid receptions at the White House since the Clinton administration. She said MPAC saw those meetings as an opportunity to bring up critical issues that impacted American Muslims and, as a result, did not boycott any of the receptions.
But this year's event is different. Hawa said MPAC was not invited to this year's iftar, and even if it were it would not attend.
"Those past administrations were open to engaging the American Muslim community and hearing out our concerns and working with us to ensure that we remained a critical voice at policymaking tables," Hawa said via email. "This administration and specifically this President has shown time and time again, through his words and actions, that he is not willing to engage our community in good faith ― or at all for that matter."
If the majority of the Muslim attendees on the White House iftar guest list turn out to be foreign diplomats, Hawa told HuffPost she wouldn't be surprised.
"Trump and authoritarian leaders in the [Middle East and North Africa] region have a lot in common and so this dinner party is apt for the intended audience," she said.
Before You Go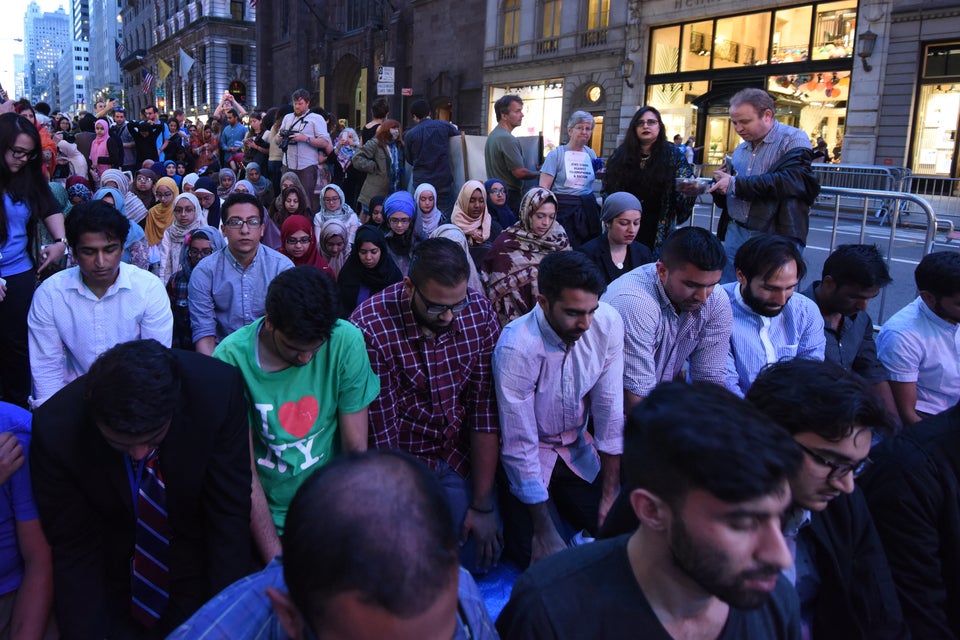 Muslims Hold Iftar Outside Trump Tower
Popular in the Community