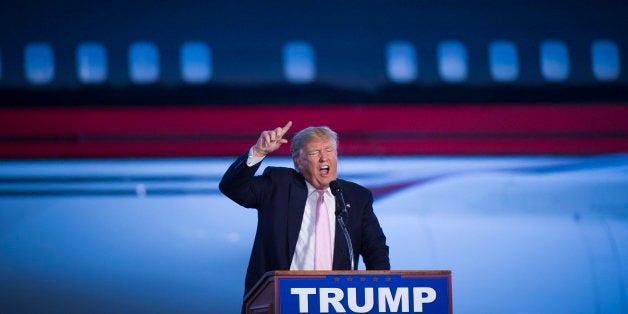 Trumpty Dumpty

Trumpty Dumpty climbed up a wall.
Trumpty Dumpty said, "I can't fall."
Everyone wondered how far he could climb
so full of himself
and hot air all the time.

Stumping for Trump

A teacher said she'd vote for Donald Trump
because he dares to say what we are thinking.
He's never said a thing that I have thunk,
so I'm inclined to wonder what she's drinking.

How can we trust our children's tender wits
to anyone so lacking in good sense
that she could view his narcissistic fits
and see deep where it's easy to see dense?

Does she admire the way he used our laws
of bankruptcy to save his corporate brand?
Or does she love to see him plant his paws
on anyone he needs to reprimand?

Is it the surly smirk, the poached-egg eyes,
the puffy-chested, bantam rooster gait?
That twisting head on the alert for spies?
The way he aims his feigned, strategic hate?

The most imposing force the world has known,
its money and its might-- land, sea and air--
she'd trust to someone who has clearly shown
that he can't even manage his own hair!
Trumped Up!

Trump it! they say, We're trumping tired
of vicious, vile vulgarity!
We're shamed to claim a country where
to trump brings popularity!

Those mothertrumpers, Romney moans,
what racist, brute barbarity!
McCain agrees, as if their party
didn't breed disparity.

Your trumpeting wild elephants
unleashed the likes of Sarah P.
and Cruz and Trump. So trump you, chumps!
Have you no sense of charity?

What's that? These are the trumps along
the road to peace, prosperity?
You want to thank the brothers Koch
who teach us true austerity?

Then why not thank the Donald, too,
conservator of parity,
who gave to both of your campaigns
and Dems. Irregularity?

And when the beastly sons of Koch
leave no room for hilarity,
when border walls to keep us in
are no longer a rarity...

We'll yell, trump you! The claws you bare
were once outstretched in amity.
So trump you, trump you, dump you all!
You nurtured this calamity!
Orel Protopopescu, children's author, translator and poet, won the Oberon poetry prize in 2010. What Remains, a chapbook (2011) followed. Thelonious Mouse, a picture book, won a Crystal Kite, 2012, from SCBWI. A Word's a Bird, her bilingual poetry app for iPad, was on SLJ's list of ten best children's apps, 2013. New light verse is forthcoming from Light Poetry Magazine and Lighten Up Online.
Calling all HuffPost superfans!
Sign up for membership to become a founding member and help shape HuffPost's next chapter