You know, as much as I liked Matilda, I did not leave thinking a lot about the look of Bertie Carvel's Miss Trunchbull. Clearly many people did depart the show thinking of such things. Numerous critics described The Trunch's appearance in very colorful terms and went out of their way to otherwise paint a picture of the dirt-colored, gold medal-winning child hater. I requested the press people of Matilda ask fans for their descriptions as well. The below is a mixture of quotes from professional critics and those who have to pay money to see theater.
Enjoy the following descriptions and feel free to post a comment if you have one of your own:
"It's the Hunchback of "That's Not a Dame"!" -- Dale Hopkins (via Facebook)
"A gigantic no-neck monster with a whistle." -- Newsday's Linda Winer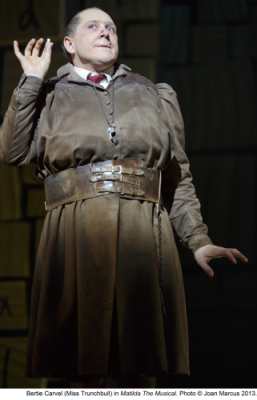 "Cross Jack Benny with The Marquis De Sade and you get Bertie's Trunchbull!" -- Mary Lou Kylis (via Facebook)
"A nightmarish cross between Dana Carvey's Church Lady, Hannibal Lecter, and a giant spider." -- Vogue.com's Adam Green
"A hippo on ballet pointes lobbing hand grenades." -- Variety's David Benedict (review of the London production, republished for Broadway)
"The Hulk's ugly twin sister" -- @atom__ant (via Twitter)
"Miss Trunchbull has the look of a precocious child's cartoon of a hated authority figure come to life to seek revenge for the rendering. Broad of shoulder (she was the hammer-throwing champion of Britain) and short of neck, she stalks the halls of her establishment like a steroid-pumped bird of prey." -- The New York Times' Ben Brantley
"A she-man with control issues" -- countonny (via Instagram)
"Bertie Carvel has a hunchback and pretty much a hunch front too." -- The Village Voice's Michael Musto
"A medieval drag queen doing a Chloe Sevigny impersonation." -- Papermag.com's AndrewAndrew
"A psychotic, large busted, manly english hammer thrower who loves to frighten (and stretch the ears of) small children." -- xo_jilli_ox (via Instagram)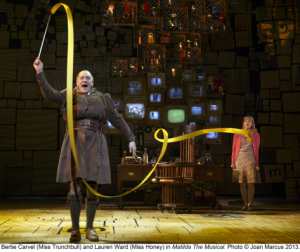 "A giant Brownie." -- The New York Daily News' Joe Dziemianowicz
"A twinkle-toed, melodic, manic bull with a penchant for shot-put and torturing little ones." -- carlosonepointoh (via Instagram)
"A neurotic cross between The Hunchback of Notre Dame and Caligula." -- NJ Newsroom's Michael Sommers
"Ribbon-twirling hammer-throwing trophy-winning monster." -- BrandonNAdam (via Twitter)
"With hair in a bun perched menacingly on the top of his head, and a hand fixed in a bizarre salute, the wormy fingers wiggling wispily, Carvel's Miss Trunchbull is as close as you can imagine to a figure who'd swim in your head after consuming a tablespoonful of spoiled mayonnaise." The Washington Post's Peter Marks
Calling all HuffPost superfans!
Sign up for membership to become a founding member and help shape HuffPost's next chapter