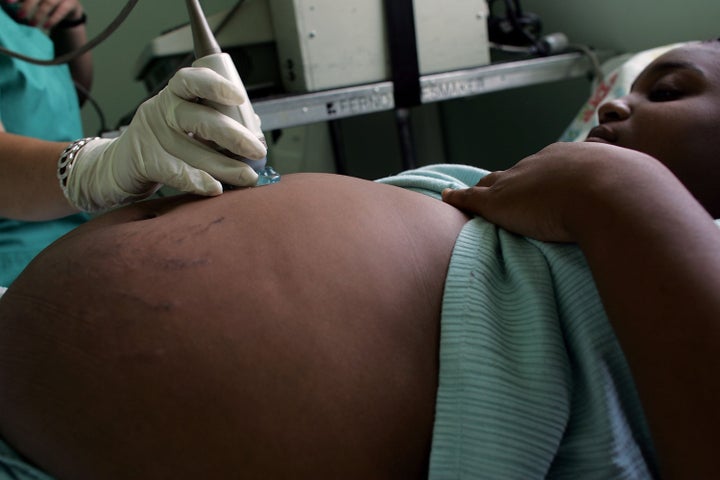 Many women are angry that our health is being used as a political football, in attempts to divert attention away from the troubled economy. We need the government to fix the economy and to fund vital basic health services, and to quit interfering with our private decisions about our reproductive health. But instead, in 2011 Congress and state legislatures declared a "War on Women."
Thirty six states enacted 135 provisions limiting access to reproductive health care, including a record 92 measures restricting abortion. The U.S. House of Representatives held eight votes to limit reproductive health care. H.R.358 gives hospitals the right to refuse to provide a woman with emergency, lifesaving abortion care -- even if she will die without it.
Such measures restrict life choices for all women and families, with real and severe consequences for the most vulnerable: low-income women, younger women and women of color. The rate of unintended pregnancies rose by 50 percent for low-income women, but decreased by 29 percent for higher income women, from 1994-2006.
"It's time for women to wake up and fight back," contends Sophia Yen, M.D., the other co-founder (with me) of the Trust Women/Silver Ribbon Campaign. "As a mother and a pediatrician who specializes in adolescent medicine, I want to ensure that my patients and my own daughters continue to enjoy the right to plan their families and pursue their career goals. For women, that means protecting and expanding reproductive rights."
The Trust Women/Silver Ribbon Campaign has posted banners in San Francisco to highlight a local event in San Francisco on January 20, during Trust Women Week, January 20-27. Events in many areas of the country that week will honor the anniversary of the Roe v. Wade decision (January 22).
Along with MoveOn, the Silver Ribbon Campaign will also conduct a National Online March for Reproductive Health, Rights and Justice from January 20-27 to build solidarity and momentum in support of women's rights, equality and autonomy; access to comprehensive health care, including reproductive health care services; and reproductive justice -- to assure that all of us including communities of color have the social, political and economic power and resources to make healthy decisions about our gender, bodies, sexuality and families.
By demonstrating our numbers on an online map, we will include many who could not get to a central location like Washington, D.C., or who feel constrained from making public statements for reasons including the endemic violence of the anti-choice opposition.
Our partner groups have commented:
"Women of color are more likely to be adversely affected by policy and budget cuts to family planning," according to Loretta Ross, national coordinator of SisterSong Women of Color Reproductive Justice Collective. "It is important for women of color to be trusted to make these private personal decisions for ourselves and our families. It is our human right to do so and we will not be shamed or silenced."
Jon O'Brien, president of Catholics for Choice, said, "The vast majority of sexually active Catholic women, 98 percent, use a method of family planning banned by the U.S. Conference of Catholic Bishops. It is intolerable that the bishops are trying to use Congress to force their will on all Americans. We expect the Obama administration to reject the Bishops' demands." The Bishops are campaigning for a "religious exception" to the Affordable Care Act's requirement to cover birth control.
According to Somer Loen from BACORR, "Too many of the people who pass restrictive laws and service cuts aren't affected by them. We hope Trust Women Week will help empower everyone to stand up publicly for their rights."
View photos of the banners here.

Calling all HuffPost superfans!
Sign up for membership to become a founding member and help shape HuffPost's next chapter