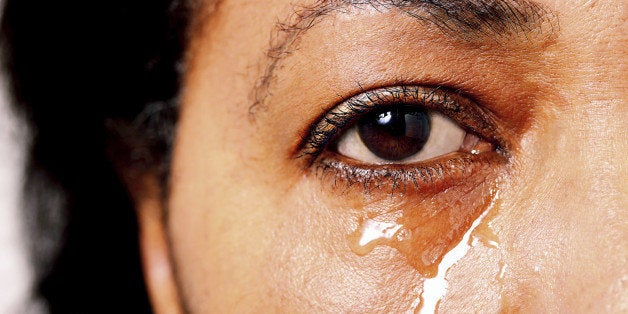 The first step is to better understand the problem, and identify which women are most vulnerable and the least likely to seek, or be able to access, justice or assistance. And in some cases, we have yet to take this step.
When the 18 year-old Brooklyn complainant recanted her testimony in February, the charges of gang rape against 5 teens were dropped. And while consent is no defense to incest, when she refused to co-operate with the police to testify against her father, she didn't just doom the incest case, she also became a target of public outrage and censure.
The night after the charges are dismissed, I am in an audience, listening to Farah Tanis, Executive Director of Black Women's Blueprint, speak at a benefit about her own response to the news: "When I hear this 18 year-old girl recants her story, says there was no gun, no 5 boys who seized upon her father raping her and then each took their turns . . . the girl inside me cried out."
Farah speaks with palpable sorrow, but also with anger. Because she too was a victim--of incest by an uncle and domestic violence in her childhood home--and understands all too well why a daughter will not aid the prosecution of a father. The full theatre thrums with empathy and tension, and several audience members voice their affirmations.
Farah was speaking at the Mother Tongue Monologues benefit, held to support this week's truth and reconciliation commission (TRC) on experiences of rape and sexual assault by women of African descent in the United States. The night was dedicated to both sharing stories and honoring women who support black women and girl victims of sexual violence. "As you put yourself on the line, we respond in mutuality, in community, in love, with you, in struggle until there is peace." I sat in tears, humbled, aching with compassion, and in awe. These words, spoken to each honoree, reflect sentiments I've heard across countries and cultures around the world.
From Kenya to East Timor, Guinea to Colombia, I've witnessed women support each other to speak out about their trauma, and to challenge the stifling silence surrounding their suffering. A Kenyan woman who became a mother as a result of rape started a support network for other women survivors, which has spread across the country; a Colombian women's organization hosted a symbolic tribunal for sexual violence because of the government's systematic failure to prosecute these crimes.
As a woman of color living in the US, however, I've been shocked to see how prevalent sexual violence is here as well, in our "developed" country. Violence against black women, including sexual violence, is widespread and largely unaddressed by law enforcement. Intimate partner homicide is the number one killer of African-American females aged 15-34; and police brutality against black women is increasingly documented as pervasive.
This week, the TRC will harness the power of truth-telling to raise awareness about the systematically uninvestigated and unpunished crimes against black women, and the suffocating silence around these violations that has become the norm.
But why a truth commission in the United States? Why is it so important for women survivors of sexual violence of African descent to recount their trauma in a public forum?
Truth and reconciliation commissions, made famous in post-Apartheid South Africa, typically aim to reveal the reasons, nature and effects of large-scale human rights violations. They also offer victims a chance to overcome the fear of stigma and isolation to share their experiences and have them publicly acknowledged. This is a critical first step in identifying the facts about past violations and their enduring impact on victims, and informs the types of remedies required to respond to the violations.
This matters in America because up to 60% of black girls will experience sexual assault before their 18th birthday. Black women are less than half as likely to report rape to the police compared to white women. As the recent trial of police officer Daniel Holtzclaw in Oklahoma City and the subsequent discovery of 1000 more instances of similar police sexual misconduct demonstrates, this is due to a well-founded distrust and fear of authorities. The harm caused to women is not just committed by men in their family, community, or even strangers on the street. It is compounded by law enforcement officers and government agents who systemically deny victims access to assistance and justice, and ignore their own institutional responsibility to restore and protect these women's security.
We are still at the start of the International Decade for People of African Descent, with building momentum for the Black Lives Matter movement and recent UN findings of structural discrimination against African Americans. Understanding the specific nature and impact of sexual violence against women of African descent is a crucial piece of this landscape; and yet, as in other societies, it is too often overlooked.
I've supported women survivors of sexual violence share their stories in defiance of the oppressive code of silence in several countries. Whether it is to better access criminal and restorative justice, or advocate for laws and policies that recognize and respond to their suffering, the need for solidarity is universal.
The Black Women's Blueprint TRC mission is as compelling as it is timely. It will examine the history (traced back to slavery), context, causes, chronology, and consequence of rape and sexual assault on women of African descent. It seeks recognition of how black women's rights are central to racial justice concerns of all people of African descent; a renewed focus on increasing resources to prevent sexual violence in the first place; and the creation of transformative processes to eradicate gender-based violence.
These goals matter because they are a strategic call for action, and because the power of a platform for truth should not be underestimated. For the young woman in Brooklyn and the women of Oklahoma City struggling to pick up the pieces and heal, it's my hope that hearing the experiences of others will give strength and prompt newfound community support. As Farah declared that night at Mother Tongue Monologues, "in both our shared agony and our shared celebration, we will not be silent and we will not be subdued."
Calling all HuffPost superfans!
Sign up for membership to become a founding member and help shape HuffPost's next chapter