Ah, New Year's. The time of year when I swear once again that I'll exercise, that I'll resist the chocolates, that I'll spend less and give more time, that I'll be more patient, less annoyed, or whatever. It doesn't matter. It never lasts. By the end of January, I end up resolving to defer my resolutions to next year.
I expected more of the same for this year until I saw this story. And I suddenly felt hopeful. Like maybe 2009 would finally be my year.
_________________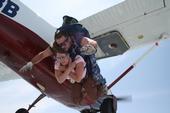 In 2004, my New Year's resolution was to try something new every month. A new food, a new activity, a new place. I had so much fun, that it was my resolution in 2005, 2006, 2007 and 2008.
Over the past five years, I've done new things as simple as trying (and falling in love with) coffee, martinis and beer. (Yes, made it through college without EVER having a beer. I should mention that it was a Michigan-made craft beer.) To taking the Amtrak from Denver to Michigan, trying sushi (and falling in love with it), to traveling to Jordan in the Middle East.
I've gone kayaking (in January, in Michigan, with water barely above freezing, and, yes, I did flip over), luging (winning a bronze medal in a competition), skydiving, dogsledding and snowshoeing. I've planted grape vines and pruned them as well (next year, I hope to help with the harvest). I saw my first musical, got a tattoo and smoked my first cigar.
I've hiked a portion of the Appalachian Trail, visited my first Frank Lloyd Wright home (my latest "new" thing) and started my own business which has been a great success since August 2004. I've also purchased my first Jeep (a vehicle I've always wanted) and went on my first off-road adventure. The list goes on and on and on.
Someday, I hope to write my "memoirs" using these stories as well (which would also be something "new" -- and would make the final chapter of my book). I think I'd also like to write a novel -- a romantic love story, of course. (I mean, if life isn't going to play itself out the way I want it in real life, I'll just WRITE it the way I want it to end!)
I'm not sure if I'll continue this exact resolution in 2009. I'll still seek out new things for the rest of my life, but I have another resolution idea in mind for next year.
I have made a list of 12 "classic" books that I'd like to read in 2009 (that I should have read in high school or college, probably). These include On the Road, Grapes of Wrath, Pride & Prejudice, Walden, Lady Chatterly's Lover, Breakfast at Tiffany's, Wuthering Heights, Mrs. Dalloway, One Flew Over the Cuckoos Nest and Anatomy of a Murder are on the list so far. Some of my favorite titles are actually classics. The Great Gatsby, To Kill a Mockingbird and Catcher in the Rye. Perhaps I'll add those to the list for 2009 for re-reading. It has been quite some time since I've flipped through their familiar pages. Any other recommendations are welcome!
My challenge to you: Add a little something new to your life next year. Find a new place to visit, a new food to try, a new experience to enjoy, a new book to read. What have you got to lose? More importantly, look what have you have to gain!
Happy New Year!
Tell us your New Year's Resolution and stories about resolutions past on Tokoni.