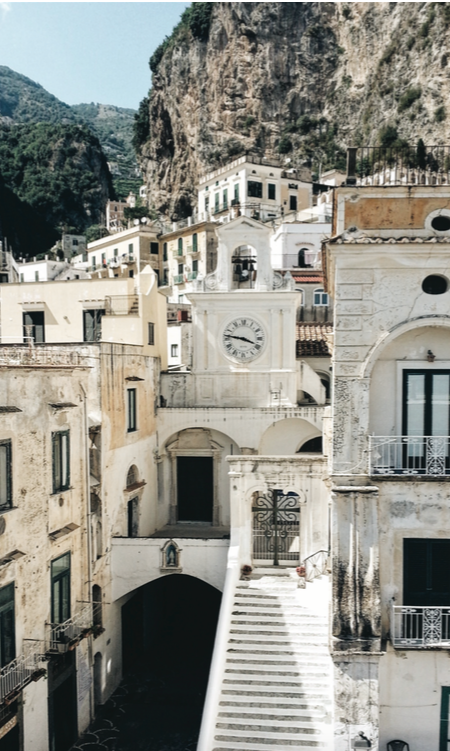 In Italy they say, "See Naples and die." In other words, once you've seen this city, you've seen everything. However, the phrase should be applied to the Amalfi Coast, which is south of Naples on the Gulf of Salerno. The 16 municipalities dotting it are on the UNESCO World Heritage List and, as a whole, they are one of the wonders of Italy.
Amalfi is the town for which the entire coastline is named and is its architectural and cultural symbol. It is the town of lemons (they are grown on the typical terracing of this stretch of coast and were given the label of "Protected Geographical Indication" in 1999), but it is known above all for its unique architecture with a mixture of Arabic-style elements. This blend of styles originated here and is the distinctive mark of the houses and monuments lining the maze of alleys going up the steep slopes. The town is set between two mountains—Tabor to the west and Aureo to the east—that heighten the emotional impact of the view from the sea. Due also to the fact that Amalfi is ancient and rich in history (it was founded in the 4th century BC and later became Italy's first maritime republic), it is dotted with churches and monuments that punctuate its skyline and enliven any vacation.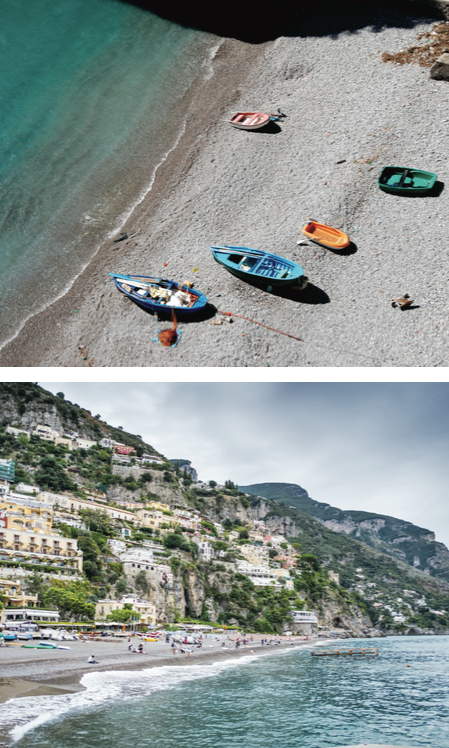 Here's an essential to-do list as you wind your way through the maze of narrow streets in the historic district, which is the first attraction that will enchant you. It has rightly been said that this warren of intersecting streets resembles an Oriental souk, as your gaze is constantly captured by new details: the façades of the houses, all of which different, the stairways that suddenly appear, the arched passageways, the decorated balconies, and the tiny squares and fountains that seem to appear out of nowhere.
Naturally, there are places to visit more attentively, like the magnificent Cathedral of Sant'Andrea, located in the very center of town. Uniting what were originally two different basilicas, the monumental complex was refurbished above all between the 16th and the 18th centuries. It boasts a one-of-a-kind layout and is famous for its impressive polychrome façade, accessed via a steep and spectacular staircase.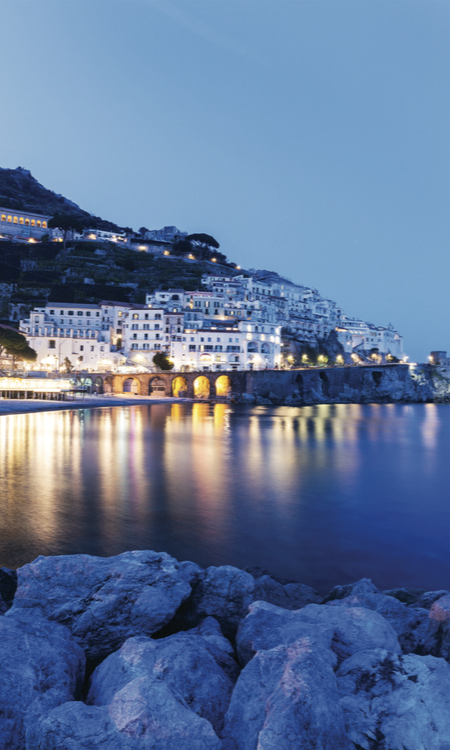 The cloister known as the Chiostro del Paradiso, in an Arabic Gothic style, dates back to the 12th century and has an enfilade of small crossed arches. But since we don't live on culture alone, to enjoy your vacation you'll need to jot down a few special addresses.
First of all, you need to know where to get a wonderful jolt of caffeine (after all, we're in a region where coffee is nothing short of a ritual), perhaps accompanied by unforgettable pastries like lemon Delizia. The Pasticceria Pansa bakery (Piazza Duomo 40, tel. +39 089 871065) was founded in 1830 and no visit to Amalfi is complete without stopping in.
For accommodation, but also a meal with a breathtaking view of the entire coast, it doesn't get much better than Grand Hotel Convento (Via Annunziatella 46, tel. +39 089 8736711), built in an ancient monastery embedded in the rock face.
For a souvenir of your trip, coral jewelry is a must. The Amalfi Coast has long been famous for these baubles, and there are kinds for every budget, set in silver or white gold, plain or with a diamond. Angelo Fusco Gioielli (Via Matteo Camera 4, tel. +39 089 871391) is not a secret address strictly for cognoscenti: among the locals, it has been known for its tradition and reliability since 1928. A very safe bet!