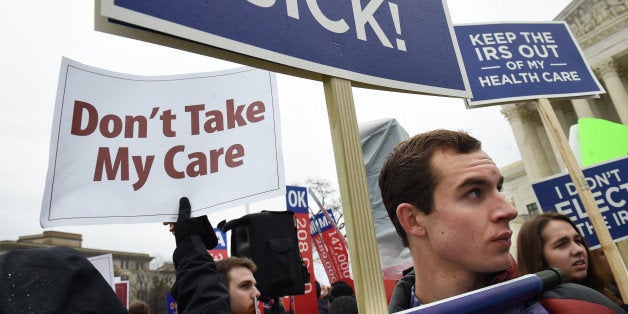 This month, Tea Party advocates took their second shot in front of the Supreme Court to eviscerate the Affordable Care Act. Three years ago, the Court in a 5-4 vote maintained the key precepts of the law which at the time was little more than a legal concept.
Today, the ACA is far more than a concept. It has become a right for the more than 8 million Americans who have gained coverage under the law. Now what conservatives are trying to do is rip away what can be literally life saving coverage.
Make no mistake. These three words -- Affordable Care Act -- are definitely meaningful to those who now have coverage, many for the first time in their lives. The insurance they have is affordable. It provides good care. And, our nation has affirmatively acted.
But the conservatives don't care about this -- or for those who have received coverage. They're just hell-bent to take away something that they have but don't want others to have as well. It's insurance protection that we've seen is important to those who are now covered.
Take Jersey City, New Jersey for example. We've been aggressively signing our residents up for what is their right under the law. And residents are responding in a big way. In fact, Jersey City is leading New Jersey in providing access to health care through the ACA with 10 percent of the State's enrollees living in Jersey City.
Our outreach has been vigorous and we've worked to reach every community in the City, in the places they work, live and even relax. We've partnered with community leaders and local non-profits, hired bilingual staff, and made a strong push to enroll as many residents as possible with health care coverage as this benefits not only the individual but the entire community.
In our city alone the positive benefits of the ACA can't be argued. When the law went into effect, approximately 55,000 Jersey City residents, nearly 20 percent of our population, were without health care coverage. Now 40 percent of those previously with no protection have insurance and we are not yet done.
These numbers make it clear -- there is a true need for quality, affordable health care and that's what conservatives are trying to take away from their fellow Americans. Not only do they want to punish some of our most vulnerable citizens, they also want to strip what is now a basic American right under the law for what I believe is merely a partisan objective.
We're probably going to have to wait until June before we know the Court's decision and it's my hope that common sense will rule. The Justices should not take away what is now an important part of American citizenship.
Steven Fulop is the Mayor of Jersey City, NJ.
Calling all HuffPost superfans!
Sign up for membership to become a founding member and help shape HuffPost's next chapter