Sept 27 (Reuters) - U.S. airport security agents discovered a record 67 firearms in luggage passengers intended to carry on to airplanes during one week in September, according to the Transportation Security Administration (TSA).
Of the 67 firearms found during the week ended Sept. 17, 56 were loaded and 26 had a round in the chamber, the TSA reported. The tally set a new weekly record. The prior record was 65 firearms found during a week in May 2013, TSA said.
For the most recent week, ending Sept. 24, TSA said it found 64 firearms in carry-on bags at airports. Of those, 55 were loaded and 22 had a round chambered, TSA said.
In July, new TSA Administrator Peter Neffenger told a congressional panel that his top priority would be to close security gaps at airport checkpoints.
Lawmakers opened a U.S. House of Representatives hearing after a Department of Homeland Security report that found TSA airport screeners did not detect banned weapons in 67 of 70 tests at dozens of airport checkpoints.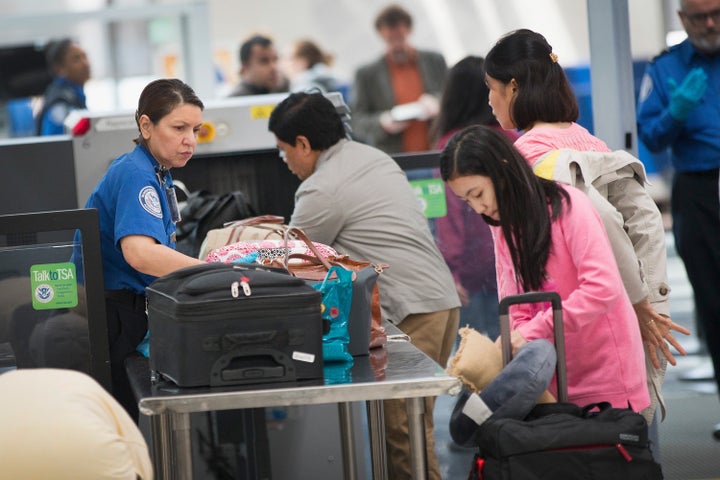 Guns in airplane luggage have been found all around the country. TSA said its agents stopped a man Thursday at a Greater Rochester International Airport checkpoint in New York when they detected a gun in his carry-on bag. A day prior, on Sept. 23, TSA found a loaded firearm in a passenger's carry-on bag at the Des Moines International Airport in Iowa.
Nationwide, TSA officers have found more than 2,000 firearms at airport security checkpoints so far this year.
Weapons, including firearms, firearm parts and ammunition, are banned from carry-on bags, but can be transported in checked bags if they are unloaded, and declared to the airline. Passengers who bring firearms to the checkpoint face possible criminal charges and civil penalties up to $11,000.
(Reporting By Carey Gillam in Kansas City, Mo.; Editing by Andrew Hay)
Support HuffPost
The Stakes Have Never Been Higher
Popular in the Community