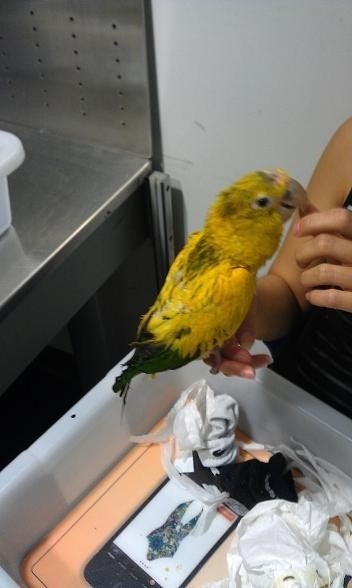 TSA agents at Los Angeles International Airport discovered two birds while patting down a passenger planning to board a China-bound flight last week, a day before a man attempted to board a Miami flight with snakes in his pants. The woman had taped one bird to her chest and another to her leg.
According to a release from the TSA, the woman was arrested by Fish and Wildlife Service officers and charged with smuggling goods and the exportation of an endangered species.
The woman had encased the birds, small parrots, in two tube socks, which she had then taped shut. After the officers released the justifiably angry birds from cotton bondage, they seemed to be in reasonably good health.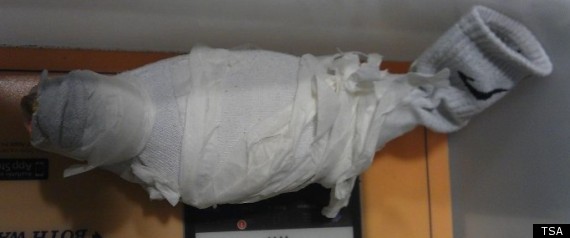 A small bird that was found taped to a passengers' leg is wrapped in a sock and tape. The bird was discovered by TSA officers at LAX Wednesday night.
The bird incident was one of two bizarre animal smuggling incidents that took place last week according to Nico Melendez, a public affairs officer for the TSA. On Thursday, a passenger attempting to climb aboard a flight out of Miami International Airport with snakes and turtles beneath his clothing.
The man was caught when he walked through an Advanced Imaging Technology screening machine and, presumably, blew the minds of the people watching the machine's output.
These incidents are by no means the first attempts made by passengers to smuggle animals on board, but the crime is typically more closely associated with airports in the developing world, where animal traffickers are trying to get exotic animals out so they can be sold at a premium as pets.
No word yet on the motivations behind last week's bird and snake smuggling.

Popular in the Community