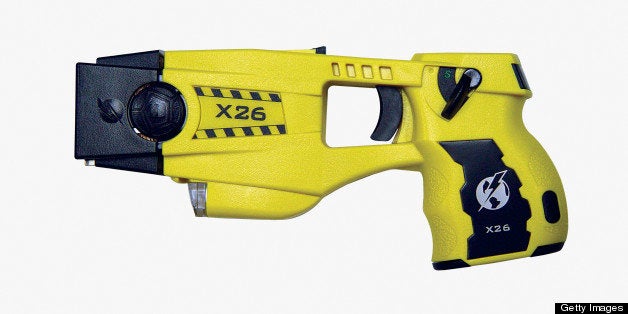 Maryland Transportation Authority Police cited a Frederick man Wednesday for having a stun gun at BWI Thurgood Marshall Airport.
Transportation Security Administration officers noticed the weapon, a stun gun and flashlight combination, in Sean A. Cash's carry-on bag.
Cash told TSA officers that he did not realize the tool was also a stun gun, according to spokeswoman Lisa Farbstein.
First Sgt. Jonathan Green, an MTA Police spokesman, said Cash was stopped at 3:25 p.m. at Pier A.
The TSA called the Maryland Transportation Authority Police to the checkpoint, where they confiscated the stun gun. Cash was cited for interfering with security procedures, an offense that carries a penalty of up to 90 days in jail and a $500 fine, Green said.
Cash was then released and permitted to catch his flight to Jackson Hole, Wyo.
Weapons of any type are not permitted in carry-on baggage and passengers are held responsible for the contents of bags they bring to the security checkpoint, the TSA said in a news release.
The TSA recommends going through bags before coming to the airport to make sure no illegal or prohibited items are accidentally packed inside.
Travelers can be fined up to $11,000 if they are caught with prohibited items at the airport, according to TSA.
Last year, the TSA discovered guns that led to more than $1.8 million in fines for the passengers carrying them.
TSA found two guns in carry-ons at BWI between January and April, Farbstein said.
Nationally, the agency stopped 505 firearms from going through security checkpoints, which is about five to seven a day.
Follow Kelsi Loos on Twitter: @KelsiFNP.
Review items prohibited on flights at http://www.tsa.gov/traveler-information/prohibited-items, or download the free MyTSA app. ___
(c)2013 The Frederick News-Post (Frederick, Md.)
Distributed by MCT Information Services
REAL LIFE. REAL NEWS. REAL VOICES.
Help us tell more of the stories that matter from voices that too often remain unheard.
BEFORE YOU GO
PHOTO GALLERY
The Year In SHOCKING Stun Gun Incidents