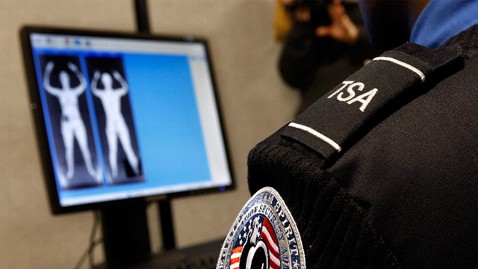 If you are under 12 or over 75--in like Flynn. No worries.
No more long TSA security lines involving taking off your shoes or taking out your laptop...etc...
But for the rest of us flyers, it's a secret new "E-ZPass" program of sorts: "Managed Inclusion" is a riddle wrapped in a mystery inside an enigma, to paraphrase Winston Churchill.
Under the Transportation Security Administration's new PreCheck program, "non-threatening" frequent flyers of participating airlines get to keep their shoes, jackets and belts on during the security checkpoint. Laptops can stay in their bags as well.
How can I get this coveted badge of honor with the power to make traveling so much easier.
It's confusing... I checked the TSA Web site... apparently certain airlines will nominate their favorite flyers for this special status. They won't tell you when or why, or if you are nominated... they won't tell you if you are accepted or rejected.
There is an obvious elitism -- involving a clandestine TSA algorithm which measures things like rootedness in the community, length lived at current address, job duration, credit rating -- we don't know for sure.
Though most travelers would do anything to avoid the brain-numbing security lines, Managed Inclusion carries an obvious threat to our fabled egalitarian democracy. Why are private companies telling the government who is a terrorist and who is not?
The process will inevitably lead to a two-class airline security system in which simply everyone has a PreCheck ID, except for that hapless group that can't get one and are forever condemned to the security underclass, argues the ACLU, which calls it a "terrible idea."
"This would be a major step toward turning the agency's Pre-Check whitelist into the insidious kind of passenger profiling system that was proposed under the Bush Administration in the wake of 9/11," wrote Jay Stanley on the ACLU website. He continues to say that ultimately, "... we face the prospect of a two-class airline security system."
Never one to shy away from 'One Percenter' privileges, I tried to figure it out.
Per the TSA's suggestion, I first called United Airlines as an ordinary traveler and asked where I could sign up, but the customer service rep could barely explain how the program works and told me to call the TSA for more information. The TSA fired back with, "It's up to the discretion of the airline."
Meaning, call United back.
I did. After giving my FF elite Mileage Plus miles number, the reservationist was noticeably more forthcoming and walked me through the sign up, which consisted of checking a box that said I would like to participate in the TSA PreCheck program.
On the United confirmation page, I was told, "Again, once you apply, you will receive no further communication from the TSA or United about your status in this program."
The airlines won't tell you if you qualify when you book a flight or check in for a flight, whether a full screening will be waived or if you have to suffer through slow-moving security -- it just happens. It's part of the TSA's devious plan to keep everyone guessing and off-base.
The new "E-ZPass" procedures have had a secret rolling start and have been in effect, with no notice, for children under 12 and seniors over 75 since before the holiday season and for government groups since 2011. It makes sense. Those specific age groups, along with frequent flyers, are considered unlikely to pose a security threat, and the new initiative allows TSA workers to devote its attentions to other passengers.
TSA spokesman David Castelveter told the New York Times last week that "these enhancements are part of our evolving risk-based security approach" and "to move away from one-size-fits-all model to providing the most effective security in the most efficient way.
Easy enough to understand, but how does one qualify for the program? That's the tricky part.
There are two ways: the airlines nominate certain preferred flyers or the passenger can request a nomination. For travelers who don't qualify through their airline, the TSA directs them to go to trusted traveler networks like Global Entry to obtain a PASS ID number. So far, the participating airlines are Alaska Airlines, American Airlines, Delta, US Airways and United Airlines at 35 or so airports nationwide.
Once approved, the TSA will determine, on a per-flight basis, whether or not the passenger is eligible for expedited screening. Neither the passenger, nor the airline, will be aware of the status of security screening until the passenger reaches the checkpoint, where he or she will be directed into the appropriate line based on an embedded code in the boarding pass. This only works for domestic flights.
Members of the U.S. Customs and Border Protection's Global Entry, SENTRI or NEXUS programs have been among the first travelers eligible for the PreCheck program, but comments left online prove that, it's far from seamless.
"I have yet to be able to effectively go through TSA Pre Screening yet," a comment left on United's Web site by Global Entry member Robert Lasorsa reads. "TSA places the blame on United Airlines."
After using United's online opt-in process, the confirmation page reads, "The TSA manages and operates this pre-screening program. Please contact the TSA for information and answers to questions. The TSA will determine your expedited screening eligibility on a per-flight basis every time you fly."
I then called another airline, Delta, and was told that since I was an elite SkyMiles Medallion Member, I had been sent an invitation, and that I wouldn't hear anything and wouldn't know until it happened.
But when my wife, who does not have an elite Medallion status, called, she was told to go to the Global Access Web site to obtain a PASS ID number--for a fee of $100--and apply there.
She is not happy, and what happens when we travel together and I get to fly through the long assembly line of bins and shoeless patrons, while she is left behind?
Respond: jfleetwood@aol.com
Popular in the Community