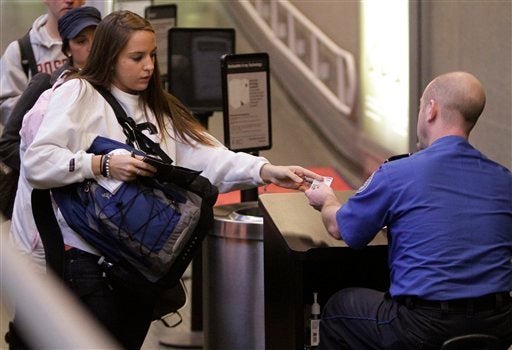 BOSTON -- Katherine Dombrowski wasn't expecting a quiz as she waited in the TSA security line at Boston's Logan International Airport. But that's what she got Monday morning after handing her boarding pass and driver's license to a blue-shirted security officer at the checkpoint.
Where had she been? Visiting her father on Cape Cod, said the former Bostonian. Where was she going? A trade show in San Jose, Calif. And you live where now? Virginia.
"Have a good flight," the officer cheerfully said as he handed back her documents.
Taking her place in line at the metal detector, Dombrowski called the exchange "terrific."
"I think it's okay to just get a gut read on people. I don't feel it's intrusive at all -- I've got nothing to hide."
But a New Yorker ahead of her in line who declined to give his name was irritated at having to share that he'd been at a family wedding and had stayed at a Holiday Inn. Especially since he was late for his flight home. "I didn't understand the necessity," he grumbled.
For travelers who questioned the necessity of "naked" body scanners and still chafe when taking off their shoes at the airport, the Transportation Security Administration's latest defense against another 9/11-style terrorist attack is either a friendly conversation or a nosy "chat-down."
Regardless of description, it may be the future. The new conversational screening practices that the TSA tested this month at Logan's Terminal A are likely to expand to Detroit and other airports this fall, even as industry, privacy and security experts determine whether this latest counterterrorism tactic is worth the expense or the hassle.
"Over the last 10 years, TSA has added layer upon layer upon layer (of screening) without conducting a real, risk-based approach," said Erik Hansen, director of domestic policy at the U.S. Travel Association, a travel industry advocacy group. "We hope TSA is getting away from the Hobson's Choice that you can't have efficiency and security at the same time."
Under the TSA's new expanded behavior detection program, screeners schmooze up passengers to spot whether they have something to hide. As they chat, the TSA officer listens for inconsistencies in a passenger's story and notes whether the person is nervous, sweating or avoiding eye contact. Those exhibiting suspicious behavior are sent for additional screening that may include pat-downs and luggage searches.
"Everybody is a little nervous and on edge at the airport -- that has to be discounted," said George Naccara, TSA security director at Logan. "We want to discern the anomalies that are excessively out of the norm."
The program is part of a larger effort by TSA Administrator John Pistole, a former FBI counterterrorism official, to move away from a "one-size-fits-all" approach that treats all travelers as suspect. His mantra of "risk-based, intelligence-driven security" prioritizes "focusing resources on those we know the least about, and using intelligence in better ways to inform the screening process."
As part of that, on Tuesday, the TSA launched the pilot program PreCheck, which provides speed screening for a small number of passengers who voluntarily provide information before they travel. The agency has also moved to implement expedited screening for airline crews after years of limited testing of the new procedure by the Airline Pilots Association (ALPA) on the East Coast.
The changes, unthinkable a decade ago, are only now being seriously discussed thanks to improvements in intelligence and screening made in the years after the attacks of Sept. 11. Stephen Luckey, former head of ALPA's national security committee, called them long overdue.
"We have been using a very inefficient approach to security," he said. "We waste a lot of time doing everything to everyone and being politically correct [because] the government assumes everyone is a potential bad person. This is a disaster. If we apply the same scrutiny to all it ends up being costly and ineffective. We need a cultural shift to look for good people and reward them" with faster screening.
Can You "SPOT" Bad Behavior?
Logan was a logical choice to try out the new pilot program. Two of the four planes hijacked on the morning of Sept. 11, 2001, took off from that airport before crashing in to New York's World Trade Center towers. Logan has since worked hard to make improvements. While gun-toting Massachusetts state troopers still roam the terminals, its biggest contribution to security has been to host dozens of tests of security measures that were later applied in airports across the country.
"You name it, we've tried it," said Phil Orlandella of the Massachusetts Port Authority, which operates the airport.
After the attacks, Massachusetts state police working at Logan were the first to adopt behavior-pattern recognition like that used at Israel's Ben-Gurion International Airport. Officers were trained to observe passengers from a distance and interrogate those whose facial expressions, body language or other behaviors aroused suspicion.
That state policy program would eventually form the basis for the federal Screening Passengers by Observation Techniques, or SPOT, program. It was first introduced at Logan in 2003 and now employs about 3,000 behavior detection officers who keep a sharp eye on passengers at 161 U.S. airports. The TSA pilot program underway here expands on SPOT by adding casual conversation with every passenger to the security mix.
Rep. Bennie Thompson (D-Miss.), the ranking Democrat on the House Homeland Security Committee, is among those troubled by TSA's planned expansion of SPOT. In a letter to TSA Administrator Pistole this summer, he said he was concerned about "doubling down" on the use of unproven, controversial techniques that lack safeguards against racial and ethnic profiling.
The congressman cited a report that airport screeners in Newark, N.J., had targeted Mexicans suspected of being in the country illegally, a situation the Government Accountability Office (GAO) said was not isolated. Nearly 40 percent of people arrested during the first four years of the SPOT program were held for immigration violations and posed no threat to aviation.
In its May 2010 report, the GAO said TSA "deployed SPOT nationwide without first validating the scientific basis for identifying suspicious passengers" at airports. A leaked list of 70 "behavioral indicators" indicating a passenger may be high-risk included any traveler who is "very arrogant and expresses contempt against airport passenger procedures."
TSA pushed back against GAO's findings, noting that "no other large-scale U.S. or international screening program incorporating behavior- and appearance-based indicators has ever been rigorously scientifically validated." In April 2011, the agency completed a validation study that it said showed SPOT was more effective than random screening.
The GAO has said more analysis is needed. But the Obama administration seems committed to the program. The White House has requested almost $237 million for 3,336 behavior detection officers, including salary and training for 350 new hires to expand coverage at both high-risk and smaller airports.
Results of 'Innocuous' Questions
Naccara said it is too early to judge the effectiveness of adding passenger interviews to the SPOT program but said the response from travelers has been mostly positive.
As of Monday morning, more than 92,000 passengers had been asked a series of "innocuous" questions by screeners at Logan, Naccara said. Nine people had been arrested on immigration charges, including three who had outstanding warrants for misdemeanors that included driving under the influence or without a license.
On Monday, as The Huffington Post observed passenger questioning, a TSA screener sent a woman holding a Mexican passport for more thorough questioning after she said she didn't know what was inside a wrapped gift she was carrying. It wasn't clear whether she was later allowed to continue on to her flight.
During the first six weeks of the pilot, screeners detected travelers carrying illegal drugs and one man who had $30,000 in cash strapped to his body. TSA officers turned the passengers over to state police.
Other travelers were found with multiple passports, boarding passes or IDs. None were charged with plotting a terrorist attack, Naccara said. Only 29 people declined to answer questions, sending them automatically for a more thorough secondary screening. Of those, 25 said they were worried they'd miss their flight. Only four cited privacy concerns.
That's enough to raise red flags for Bruce Schneier, a security expert and long-time critic of the TSA who said the latest pilot program is yet another scene in the "security theater" playing out in the "constitution-free zone" known as airport checkpoints.
Others, including Michael German, a former FBI agent now a policy counsel at the American Civil Liberties Union, argued that brief conversation was hardly sufficient to weed out potential wrongdoers.
"This isn't an in-depth interview," German said. "It's something that has severe implications on privacy and First Amendment rights and there is no basis to believe it improves security at all."
Then there is the concern that officers assigned to the new task will have only perfunctory training for a job that requires a complex understanding of psychology and human behavior and excellent communication skills. While SPOT officers are required to have worked at least a year as a transportation security officer to be accepted into the program, screeners in the expanded pilot at Logan spend just five days in the classroom, followed by eight to 32 hours of on-the-job training, according to Naccara.
"A few days of training does not make you an expert," said Fred Cate, an Indiana University privacy expert. "If we really mean for them to turn into experts then we should send them to Israel to train for a year -- but that won't be fast or cheap."
Or feasible. After touring behind the scenes at Ben-Gurion Airport early this year, Napolitano dismissed Republican suggestions that the United States entirely adopt Israeli-style security measures. While she endorsed sharing "best practices" with the Israelis, the problem was "size and scale." Israel has one major airport and handles about 11 million passengers a year. The federal government oversees more than 450 airports with nearly 700 million passengers annually.
Rafi Ron, the former head of security at Ben-Gurion who designed Logan's behavior-pattern recognition program and advises the TSA, also cited the distinct cultural mores that separate the two countries. Israel, he said, has a lower "level of sensitivity" when it comes to racial profiling with laws that allow more scrutiny of a young Palestinian man than an elderly Holocaust survivor.
Ron said the TSA's focus on suspicious behavior rather than ethnicity or skin color "is the remedy" to racial profiling, not a cause. And Naccara said questions routinely asked in Israel, such as whether a traveler speaks a certain language or belongs to a particular religion, are off limits here. "We focus on the trip," he said. "We can't ask totally irrelevant questions."
So far, officials at Logan say the pilot program hasn't caused missed flights or longer lines at security checkpoints, but they are watching closely for delays. Supervisors with stopwatches time the conversations, which often last longer than the "few seconds" Naccara promises in a public service announcement played every few minutes in the terminal.
Interviews with passengers at Logan revealed that most were willing to risk the momentary delay and share personal information if it contributed to overall security. But some did have questions about the eventual reach of the program.
"This is cool now, but what if it got to extremes -- if it was used as a control measure?" said Marco D'Ambrosio, a San Francisco film composer returning home after a high school reunion.
"What are they looking for? Suspiciousness? Or accents?" asked Anthony Taylor, who was heading home to Greensboro, N.C., after a family wedding. His wife was less put-off. Samantha Dirosa said, "It was very warm and friendly."
Support HuffPost
The Stakes Have Never Been Higher
Popular in the Community