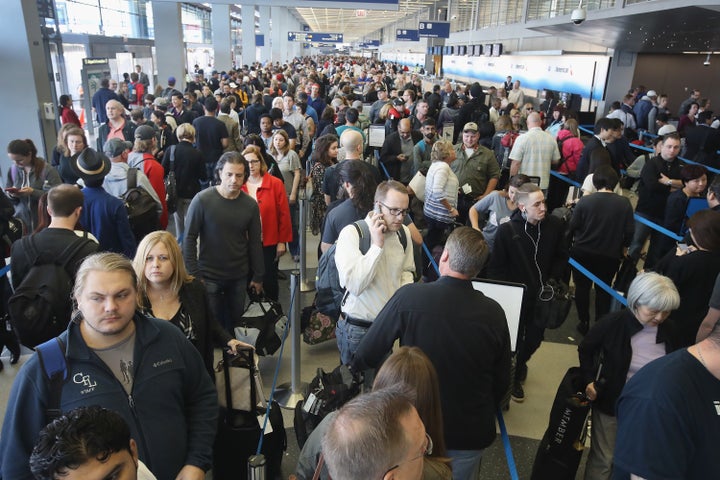 WASHINGTON, May 23 (Reuters) - The head of security for the U.S. Transportation Security Administration has been removed from his position, according to an internal TSA memo on Monday seen by Reuters, after the agency was criticized for long lines at airport security checkpoints.
Kelly Hoggan, who had served as TSA assistant administrator for security operations since May 2013, was replaced by his deputy, Darby LaJoye, who will serve on an acting basis, according to the memo from agency head Peter Neffenger.
Long security lines at U.S. airports this spring have frustrated travelers and caused thousands of passengers to miss flights. TSA has blamed the problem on a lack of security screeners and an increase in passenger volumes.
Hoggan came under fire at a U.S. House Oversight Committee hearing on May 12 for receiving over $90,000 in bonuses and awards over a 13-month period in 2013-14.
Earlier this month, TSA said it would add screeners at the country's busiest airports.
About 231 million passengers will fly on U.S. airlines from June through August, up 4 percent from the same period last year, according to trade group Airlines for America.
In the memo, Neffenger said TSA is doing a better job of moving passengers through security at Chicago's O'Hare Airport after particularly long lines at the nation's second-busiest airport made national news several weeks ago.
He also said TSA has established a National Incident Command Center at agency headquarters in Washington to track daily screening operations nationwide and shift resources in advance of higher predicted passenger volumes.
A TSA spokesman said the agency does not comment on personnel matters. (Reporting by Eric Beech; Editing by Eric Walsh)


Support HuffPost
The Stakes Have Never Been Higher
Popular in the Community