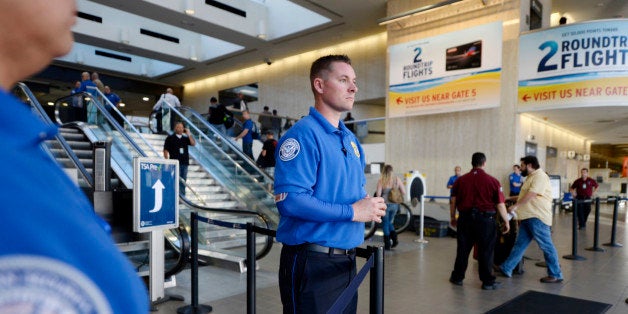 LOS ANGELES -- Transportation Security Administration officers are tasked with keeping America's airline passengers safe. But TSA officers are often powerless in the face of danger.
On Friday, three TSA officers were shot by a gunman at Los Angeles International Airport. One of the officers, Gerardo I. Hernandez, a father and husband, died from his wounds. He was the first TSA officer to be killed in the line of duty since the agency was created in response to 9/11.
David Borer, general counsel of the American Federation of Government Employees, the union that represents TSA officers, said the officers -- who are always unarmed -- are too vulnerable.
"They're not trained in responding to shooters," Borer told The Huffington Post. "When a shooting starts, they're sitting ducks like everyone else."
Anyone can walk into an airport lobby with anything in his or her luggage. Bags aren't screened until a passenger enters a checkpoint. And TSA officers -- who order passengers to remove their shoes, walk through body scanners and sometimes receive pat-downs or open their luggage -- are often targets of aggression, Borer said.
"This [shooting] is disturbing because we see physical assaults on our officers on a daily basis," he said. "Not with guns but everyday pushing, shoving, kicking, spitting, knocking them down. It happens all too frequently. There's a lot of hatred directed at our officers."
The alleged LAX gunman, Paul Ciancia, carried a duffel bag with a letter stating that he had "made the conscious decision to try to kill" multiple TSA employees and that he wanted to "instill fear in their traitorous minds." During the shooting, Ciancia reportedly ignored everyone except TSA targets.
In surveillance footage of Friday's shooting, TSA officers can be seen shepherding passengers away from the sound of gunfire. "In this kind of incident, their job is to help the passengers and themselves get out of the area, and they did that quite well," LAX Police Chief Patrick Gannon told HuffPost.
Neither the union nor the agency has asked to arm TSA officers. According to Brian Jenkins, who studies terrorism and aviation security at Rand Corp., arming TSA officers would be relatively ineffective.
"Armed personnel may be able to stop a shooter but they wouldn't prevent shootings," Jenkins said to HuffPost. "Shootings take place in lots of crowded places, and we don't get a net security benefit if we move the shooter down the road a bit."
However, prior to the Nov. 1 attack, the union had requested that the TSA, which is part of the U.S. Department of Homeland Security, advocate for law enforcement officers at checkpoints at all times. But it's up to local law enforcement at each airport to decide which areas their police officers patrol. "It's kind of a patchwork across airports," Borer said. "We need more consistency nationwide."
Union officials had also previously requested that TSA officers be given the power to arrest passengers displaying aggression. "Right now, if an incident happens, our people have to wait until [a police] officer is available," Borer said.
Earlier this year, armed police officers at LAX were shifted from fixed positions at TSA checkpoints to patrolling inside and outside passenger terminals. Gannon said the shift was made to enhance security.
"We were creating a different security look so that people who were paying attention -- from a bad-guy perspective -- would not see us as being predictable," he said.
Gannon added that a "cookie cutter" nationwide approach to airport law enforcement would be ineffective. "Every airport is very different. In fact, even each terminal here is different, like it's its own mini airport," he said.
He acknowledged that he has heard reports of increased aggression toward TSA officers and said that he will consider that as the department re-evaluates after the shooting.
But Gannon added that aggression isn't limited to TSA officers. "I also have ticketing officers who feel equally vulnerable," he said. "My time has to be spent addressing all of those issues -- not just one."
The chief said he does not think that more armed officers are needed. In addition to LAX police, the airport is protected on the ground by officers from the Los Angeles Police Department and the FBI. According to a 2011 report from a panel set up by then-L.A. Mayor Antonio Villaraigosa, $1.6 billion had been spent on new security measures at LAX since 9/11, including 250 additional airport police officers, bringing the force to about 1,000 officers. There are about 2,000 TSA officers employed at LAX, according to Borer.
After the Sept. 11, 2001, attacks, the TSA was created to strengthen the security of the nation's transportation systems. Prior to 9/11, airline passenger screening had been handled by private companies that contracted with the airport or airline.
Today, there are nearly 50,000 TSA officers who screen for explosives and other weapons at checkpoints in airports across the country. According to the agency, job applicants take a series of image interpretation tests, and about one in 20 applicants becomes an officer. TSA agents make between $29,000 and $60,000, Borer said.
At a news conference Saturday, TSA Administrator John Pistole said the agency will work with Congress to re-evaluate security issues. A TSA spokesman declined to tell HuffPost whether the agency will seek fixed law enforcement at checkpoints.
Ultimately, Gannon said, there is only so much that can be done.
"We could lock this place down and have armed, helmeted officers with rifles and machine guns," he said. "But even with people all over the place, there's never a 100 percent certainty that someone won't get hurt."
Before You Go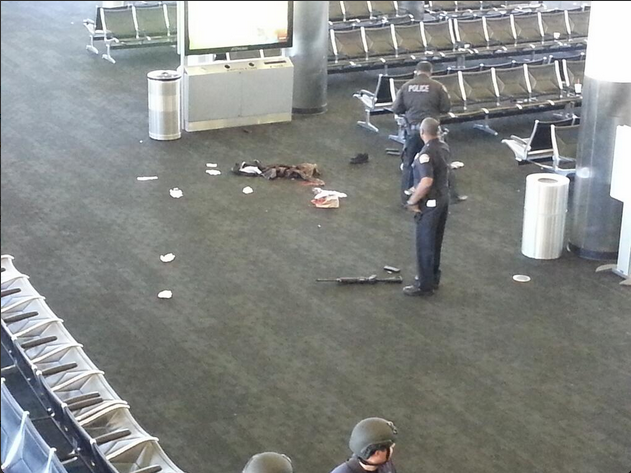 LAX Shooting
Popular in the Community