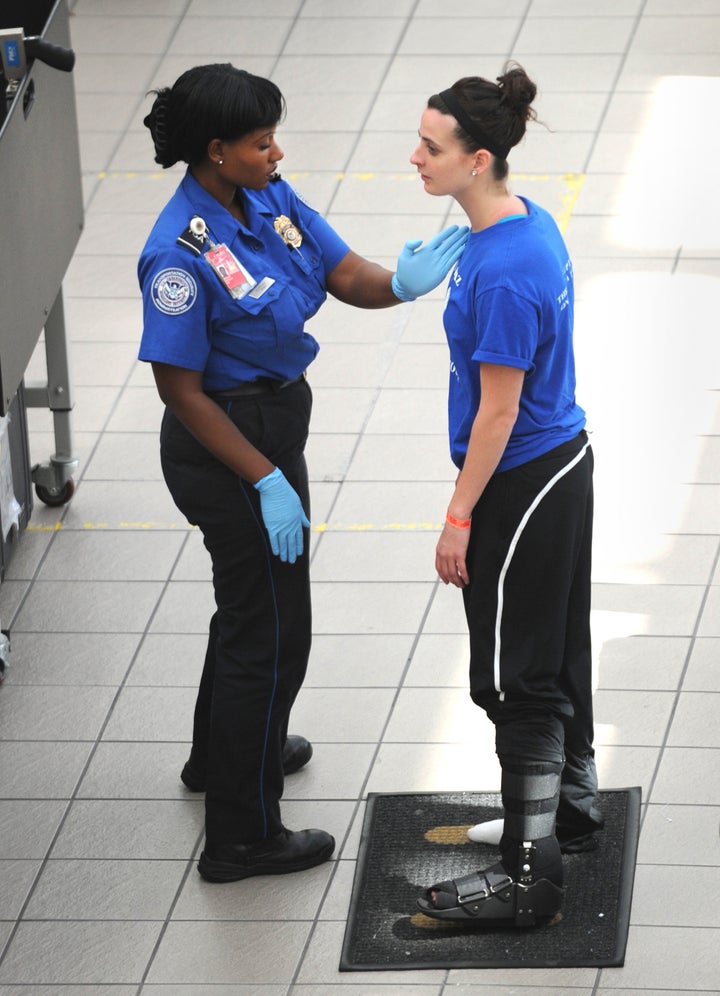 WASHINGTON -- The labor union representing workers for the Transportation Security Administration blasted the agency's top leaders Tuesday, describing their approach to labor relations as "arrogant," "top-down" and "autocratic" as the two sides try to settle on their first contract.
"I think I understand the same frustration the flying public has shown to TSA management," said John Gage, president of the American Federation of Government Employees, which won an election to represent TSA officers this summer. "We think there should be a house-cleaning."
Speaking at a press conference at the AFL-CIO, Gage accused TSA head and Obama appointee John Pistole of refusing to give workers a fair system for settling disciplinary disputes. Gage said that rather than give workers a grievance process adjudicated by an impartial third party, the agency has instead offered only to institute grievance processes that are overseen by TSA itself, tilting the scales in management's favor. He went so far as compare the TSA proposals to the anti-worker measures brought forth by Republicans in Ohio and Wisconsin this year.
"These folks, it seems, know very little about labor relations," said Gage, describing a third-party grievance process as fundamental. "[Pistole] has set up a company policy that makes us a company union. We won't be a company union."
"TSA is committed to ensuring that all employees are given full due process rights and looks forward to continued discussions with AFGE related to these important issues," a TSA spokesman said in email.
Overseen by the Department of Homeland Security, the TSA had been a non-union workforce since its inception after 9-11, until Pistole authorized a union vote earlier this year. Though a government-employee union like the AFGE cannot bargain directly over wages, it can negotiate over certain workplace processes like the pay-raise and grievance systems. The union and the agency have been negotiating unsuccessfully for about six months, and the sides don't appear close to an agreement.
Gage accused the agency of trying to set up a grievance process that would conceal low morale among workers and dysfunction among management. "Don't think this is about homeland security," he said. "It's about hiding a management structure that's incompetent."
Union advocates have long described a TSA officer's job as low-paying and thankless. The roughly 45,000 officers tend to start out around $28,000 in salary and max out around $36,000, according to several TSA workers who were at the AFL-CIO on Tuesday. And due to the sometimes invasive searches they're tasked with carrying out, the agents are often the target of public anger. Many travelers bristled earlier this year when the agency announced that travelers would have the option of undergoing either a full-body scan or physical pat-down from a TSA officer.
"It's very stressful, and we're on the front lines," one pro-union security officer previously told HuffPost. "A lot of people think it's a brand new agency, but it's not. We need to move on and improve the system."
This article has been updated to include a comment from a TSA spokesman.
Calling all HuffPost superfans!
Sign up for membership to become a founding member and help shape HuffPost's next chapter
BEFORE YOU GO