Leading up to the NFL Draft Thursday, May 8, we have examined Mel Kiper Jr.'s past and present analysis. If you missed Parts 1-3, click here for:
Now, it's time for the really fun stuff. Here is my mock draft for this year. As you will see, I'll make the case for each player going where, and since I (most likely) won't go 32-for-32, it will show how difficult it is to predict the Draft. I'll compare my picks with those of Kiper, and Part 5, which will come after the draft, will compare our mock draft results. Can I take down ESPN's NFL Draft guru?
1. Jadeveon Clowney (DE, South Carolina)
2013 Stats: 11 games played, 40 tackles, 3.0 sacks
Despite the glaring need at quarterback, Bill O'Brien will not be able to pass up the potential of Clowney. While his numbers during his junior season were down, it was, in part, because he faced double-teams constantly. While his work ethic has been questioned by many, including his former college coach Steve Spurrier, the thought of Clowney and Watt on the edges has to make O'Brien salivate. With no clear-cut quarterback above the rest in the field, the Texans can pick one up a very solid option with the first pick in the second round, while selecting who is considered to be a potential Hall of Fame caliber player. O'Brien might even feel comfortable with quarterbacks Case Keenum or Ryan Fitzapatrick, whom Houston signed to a 2-year, $7.5 million deal in the offseason.
2. Rams: Sammy Watkins (WR, Clemson)
2013 Stats: 13 games played, 1,464 yards, 12 TD
Sam Bradford needs help on the offensive line, but he also needs a dynamic primary receiver to throw to. Watkins fits this mold. After offensive tackle Rodger Saffold failed his physical and his signing with the Raiders was nixed, the Rams signed him to a 5-year deal. While they need a right tackle, their need for a wide receiver is greater, in my opinion. This will most likely be Sam Bradford's last chance to prove himself, as his contract ends after this year.
3. Jaguars: Johnny Manziel (QB, Texas A&M)
2013 Stats: 13 games played, 300-429 (69.9%), 4,114 yards passing, 37 TD, 13 INT, 759 yards rushing, 9 TD, 46 total TD
The Jaguars need a face to their franchise. Johnny Manziel gives them just this. Not only would he put fans in the seats, but he would also be the catalyst of an offense that desperately needs a playmaker. With the departure of Maurice Jones-Drew, the Jags need a dual-threat at the quarterback position, in my opinion, and Manziel's ability to not only throw the ball, but to escape pressure and create, should put him ahead of the other quarterbacks in this year's class. The Jags certainly have other positional needs all over the field, but starting with a franchise quarterback might be the way to go.
4. Browns: Blake Bortles (QB, Central Florida)
2013 Stats: 13 games played, 259-382 (67.8%), 3,581 yards passing, 25 TD, 9 INT
After seeing Manziel get drafted to the Jaguars, the Browns will most likely also draft a quarterback-- their biggest need. While breakout star wide receiver Josh Gordon has gone on the record in defense of Teddy Bridgewater, Bridgewater's pro day has led to some major questions. Therefore, Bortles should be the pick here. I wouldn't be surprised if the Browns select another quarterback later in the draft as well, as the Washington Redskins famously did two years ago, drafting both Robert Griffin III and Kirk Cousins. Brian Hoyer was good last season, when he wasn't injured, but he isn't the quarterback of the future.
5. Raiders: Khalil Mack (OLB, Buffalo)
2013 Stats: 13 games played, 100 tackles, 19 tackles for loss, 10.5 sacks, 3 INT, 2 defensive TD
The Raiders signed offensive tackles Donald Penn and Austin Howard to multi-year deals and traded for former Texans quarterback Matt Shaub. Therefore, the desperate need for an offensive tackle and quarterback is lessened. Needing defensive help, despite the addition of Justin Tuck, Mack would be able to step in immediately and become a game-changer. Despite playing at Buffalo, in a minor conference, Mack's physical ability and productivity cannot be questioned, after an impressive Combine and what he did on the field last season.
6. Falcons: Greg Robinson (OT, Auburn)
Matt Ryan had trouble staying upright last season, and Greg Robinson would give the Falcons an immediate upgrade and a franchise tackle who has the potential to be a force for a decade. Robinson, who is ranked as high as No. 2 on some mock drafts, is not a "sexy" pick, but a smart one if he drops this far.
7. Buccaneers: Mike Evans (WR, Texas A&M)
2013 Stats: 13 games played, 69 receptions, 1,394 yards, 12 TD
The Buccaneers need to draft an offensive playmaker. Mike Evans, a dynamic receiver with a frame similar to Calvin Johnson, should appeal to them with the No. 7 pick. After signing Josh McCown to a 2-year, $10 million contract, it seems that selecting a quarterback is out of the question with this pick. Therefore, surrounding McCown with weapons in the passing game makes sense.
8. Vikings: Jake Matthews (OT, Texas A&M)
Jake Matthews has been projected to go as high as No. 2 in various mock drafts. A draft prospect for years, Matthews would fill a need. While quarterback is a need, Round 2 would be an option. After signing quarterback Matt Cassel to a 2-year, $10 million extension, the Vikings plans might not include starting a quarterback selected in the draft right away. The third Texas A&M Aggie would be selected in the top-8 picks. Vikings coach Mike Zimmer went on the record and publicly criticized Johnny Manziel, who drew "red flags" during a private workout with the team. I find it hard to believe that the quarterbacks who should be available for this pick wouldn't draw any red flags of their own. Matthews is a safe pick and one who can make an impact for a long time.
9. Bills: Taylor Lewan (OT, Michigan)
In a division with a generally weak pass-rush from the New England Patriots and Miami Dolphins, the Buffalo Bills can gain from drafting Lewan to help neutralize the pass-rushing attack from the Jets-- the largest threat from that angle in the AFC East. If Robinson or Matthews is available, the Bills will go with either of them, but I see Lewan being available and drafted in this position. The offensive tackle spot is the most important need to fill for the Bills, and I would be shocked if they drafted another position here.
10. Lions: Justin Gilbert (CB, Oklahoma State)
2013 Stats: 11 games, 42 tackles, 7 INT, 2 defensive TD
Defensively, the Lions have been below-average for the past couple seasons. With Ndamukong Suh and Nick Fairley plugging the gaps up the middle, the team needs a playmaking defensive back. Gilbert is, in my opinion, the top cornerback prospect in the draft and possesses the on-field production and physical abilities needed to be a top-10 pick.
11. Titans: Ha Ha Clinton-Dix (S, Alabama)
2013 Stats: 11 games played, 51 tackles, 2 INT
The Titans are in need of a playmaker in their secondary. Coming from a pro system at Alabama, Clinton-Dix would be able to start at either safety position right away. While he does have a few off-the-field concerns, it isn't a hidden fact that NFL athletes aren't saints.
12. Giants: Eric Ebron (TE, North Carolina)
2013 Stats: 13 games, 62 receptions, 973 yards, 3 TD
The Giants have been hurting for a productive tight end since Jeremy Shockey left the team. Ebron would give Eli Manning another option to throw the ball to, coming off the worst season of his career. Wide receiver is an option for this pick as well, but since Watkins and Evans would most likely be gone at this point, I think the G-Men will go with Ebron before heading into the second-tier of receiver prospects.
13. Rams: Odell Beckham Jr. (WR, LSU)
2013 Stats: 12 games played, 57 receptions, 1,117 yards, 8 TD
Odell Beckham Jr. is a prospect I see getting drafted perhaps before he should. However, I see the Rams loading up on wide receiver talent to give Bradford more weapons on offense. This pick resembles what might be the last chance for Bridgewater to be selected in the first round, but I don't see it happening.
14. Bears: Aaron Donald (DT, Pittsburgh)
2013 Stats: 13 games played, 59 tackles, 28.5 tackles for loss, 11.0 sacks, 4 forced fumbles
Losing Henry Melton this offseason, the Bears need help up the middle on their defensive line, especially a gap-plugger up the middle. Donald is a talented run-stopper who would provide that ability, and should go before fellow defensive tackles Jimmy Jernigan and Louis Nix III.
15. Steelers: Timmy Jernigan (DT, Florida State)
2013 Stats: 14 games played, 63 tackles, 11.0 tackles for loss, 4.5 sacks
The Steelers, also in need of a defensive tackle, should go with Jernigan. I have Jernigan rated as the very close No. 2 defensive tackle prospect, right behind Donald. I can also see them picking up a cornerback here, but I'm also not sold that there's one worthy of the No. 15 overall pick. Jernigan fills a major need and there are a slew of second-tier cornerbacks who may slip to this spot in the second round.
16. Cowboys: Marqise Lee (WR, Southern California)
2013 Stats: 11 games played, 57 receptions, 791 yards, 4 TD
With Miles Austin coming to the end of his career with the Cowboys, Tony Romo will want Dez Bryant to have some help on the outside. Lee is a polished, productive wide receiver who played at USC, a big time-program, and the Cowboys should make this selection to build not only for this season, but for the future as well. In 2012, he played in 13 games and had 118 receptions for an insane 1,721 yards and 14 touchdowns.
17. Ravens: Kelvin Benjamin (WR, Florida State)
2013 Stats: 14 games played, 54 receptions, 1,011 yards, 15 TD
Joe Flacco is most likely going to have to step up the passing game in order for the Ravens to succeed next season, with the almost-certain absence of running back Ray Rice. While Jacoby Jones is a threat, adding another dynamic down-field threat is important, as Flacco attempts the more passes 20+ yards than any quarterback.
18. Jets: Brandin Cooks (WR, Oregon State)
2013 Stats: 13 games played, 128 receptions, 1,730 yards, 16 TD, 217 yards rushing, 2 rushing TD
Geno Smith wasn't given a chance to succeed last season with the Jets. With a handful of receivers who wouldn't have even made the roster on other squads, the Jets had an abysmal passing attack. Adding Eric Decker to a multi-year deal in the offseason helped things, but adding another top-of-the line receiver would help. Cooks can thrive in the slot, where he can feature his breakneck speed. Starting receivers of Decker, Cooks, and Stephen Hill is a much better situation leading into this season for Smith.
19. Dolphins: Zack Martin (G/OT, Notre Dame)
Stemming from the Richie Incognito/Jonathan Martin scandal, the Dolphins need offensive line help. That being said, Martin can play either guard or tackle, and can start wherever the team needs him to along that O-line.
20. Cardinals: Rashede Hageman (DT, Minnesota)
2013 Stats: 13 games played, 38 tackles, 13 tackles for loss, 2 sacks, 1 INT, 8 pass deflections
The Cardinals have dynamic players on the edges and in their secondary, but have struggled to make a difference up the middle. Therefore Hageman, Donald, or Jernigan would fit well in this spot. With Donald and Jernigan gone, I see Hageman getting picked up here.
21. Packers: Austin Seferian-Jenkins (TE, Washington)
2013 Stats: 12 games played, 36 receptions, 450 yards receiving, 8 TD
After Jermichael Finley's scary season-ending injury last season, the Packers felt a void at the tight end position. Austin Seferian-Jenkins won the collegiate award for the best tight end, and certainly would immediately help out Aaron Rodgers. The Packers do have other needs, but Seferian-Jenkins might be too good of a prospect to pass up here for his dual threat in the running game and passing game.
22. Eagles: Anthony Barr (OLB, UCLA)
2013 Stats: 12 games played, 66 tackles, 20.0 tackles for loss, 10.0 sacks, 6 forced fumbles
At one time considered a potential top-5 pick, Barr would give the Eagles what they have been looking for: a dynamic outside linebacker. If not picked up beforehand, Barr would be a great pick at this point in the first round.
23. Chiefs: Jarvis Landry (WR, LSU)
2013 Stats: 13 games, 77 receptions, 1,193 yards, 10 TD
The Chiefs are in need of help at the wide receiver position. Jarvis Landry was very productive at LSU this past season, as indicated by the numbers above. He would give Alex Smith a nice target to bass the ball to, possibly in the slot receiver position.
24. Bengals: Darqueze Dennard (CB, Michigan State)
2013 Stats: 13 games, 62 tackles, 4 INT, 10 pass deflections, 2 forced fumbles
Based solely on his Combine showing, I believe footwork issues as well as the lack of fluid hip movements dropping back into coverage will lead to Dennard dropping in the draft. His on-field productivity, however, warrants him to be a first round pick. The Bengals need help and depth at cornerback, and Dennard would be a nice fit in the physical defense of Cincinnati.
25. Chargers: Kyle Fuller (CB, Virginia Tech)
2013 Stats: 3 games played, 24 tackles, 2 INT, 10 pass deflections, 1 forced fumble
Watching the Combine, Fuller looked like the best cornerback prospect in this year's class. Possessing a large frame, the Chargers would be a nice fit in a division that includes large wide receivers.
26. Browns: Calvin Pryor (S, Louisville)
2013 Stats: 10 games played, 75 tackles, 3 INT, 2 forced fumbles
The Browns defense isn't as bad as advertised. If he drops this far, which I think he will based solely on team needs, Pryor will be a very nice addition and would be able to help out immediately and make an impact on the defensive side of the ball.
27. Saints: CJ Mosley (ILB, Alabama)
2013 Stats: 13 games played, 108 tackles, 9.0 tackles for loss, 1 forced fumble
CJ Mosley, in my opinion the best inside linebacker in this year's draft, would be a nice addition to Rob Ryan's revitalized defense in New Orleans and would provide depth in the middle of the field.
28. Panthers: Davonte Adams (WR, Fresno State)
2013 Stats: 13 games played, 131 receptions, 1,719 yards, 24 touchdowns
The Panthers lost Steve Smith, Brandon LaFell, and Ted Ginn this offseason. Therefore, Cam Newton has no one to throw the ball to. I see them making a play to land a high-profile receiver in Sammy Watkins or Mike Evans. If they can't make a trade, I like them going with Adams with this selection, as he provides solid pass-catching ability and played with a future NFL quarterback in Derek Carr. Catching 24 touchdown passes to lead all of college football last season, Adams can be a steal here.
29. Patriots: Jace Amaro (TE, Texas Tech)
2013 Stats: 13 games played, 106 receptions, 1,352 yards, 7 TD
After a scary injury to Jermichael Finley last season, the Packers are in need of help at the tight end position. Amaro is the second-best tight end in this draft class, and Aaron Rodgers and company would be happy to add his pass-catching skills and run-blocking ability to their team. Coming from a pass-happy system at Texas Tech, Amaro would do well in the Packers' offensive system of past years.
30. 49ers: DeMarcus Lawrence (DE, Boise State)
2013 Stats: 13 games, 72 tackles, 20.5 tackles for loss, 10.5 sacks
With the recent troubles off the field of Aldon Smith, the 49ers need to start making plans for the future without the talented troublemaker in mind. That being said, Lawrence possesses some of the abilities that Smith has-- he's quick off the edge, and possesses a large frame at 6-feet, 3-inches and 245 pounds. While he is projected to go in later in the draft, I see the 49ers reaching for him here, to fill a need for the upcoming season and beyond.
31. Broncos: Teddy Bridgewater (QB, Louisville)
2013 Stats: 13 games played, 71% completion percentage, 3,970 yards passing, 31 TD, 4 INT
Peyton Manning almost called it quits after the Broncos' Super Bowl loss. I'd be shocked if the team intends on Brock Osweiler to be the quarterback of the future. That being said, I have Bridgewater falling this far, and think that spending a year under the tutelage of a veteran quarterback would be the best-case scenario in the long-run for both Bridgewater and the team that ends up drafting him. Manning would be the best teacher Bridgewater could learn from.
32. Seahawks: David Yankey (G/OT, Stanford)
The Seahawks have a vacancy at offensive guard. Yankey can fill that need and also possesses the versatility to change positions on the line as needed. Also, he's a Stanford Cardinal just like Richard Sherman. This would be a nice fit.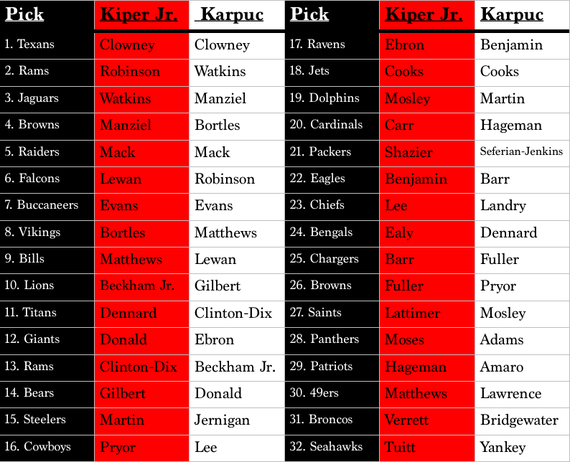 _______________________________________________________________________________________
Now it's time for you to get involved. Study up, because in the next few days, trading will be opened for our one-of-a-kind NFL Draft trading contests on Tradesports.com which will take place live during the Draft. Will Johnny Manziel be selected with the No. 1 overall pick? Will Jadeveon Clowney slip past the first couple picks? Will Blake Bortles be selected in the top five? Will Teddy Bridgewater fall to the second round? You will be able to use your knowledge and intuition to do battle against other NFL fans and get in on the action-- as it happens. Good luck!
REAL LIFE. REAL NEWS. REAL VOICES.
Help us tell more of the stories that matter from voices that too often remain unheard.