As has been explored in the four previous installments of the Tradesports Insider NFL Draft Series, the accuracy and validity of mock drafts isn't often times brought up-- but should be. Mock drafts, including mine-- my apologies-- flood the minds of NFL fans all across the country and fill the thoughts and prayers of those desperately hoping that their team selects the next NFL superstar.
The NFL draft took place between May 8 and May 10. Since I took on Mel Kiper Jr. head-to-head in Part 4 of the series, we will take a look at how the matchup turned out and also compare those mock drafts to the likes of Todd McShay of ESPN and Mike Mayock of the NFL Network.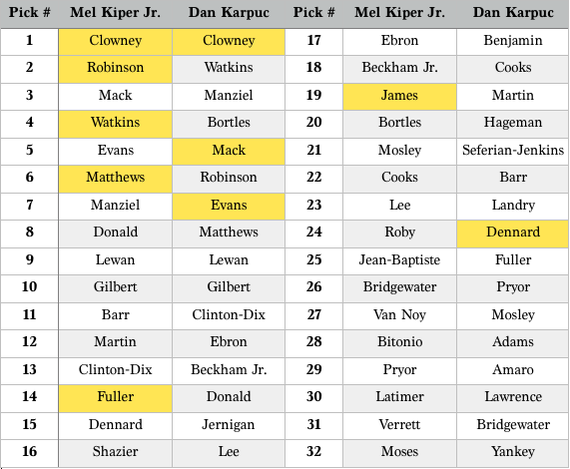 This is my mock draft compared to Mel Kiper Jr.'s. As you can see, Kiper Jr. got 6-out-of-32 first-round selections perfectly selected and I got 4-out-of-32.
Here's a breakdown of what picks we each predicted perfectly.



Here is Mel Kiper's Mock Draft 6.0, which he released hours before the draft took place. You will see what number the players were drafted and the number of picks away that they ended up being selected.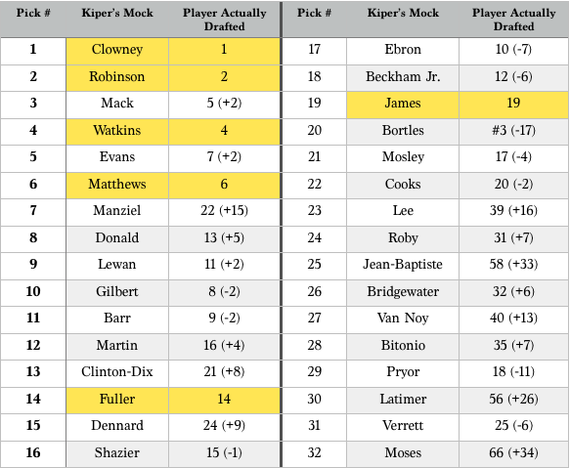 Kiper Jr. correctly predicted seven of the top 10 players would be drafted in the top 10, and perfectly predicted four of them with their corresponding pick number. He predicted 11 who ended up in the top 15, and 17 who ended up in the top 20. Overall, he correctly predicted that 26 out of 32 players would be selected in the first round.
Here are my results: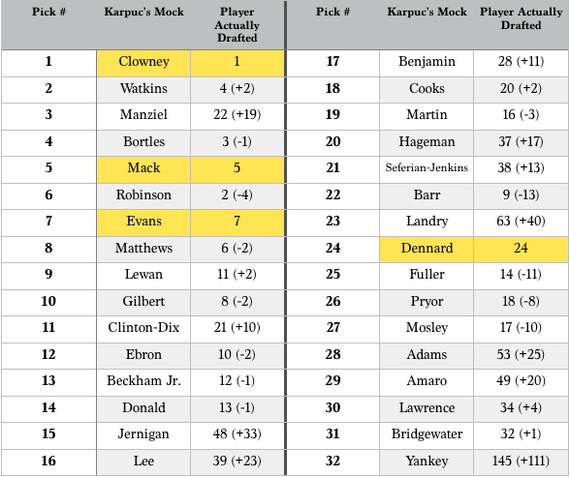 I predicted that eight of the top 10 players would be selected in the top 10 and made three perfect predictions. I predicted 12-of-15 top 15 picks and 14-of-20 top 20 picks. Overall, I correctly predicted 24 players to be selected in the first round of 32 picks.
The table below shows how Kiper and I did in comparison to Kiper's ESPN teammate Todd McShay and against NFL Network's draft guru Mike Mayock:



As you can see, Kiper and McShay both predicted six perfect selections. However, I predicted eight of the top 10 and 12 of the top 15 picks to be drafted in that range, which was better than all three NFL Draft gurus. However, Kiper projected 17 of the top 20 picks to land in that range, which led that category. Kiper and Mayock tied for the best overall first round, both projecting 26 of the 32 taken as first-round selections. I did better than McShay in that category, but as you'll see below, that might not mean much.
The following table illustrates the average number of picks away from the mock draft picks that a player was actually taken.



As shown above, players in Mel Kiper Jr.'s final mock draft landed 2.8 picks away, on average, than where he projected them in the top 10. Mike Mayock had the overall best first-round, as players in his one and only mock draft were, on average, 6.7 picks away from where he slotted them. Kiper Jr. did the best from picks 1-20, but picks 20-32 hurt him in the end. Overall, if you ignore my No. 32 selection of David Yankey, who ended up going in the fifth-round, my average would have been 8.3 instead of 11.8, and would have come closer to the gurus.
Nonetheless, this once again proves that predicting the NFL Draft accurately is one of the toughest feats in all of sports.
Tradesports.com is the first and only fantasy sports experience where sports fans can play in real-time for real money. Follow @TradesportsUS
REAL LIFE. REAL NEWS. REAL VOICES.
Help us tell more of the stories that matter from voices that too often remain unheard.