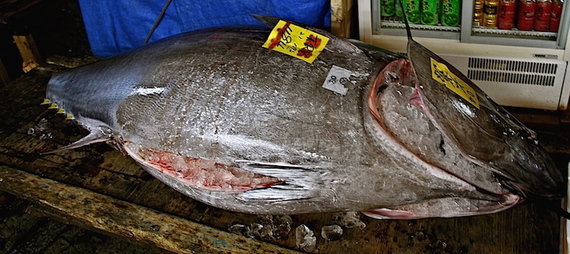 Fresh information on what's happening to Tsukiji. It's less endangered than you think. Unlike this tuna... Photo courtesy Shu Nakada.
The damp, dark, and endearingly dirty Tsukiji wholesale fish and produce market is being transported to a boring spit of landfill near Toyosu Station. Or so the headlines shout. That's not exactly true. If your Japanese dream vacation includes eating fresh sushi at dawn in Tsukiji, you still can. Read on. Plus, information on exactly how to score tickets to the giant tuna auctions before it's too late!
Tsukiji is a big sprawl of waterfront land only a few short blocks from glittering Ginza. Most of it is owned by the metropolitan government. They've lusted after the area for redevelopment and have at last got their way. The new fish and produce markets are opening November 7, 2016, on a boring spit of landfill near Toyosu Station. Where is Toyosu, you may ask. Nowhere. Not convenient for wholesalers, retailers, or tourists.
What many reports fail to mention is that the rambling photo-op-ready Tsukiji retail market right next door isn't going anywhere!
Crowded in a few blocks of winding alleys are dozens and dozens of sushi shops, fishmongers, and purveyors of tasty treats. This is the Jogai Shijo, the Outer Market, and where most visitors end up anyway. Since this is private land, the owners can give the government the finger.
Everyone likes the Jogai Shijo market. It's lively fun, just as full of Japanese as foreign visitors, and you're not in the way of the serious wholesalers inside the main market gates. Also, there's less danger of being run down by a truck, which is a plus.
The main street of the market ends at a colorful Shinto shrine, Namiyokei Inari Jinja, with massive carved wooden lion dog heads - one red, one black. The shrine was built to placate giant waves washing over Edo-era efforts to reclaim this land from the sea. Take time to stroll down here and walk off some of that sushi.
If you are determined to eat sushi within the gates of the wholesale market, then you really will have to get here before November. The sushi shops in the alleys there have been informed they are welcome to move with the market or find new a new location.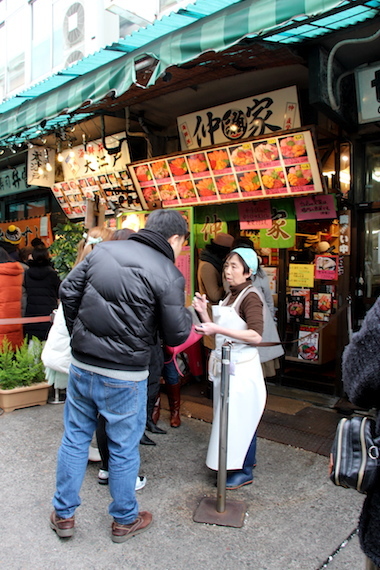 Sushi shops within the wholesale market gates have been told they must move with the market or move on. Photo by Gail Nakada.
Without the crowds of tourists, it's questionable if these little places will be able to make a living in the brave new world of Toyosu. The re-designed market is completely utilitarian, computerized down to the last shiny square foot, and about as much fun as a visit to the power company.
To see Tsukiji's world-famous giant tuna auction in situ, here's what to do.
How to see the auction at Tsukiji: If you are reading this before November, there are one hundred-twenty places allocated for visitors at the auction. Tickets are are free and on a first-come-first-served basis. Two groups of sixty people are given twenty-five minutes of viewing time each starting first at 5:25 a.m. If you get a ticket, you will be escorted to and from the auction. Lines form at three a.m. Read that bit again. Three in the morning. Even then, some days there are still more people than places. (Directions to the ticket office follow below.)
Be aware that trains, subways and buses do not run all night in Japan. That means you will have to take a taxi to Tsukiji to line up.
Important information: If you plan to visit before the move, note that visitors are not allowed to wander around the wholesale market before 9 a.m. You will be asked to leave. If you are not lining up for the fish auction, there is no point in coming at dawn. Wait until nine. Everything is closed and shut before noon, so between nine and ten are good times to visit.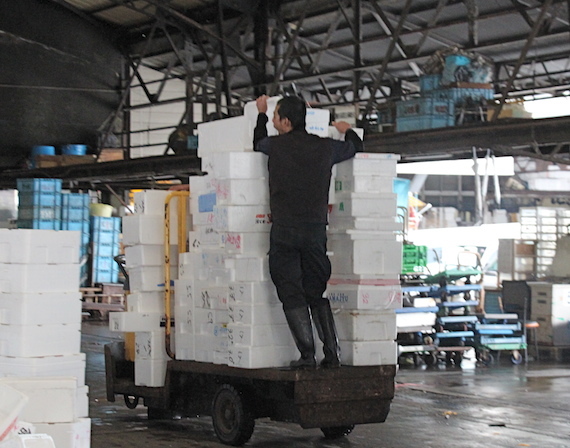 The interior of the wholesale market is a slippery and crowded with speedy -- and unstable -- little transports. Photo by Gail Nakada.
Be careful. This area is full of trucks and transports zipping around and the market takes no responsibility should you get slammed or slip and fall -it's very wet.
To eat at one of the sushi places within the wholesale market (they are in the alleys at the side of the warehouse areas), come early. They often stop serving way before noon as they have just too many customers.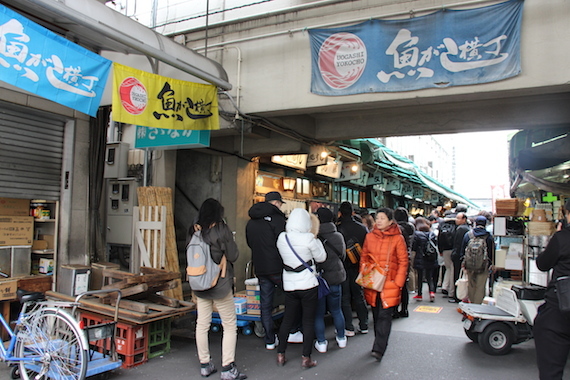 Will these crowds, here lining up for sushi within the market gates, follow the move to Toyosu? Photo by Gail Nakada.
The wholesale market is closed Sunday. It is also closed most Wednesdays. The number of Wednesdays varies every month so just assume they will be closed. Some of the shops and sushi places in the Outer Market remain open.
Access: Tsukiji Shijo Metro Station, Toei Oedo line. Exit 2 brings you out directly at the market. If you want to visit the wholesale area, with the exit at your back, go left and the entrance is just a few steps away. Be sure to pick up a free English map in the faded plastic box hanging askew on a pole.
If you wish to visit the retail Outer Market, with the exit at your back, go right. Walk to the next light past the public restrooms and turn right at the corner. This brings you into the Jogai Shijo.
Mobility impaired: Exit 2 has an escalator up but only stairs down. Exit 3 has an elevator, it is across the street and a bit hidden.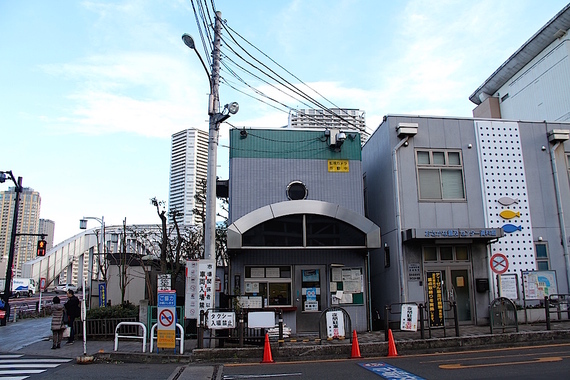 This is where you must line up for a chance at tickets to the wholesale auction. Photo courtesy Shu Nakada.
Access for the auction ticket window: From Tsukiji Shijo station, Toei line, with Exit 2 at your back, go to the right. Walk straight ahead for several traffic lights. You will see a large metal bridge across the Sumida river, that is Kachidoki Bridge. The ticket window is just to the right, in the wide entryway before the bridge (this is the other end of the Tsukiji market). Line up there and good luck. By taxi, tell them "Tsukiji Shijo Eki" and they will let you out by the station.
Popular in the Community