Suika may be the luckiest cat alive. The Japanese short-haired kitty was reunited with his owners more than three years after a tsunami ravaged his city of Ofunato. Suika's owners, Kazuko Yamagishi and her husband Takeo, were relieved to find their home still standing after the March 11, 2011, tsunami that devastated the region, BBC reports.
The family gave up hope after a months-long search for him. But on April 10 this year, another couple found a black cat curled up in a nearby forest, nearly 10 miles from Ofunato. He was friendly and wore a collar. Nobody came looking for him, so the couple put out an ad in a local paper.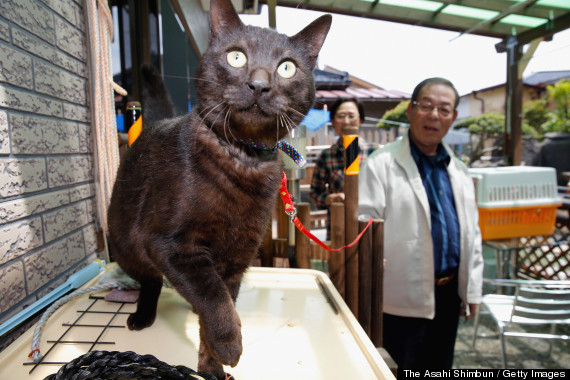 It was Suika! He was reunited with his family on May 9.
"Where have you been?" Kazuko, 64, asked the little guy when he arrived. She told The Asahi Shimbum that finding Suika was "just like a dream."
It's unclear how Suika survived the ordeal, but his story is one of the few heartwarming occurrences to come out of the disaster. More than 25,000 were believed to have died in the tsunami. It battered homes and towns dozens of miles in all directions from Ofunato, with the damage estimated at more than $300 billion.
BEFORE YOU GO
PHOTO GALLERY
Dangerous Days