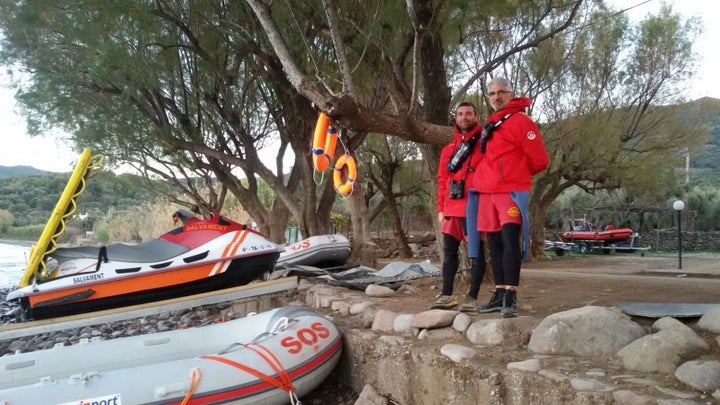 Enrique Álvarez refuses to be praised. On the other end of the telephone, he says that the people who really deserve a round of applause are his colleagues. "They deserve a lot more credit than I do."
Álvarez is in Barcelona, Spain, where he returned on Dec. 8 after eight days on the Greek island of Lesbos. He had been volunteering for the NGO Proactiva Open Arms, founded just three months earlier with the sole purpose of helping the refugees arriving every day on the Greek coast, many of whom have lost their companions in the crossing from Turkey.
What distinguishes Álvarez from other Proactiva volunteers isn't just his lack of a lifeguard license or his age -- he's in his 50s, while most volunteers are in their 20s and 30s -- but that he already knew what it was like to live through a tragedy at sea. Álvarez, his wife, María Belón, and their three sons were enjoying a vacation at a resort in Khao Lak, Thailand, when the 2004 Indian Ocean tsunami struck, killing hundreds of thousands of people.
Álvarez and Belón's ordeal inspired director Juan Antonio Bayona's film "The Impossible," which would become the highest-grossing Spanish movie in history until "Spanish Affair" took its place in 2014. Álvarez and Belón were played by actors Ewan McGregor and Naomi Watts.
"Having lived through certain situations in the past doesn't desensitize you. Instead, you empathize more with others. Things feel closer," Álvarez says.
Oscar Camps, a professional lifeguard for 40 years, founded Proactiva Open Arms after seeing the image of Alan Kurdi, the 3-year-old Syrian boy who was found drowned on a Turkish beach in September. He took 15,000 euros (over $16,000) out of his savings account, called his friend Gerard Canals, and they took off.
The organization focuses on rescuing people at sea and helping them land safely on shore. From its original team of two based in Greece, Proactiva has expanded to include volunteers in Spain and other backup volunteers. The team consists of eight lifeguards and one coordinator who is also a lifeguard. The majority of volunteers work as lifeguards.
"Having lived through certain situations in the past doesn't desensitize you. Instead, you empathize more with others. Things feel closer."
"I was the only one who wasn't a lifeguard," says Álvarez, who volunteered on the beach in Lesbos. "I dedicated myself to helping people when they arrived on shore. It's not as hard, but it's also important."
Álvarez left on Dec. 1 for Lesbos, intending to stay there for 15 days, but he had to return to Spain for work. "The teams rotate every 15 days, and there are people who have been there three times," he explains. The coming and going affords volunteers both physical and emotional relief.
"It's very demanding. [You] spend a lot of time without sleeping. [You're] tired, and you're also cold, because you spend many hours wet, many hours in the ocean," Álvarez says. "And the emotional demands are also complicated. None of us was prepared for a situation like this."
Hundreds of thousands of refugees have arrived on the shores of Lesbos in the last three months, many of whom were met at the coast by volunteers. Proactiva Open Arms reports that its volunteers have helped 130,700 people, 8,100 of whom were rescued at sea, and another 8,800 of whom were rescued by cliffs.
The organization works with volunteer psychologists who prepare the teams before they go and help them by phone once they arrive in Greece, but the situation is extremely complex.
Camps and Canals saw a boat carrying at least 300 people sink off the coast of northern Lesbos in late October. They were able to get 242 people ashore, but "when they finished, there were still dozens of dead bodies in the water," the NGO's spokeswoman, Laura Lanuza, tells HuffPost Spain. "It must have been very difficult choosing who to save, and having to take babies out of the arms of their mothers."
Proactiva used two motorboats to rescue the people from the ocean. Though the organization initially intended to help from shore, its fleet of boats has grown little by little. The NGO has repurposed boats abandoned by smugglers and now has two Jet Skis. It purchased its first boat with money raised in a recent crowdfunding campaign and will soon purchase another thanks to an anonymous donation. Another crowdfunding campaign is underway to raise funds for a third boat.
Meanwhile, more and more refugees reach Lesbos every day. The frequency of arrivals hasn't let up, with about 25 boats arriving daily at unpredictable times, including early morning hours. But that's not a problem for the volunteers, who understand how critical their help is and will spend their holidays working away from home.
"These people need to be welcomed, and Europe and the West in general have the capacity to do so. It just takes a change in mentality, and people need to understand why they're fleeing," says Álvarez, who criticizes governments for being absent during the crisis.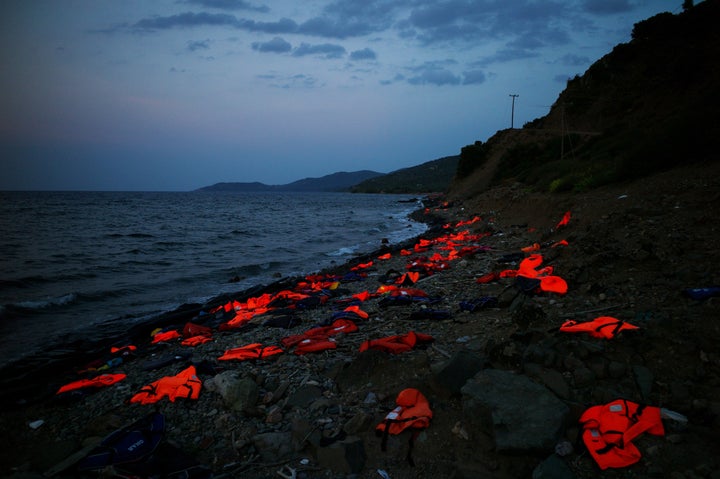 Álvarez intends to return to Greece as soon as possible. He tries to find a mental image to describe his experience in Lesbos, but it's impossible. "No single thing sticks with you. Lots of things do," he says.
"I remember the look of fear that people have after crossing the sea. I still recall the image of gratitude that they show us for helping them. I remember the image of the volunteers, and the image of the journalists that work to make this tragedy visible, and the image of the kids who, despite everything, are capable of rejoicing and distracting themselves, and I have the image of a marvelous coast filled with orange lifejackets."
This post first appeared on HuffPost Spain. It has been translated into English and edited for clarity.
Read more on the refugee crisis in Greece:
Popular in the Community