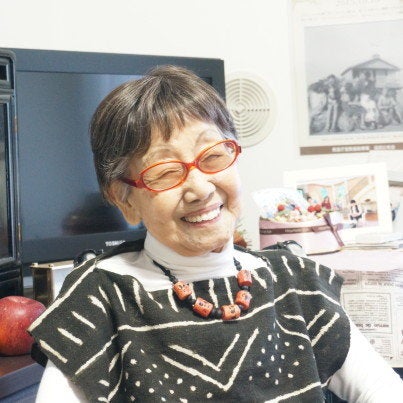 Tsuneko Sasamoto was born in Tokyo in 1914. As the country's first female photojournalist, Sasamoto documented life in Japan both during and after World War II.
She recently published her book, Inquisitive Girl at 100: Hints for Living a Long Life, which details her decades-long relationship with photojournalism. From a home for seniors in Kamakura, a city just south of Tokyo, Sasamoto spoke to HuffPost Japan about her career as a photojournalist.
"I felt as though there were a bunch of camera shutters going off inside my head. It deeply surprised me to learn that such a prominent photo, the photo on the cover of Life magazine, was shot by a woman."
HuffPost Japan: According to your book, Inquisitive Girl at 101, you wanted to be a visual artist when you were younger.
Tsuneko: That's right. I originally wanted to become a visual artist, but my father was very opposed to the idea. He said, "A woman can't become an artist. You won't be able to earn a living!" I enrolled in the home economics track at a technical college, but I couldn't give up on art, and I ended up dropping out without my parents' permission. Then I enrolled in a dressmaking school. After learning some skills, I helped out at a relative's dressmaking shop and commuted to an art institute at night. My mother allowed me to attend this institute without telling my father. This was when I was in my early twenties.
At that time, an acquaintance who was head of the local news section of the Mainichi Shinbun (then called the Tokyo Nichi-Nichi Newspaper) got in touch and asked if I would try doing an illustration for his section. I was happy that he asked and enthusiastically took the job. But then they ran an illustration by someone else.
When I complained to a friend that they had run an illustration by someone named Shiko Munakata instead, they told me that he was an expert illustrator and that I couldn't compete with him.
I was disappointed over losing that job -- then the same person from the Mainichi Shinbun contacted me. They told me that someone named Kenichi Hayashi, working in the local news section, had created a job called "photo agent," which basically meant someone who takes photos overseas. He suggested that I go to Mr. Hayashi's office for more information.
"He asked me if I would like to be Japan's first female photojournalist."
That was the Photography Foundation, which was established in 1939 during the Second Sino-Japanese War, right?
After I heard that, I went straight to Mr. Hayashi's office. He had experience as a correspondent on the China front, and enthusiastically explained the importance of the distribution of information during wartime and the purpose of photojournalism.
It was there that I saw my first "mutsugiri," or 1/6 sheet photographic print (approximately 8 by 10 inches). Until that point, I had only known of cabinet-size photos (approximately 4 by 5 inches), and I was surprised by the impact of this other size.
He showed me photos of Mussolini and Hitler, and explained to me what news photography is. He told me that in America there was a woman photographer named Margaret Bourke-White, and that she had even published a photograph on the cover of Life magazine.
The moment he said that, I felt as though there were a bunch of camera shutters going off inside my head. It deeply surprised me to learn that such a prominent photo, the photo on the cover of Life magazine, was shot by a woman. My brother was interested in all things American, and we had issues of Life at our house.
On top of that, Mr. Hayashi went on to say that there was still a limited number of photojournalists in Japan, and that none were female. He asked me if I would like to be Japan's first female photojournalist.
Did you have experience taking photos?
I didn't even have much experience holding a camera! It feels rude to say now, but at the time people who painted made fun of photographs. If you so much as drew a realistic picture, people would ask you disparagingly if you were a photographer's assistant. But when I heard about Margaret Bourke-White, I felt my heart skip. I decided that that's what I was going to try to do.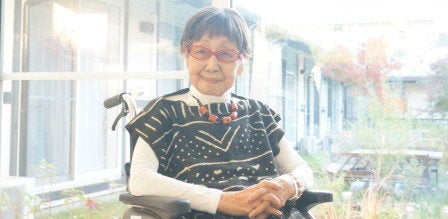 In 1939, when you started working as a camerawoman for the Photography Foundation, you were a 25-year-old single woman. At the time, did your family put a lot of pressure on you to get married and be a housewife?
My mother had a lot of influence there. She was a really kind-hearted person. Relatives sent "omiai" photos (photos to facilitate arranged marriages), but she sent them back and told me that I didn't have to do it. "Do what you want to do," she said. "If you want to paint, paint; and if you meet a good person, marry." She was a very progressive person for her time, wasn't she? I wonder how she got that way!
Even so, there was no way my father or brother would allow me to do a job like photojournalism, which no one had heard much about. I got my parents' permission under the pretense that I was going somewhere to help organize photographs, and quietly started down my path as a photojournalist.
"Even if it's hard sometimes, if you study everything, someday it will come in handy."
You wrote in your book about the period after 1940, when you really started working. Your development as a photographer, armed with the aesthetics you learned as an artist and your natural courage, was thrilling to read about. You often took photos of foreign delegations, didn't you?
That's right. At photo sessions for foreign delegations, there would often be many male photographers gathered together with their cameras, but if they didn't get a good shot they would just let it go. One day I messed up a photograph, so I went to one of the prominent people and, in my poor English, said "excuse me" and asked if they would let me take their picture again.
News about what I had done got around, and people started saying "That girl can speak English" and "Let's have her photograph such-and-such foreigner."
The fact that I could speak English, even if poorly, was due to an English teacher I had when I attended a girls' school. There was an English teacher there who was British-Japanese, who enthusiastically taught everyday English conversation. That came in handy, of course, when many foreigners came to Japan after the war was over. Even if it's hard sometimes, if you study everything, someday it will come in handy.
Were you sometimes the focus of attention as Japan's first female photojournalist?
Once, a magazine called Fujin Kouron ("Lady's Opinion") told me that they wanted to take a picture of the first female photojournalist. I had my boss turn them down many times, but they persisted. They did end up photographing me. I didn't want to show my face, so I desperately tried to cover it with my camera. Of course, they told me that that wouldn't work, and the photo ended up being published with my face fully visible.
I hid the magazine deep in a cabinet so my father wouldn't find it, but a relative called and said, "Wow, Tsune-chan is doing some great work!" The article accompanying the photo had exaggerated, and said things like "She has won renown as a member of the Cabinet Information Bureau's photography department." My uncles were rather surprised. Naturally, my father and brother found out too, and there was quite an uproar.
In the end, I wasn't able to resist their opposition to my work, and I ended up resigning, with tears streaming down my face.
This was just a year or so after I had started working as a photojournalist. I had been blessed with wonderful coworkers, and it had been a year of rich experiences. My desire to take more photos was strong, and I felt heartbroken.
It was around six years later, after the war had ended, that I was able to take photos again. I spent time working as a reporter for the Chiba Newspaper and as a part-time employee for the Women's Democratic Journal, and after 1947, I started working as a freelancer.
This post first appeared on HuffPost Japan. It has been translated into English and edited for clarity.
Related
Popular in the Community