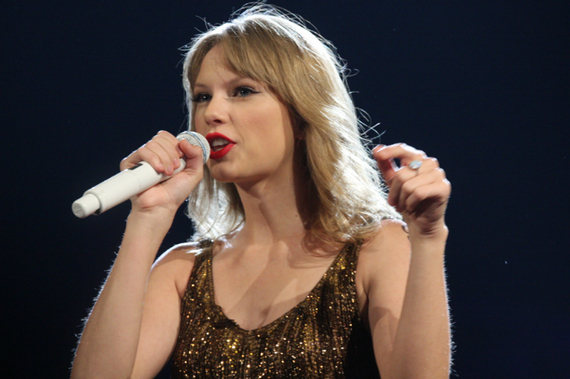 The pop culture news cycle continues to explode around the most recent Taylor Swift breakup, with analysis of every minute detail connected to the deleted Instagram posts, the rescinded amicable breakup tweet by Calvin Harris, her meeting with Tom Hiddleston's mom, and more. It's an old plot line with new characters and one that I'm tired of seeing play out in the media.
I've watched Taylor's career path over the past ten years as both a fan and a woman in business. As my company has passed a half billion dollar valuation, the notes I've been taking in the back of my mind about how she conducts herself as an entrepreneur and businesswoman have become more and more relevant.
When Taylor Swift first burst onto the awards scenes in 2007, winning New Female Vocalist of the Year at the CMAs, I was graduating from Stanford undergrad and still figuring out my future career path. Almost a decade later, T-Swift has won 271 awards and it's been almost six years since I founded my tech company, Revel Systems.
Women working in business--especially those here in San Francisco--often talk about the great examples we have like Sheryl Sandberg and Marissa Mayer. But there's also a lot to be learned from businesswomen outside Silicon Valley and outside of what we might think of as traditional business. Here's why we should all be emulating Taylor in business, rather than speculating about her love life.
She follows her intuition
Now that 1989 was the best-selling album of 2014 in the US and won the Album of the Year Grammy, it's easy to forget that Taylor was originally an established country music star when she released this pop album. Even her own label was urging her not to break the mold and to put at least a few country songs on the album to appeal to her original fan base. There are always outside voices pressuring you one way or the other in business. Advice is helpful to a point, but ultimately it's our job to know our business best, and to use our own intuition to anticipate how customers and in Taylor's case, her fans, will react to changes in our brand.
She's a true innovator
I believe that the best entrepreneurs are iconoclasts breaking the mold of what came before them. Like Steve Jobs transformed consumer technology, Taylor has raised the bar for top artists in her industry. Taylor writes her own music, a commitment to songwriting that's unusual in today's music industry. She's so talented that skeptics didn't believe that she wrote her own songs as a teenager until she solo authored all of the songs on her third album, Speak Now. She was also the first to come out with doing a smaller number of stadium concerts but making the shows she did do extremely impactful. Her self-reliance is a great reminder that the best entrepreneurs have serious skin in the game and are deeply engaged in creating their own product.

She stands up for her values
When Apple Music unveiled its plans to withhold royalties to musicians during the 3-month free trial period it offered subscribers, Taylor went to bat for her industry. In a stance to protect the rights of musicians, she told Apple in a now-famous Tumblr post that she planned to pull her music from the service unless they compensated artists fairly. Apple quickly changed its policy and Taylor is now a spokesperson for Apple Music. It's possible to set strong terms and still maintain the valuable relationships that fuel your business. Part of what allowed her to do that was the respectful and transparent way she interacted with Apple, even as she criticized its policy. More recently, Taylor chose to take on another media giant, YouTube, by challenging current copyright law with 179 other recording artists. Time will tell how that battle will play out, but her consistency in standing up for her own values remains unquestioned.

She's a genius marketer and her fans come first
Like any great business leader, Taylor understands the need to have an unwavering commitment to her customers--the fans in her world. She interacts with them directly, giving breakup advice over social media, sending fans "Swiftmas" gifts, and inviting them to secret listening parties in her homes. Her fans were the first to be thanked in her 2015 Grammy acceptance speech and at the 2013 BMAs she told them, "You are the longest and best relationship I've ever had." Her consistent sincerity and openness fuel a loyalty to both her and her brand that runs deep. This is a lesson that every business, especially some of us here in the Valley, could stand to learn. Sometimes I see business leaders prioritizing venture capitalists or pleasing the board above all else, but customers are the lifeblood of every business. Our businesses can't survive or thrive without their support, and they should be given the time and attention they deserve.
She shakes it off and keeps moving
I stay up too late, got nothing in my brain
That's what people say mmm, that's what people say mm
I go on too many dates, but I can't make 'em stay
At least that's what people say mmm, that's what people say mmm
The opening words of my favorite Taylor song portray some of the heat she's taken from the media and just the general haters out there who don't want to believe in her. The criticisms are ridiculous when you really look at them. She's a serial dater for dating two guys in the course of a year? When she was 25 years old? Really? People tried to spread rumors that she didn't write her own songs, when in fact she did. They tried to make her look like a clingy and desperate woman when it came to dating. They tried to tear her down and discredit her accomplishments, but they didn't win.

In her 2015 Album of the Year Grammy acceptance speech, Taylor gave advice to women that I think applies very well to female entrepreneurs:
"I want to say to the young woman out there, there are going to be people along the way who try to undercut your success or take credit for your accomplishments or your fame. But if you just focus on the work and you don't let those people sidetrack you, someday when you get where you're going, you will look around and you will know it was you and the people who love you who put you there, and that will be the greatest feeling in the world."
Shaking it off is the most valuable lesson I've learned from Taylor. It's such good advice for entrepreneurs and especially female entrepreneurs. People still don't want to believe women can do it. When they try to tear you down, the best thing to do is "shake it off and keeping moving." Eventually, you learn who to trust and the process makes you better and smarter. Until then, listen to one of the most brilliant and entrepreneurial artists alive today and shake it off.
Calling all HuffPost superfans!
Sign up for membership to become a founding member and help shape HuffPost's next chapter