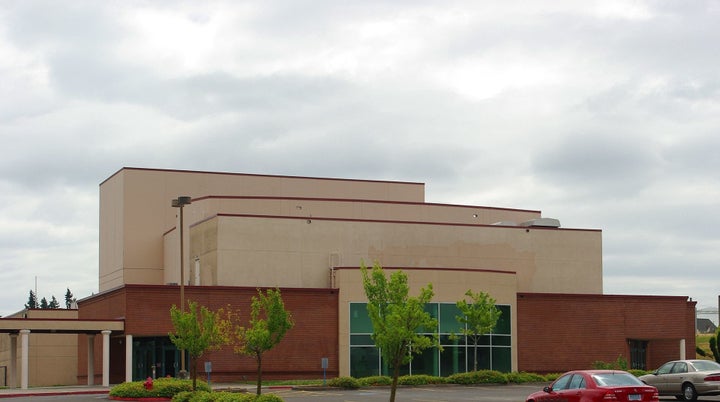 A group of students at a high school in Tualatin, Oregon, began organizing online after they said girls were told that administrators would side with male students accused of sexual assault. 
Students from Tualatin High School started writing anonymously in March on a web page, titled "Project Girls With Guts," sharing similar perceptions that school officials seemed skeptical of their claims about sexual assault and harassment. Some said they never told school officials, or anyone at all, due to shame about what happened to them. 
While a couple of students writing on the website and who spoke with The Huffington Post do state that people like the principal were supportive, and that administrators talked them through how to file a police report, the students involved with the website say that it was upsetting comments from school officials that prompted them to speak out online. 
They describe the Girls With Guts campaign as a community of "allies, fellow survivors and people who want to make a difference."
"I think it comes naturally for teens to look to the Internet," said Ali Safran, who frequently leads workshops on preventing sexual assault among high school students. "I also sort of see it as a result of using the Internet where you feel like, as a young person, you won't be listened to any other way."
Girls at the school had started talking this semester about their sexual assault and harassment experiences with friends, and they started to realize some of their classmates had experienced similar situations. 
In mid-March, one of the girls posted a tweet out of frustration claiming that Tualatin won't let kids wear bandanas because of gang violence but they're ok with making victims walk the same halls as their rapists. School officials allegedly threatened her with "serious consequences" if she didn't delete it, so she complied.
Speaking generally, the school told HuffPost, "From time-to-time, we do ask a student to remove a social media post."
The response from a counselor, according to two of the students in the meeting: "You have to remember accusations are just accusations."
Angi Coleman had just moved to Florida in February, but was still very much tapped into her network of friends at TuHS, the common abbreviation for the school. When the school asked its student to delete the tweet criticizing the school's policies toward sexual misconduct, Coleman's circle of friends began to discuss their own experiences of sexual abuse and harassment. They "became really livid with the way the school and the justice system failed to protect us," Coleman told HuffPost.
Two Tualatin High Schools students explained in interviews what happened when they reported the same boy for sexual assault. (Their names aren't being used as they are minors alleging they were sexually assaulted.)
They said that in late February, they, and another realized they'd had similar experiences with the same boy, so they joined together to tell the administration, which referred them to on-site police officers. City cops told them they couldn't move forward with charges because there was no available evidence, the students said. 
City police told HuffPost they are "not authorized to release any information regarding these cases, as they involve juveniles and the cases have been sent to the Department of Human Services."
With the understanding that police wouldn't be taking action, the girls went back to the school to try to see if there could come to some arrangement to remove him from certain classes, they said. 
The response from a counselor in a meeting, according to the two students: "You have to remember accusations are just accusations."
The boy wouldn't be sanctioned, and if he were to get into any trouble with the school, the counselor said Tualatin would advocate for him, the two students said. If they wanted to avoid coming into contact with him, they had to take it upon themselves. 
Another student who spoke with HuffPost said she too did not receive help ensuring that the boy she said sexually assaulted her would not be in her classes. Police similarly told her that they would not press charges due to lack of evidence. With the accused boy still in school, she said, it created anxiety she might end up seated a few feet from him in class.
"It throws off my mind when I'm trying to get an education and graduate," the girl said.
When Huffpost contacted the Tigard-Tualatin School District it declined to address the specific complaints from the students, but said it takes their reports "seriously."
"We immediately provided the information they gave us to the Tualatin Police Department," the district said. "When no charges were pursued, we asked the police to review their investigation. Our counselors and school administration have been providing ongoing support for students and their families since we were made aware of this situation. Typically, when charges are made which are substantiated through investigation, we do our best to separate students from having classes together -- to the extent possible."
After hearing multiple stories of her friends at TuHS still walking the halls with boys who allegedly assaulted them, Coleman said she decided to do something about it.
It sparked something bigger. We actually have a bigger voice than we thought we could have."

One of the students at TuHS, who said they were sexually assaulted.
Coleman and a couple of other friends drafted a list of questions about sexual violence and posted on a personal web page -- that's how "Girls With Guts," started. Coleman issued a callout on Twitter to her peers for submissions. She got 24 responses within just a couple of days, which shocked her: "Some haven't even told their parents but they told me about it." 
The responses have all been posted on the website, but with names redacted for most of them. At the top, Coleman wrote why they're speaking out at all:
We're tired of being silenced. Tired of having our voices unheard, being told our stories aren't true, our bodies aren't really ours, what we say doesn't really matter. That if it really happened, our abuser would be in jail. But that's just the thing. The validity of our experiences doesn't depend on whether or not our perpetrator is behind bars, whether or not the justice system believed us, whether or not anyone believed us.

The pain that we feel is real. It is legitimate. It is valid. It is important. It deserves to be heard.
"The problem with some girls at Tualatin being as open as I can be, is that they're at risk for getting expelled whereas since I don't go there, I don't have that risk," Coleman explained. 
Aside from the activism of critiquing the school's response, students at TuHS are taking other forms of action. The school feminist club Advocates for Gender Equality is co-sponsoring an event with neighboring Sherwood High School's Club Fem on May 9 called "Speak Up -- Raising Awareness of Sexual Assault." The idea for that event was conceived the same week that the Girls With Guts page went live in March. 
Students arranging the "Speak Up" event say it'll be mostly educational with presentations on rape culture by local professors, people performing slam poetry and survivors sharing their experiences, as well as information on how supporters and advocates for sexual assault victims can help.
"No one really intended for this to happen," said one of the students involved who said she was assaulted. "It sparked something bigger. We actually have a bigger voice than we thought we could have."
Calling all HuffPost superfans!
Sign up for membership to become a founding member and help shape HuffPost's next chapter