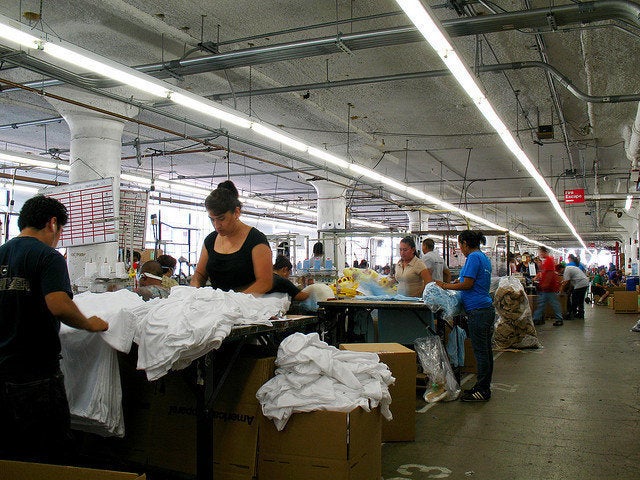 An American Apparel factory worker died last Friday at California's West Anaheim Medical Center after being crushed by a circular knitting machine, the OC Register reported.
Tuan Phan, a resident of the Anaheim suburb Garden Grove, was 49 years old at the time of his death, Orange County's supervising deputy coroner Mitchell Sigal confirmed to The Huffington Post. Sigal declined to release any more information about Phan's death but noted that a public report would be available soon. A call to the Garden Grove police department was not immediately returned.
Patricia Ortiz, a spokesperson for California's Division of Occupational Safety and Health (Cal/OSHA), spoke to HuffPost about the incident and shared portions of an initial report filed by the department. While the investigation is still pending, the report states that Phan was attempting to remove a jammed roll of fabric from the circular knitting machine. He walked into the cage of the machine when the equipment suddenly turned on, crushing Phan. A co-worker found him unconscious and dialed 911. Maintenance crews had to "de-energize" the machine when emergency responders arrived at the scene. The fire department responders transported Phan for medical treatment, but he died moments after reaching the local hospital.
The report also states that a very similar -- though non-fatal -- incident happened at a Los Angeles American Apparel factory in 2006. Like Phan, an employee entered the circular knitting machine to free some jammed fabric when a coworker, not realizing there was someone inside, turned on the equipment. The worker inside the cage was hit by a rotating drum and needed an ear amputation.
Cal/OSHA noted another similarity between the Garden Grove and the Los Angeles incidents: "The general manager and plant manager of the Garden Grove facility were managers at the Los Angeles facility when that serious accident occurred."
A spokesperson for American Apparel referred The Huffington Post to the company's lawyer, Peter Schey. Schey told The Huffington Post that the company awaits further results of the investigation by Cal/OSHA. In an official statement sent to HuffPost, Schey said, "The safety and security of our workers is CEO Dov Charney's top priority. We extend our sincerest condolences to Tuan's family and friends during this very sad time and will support the family in any way possible."
In August 2010, another American Apparel worker died while on the job, but his death was related to a preexisting medical condition, LA Weekly reported.
This story will be updated as information becomes available.

Related
Popular in the Community