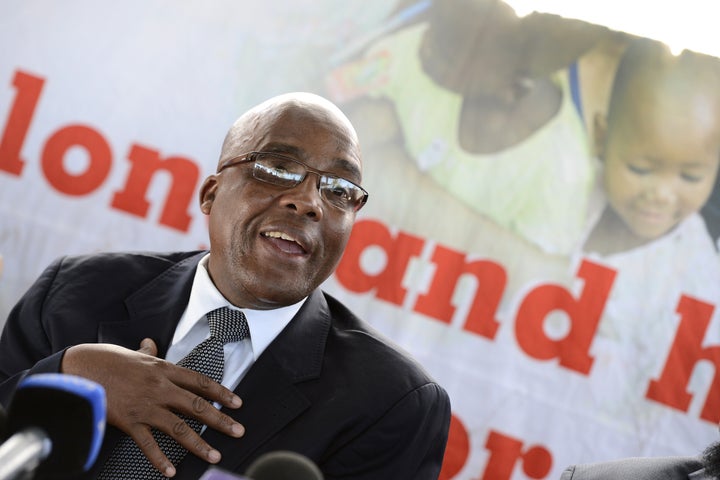 Aaron Motsoaledi is tired of delivering the same spiel over and over again.
No matter how many times the charismatic health minister of South Africa speaks out, people don't seem to grasp the threat presented by tuberculosis, now the No. 1 infectious killer in the world.
"People think it's a curable disease that's been there for ages, so what's new? I think that's the mentality," Dr. Motsoaledi told The Huffington Post.
As chair of the Stop TB Partnership, a group of public and private leaders hosted through the United Nations Office for Project Service, he has seen the eyes of bureaucrats around the world glaze over when he brings up TB. And yet 4,100 people die every day from the disease.
His own country is one of the hardest hit. Motsoaledi has pushed to organize a comprehensive TB strategy for South Africa and its neighbors. In South Africa, they've targeted those who work in the country's mines and inhabit its prisons, two communities where TB rates are particularly high.
Death by tuberculosis, he said, "happens very slowly, maybe in a corner somewhere, in an isolated hospital ward, with nobody watching, so it doesn't evoke any emotion. Maybe that's what's at play around the entire world."
HuffPost spoke with Motsoaledi about the growing threat of tuberculosis ahead of World TB Day on Thursday.
In your own words, what is the TB global health crisis?
It's growing, even though we've made inroads since 1990. But the fact that TB has been there for the past 200 years -- I'll say we went into some form of relaxation and started relaxing and believing that this is a disease for which you have got a cure.
Now the biggest problem we are having is that, unlike HIV and AIDS, unlike Ebola, unlike Zika, TB doesn't seem to be having a fear effect. People are all right with it, despite the body count. You can show the body count, but as long as it's from TB, it doesn't seem to be touching people. They seem to be having accepted it as a normal progression of events on the planet that something like this must happen.
With the advent of Ebola in West Africa, 6,000 kilometers away from us in South Africa, everybody was worried to death to an extent that they were attacking me every day -- the media, the public, members of Parliament. They were telling me I'm not doing enough to stop it. ...
But 12 months later, 40,000 people dead of tuberculosis [in South Africa] and not a single one died of Ebola. 40,000! But still that did not change the situation. Nothing changed.
Why do you think there isn't the same "fear effect" for tuberculosis?
People think it's a curable disease that's been there for ages, so what's new? I think that's the mentality.
In South Africa, I called the unions -- we have very strong unions in the mines, the National Union of Mine Workers -- I called them together with the other unions and was showing them statistics.
For instance, in 2009, 80 people died in mining accidents -- you know, rockfalls and other accidents in the mines. And everybody heard about it [and they were] extremely angry, and understandably so. It's an emotional thing.
I showed them that over the same period that same year, 1,500 [miners] died of TB, but it never raised any flags. Maybe part of the problem is that, for instance, [with] a rockfall in the mine, the death is very traumatic.
The TB death happens very slowly. It's a process, not really an event. It happens very slowly, maybe in a corner somewhere, in an isolated hospital ward, with nobody watching, so it doesn't evoke any emotion. Maybe that's what's at play around the entire world.
What should be done globally to deal with the health security threat posed by drug-resistant strains of TB?
Look, we are now waking up to be faced with antimicrobial resistance. We are possibly faced with a post-antibiotic era, which is very scary -- where ordinary drugs cannot be used to treat ordinary infections. And one-third of the death from antimicrobial resistance is TB. ... That's a high number, a very high number.
The other problem being that because TB is airborne, nobody is safe from it. I usually tell people that I can stand up on a platform and announce to the whole world that I'm not going to [become] HIV positive. I'm not, and I can confidently say so, and it will happen because I'll know what to do not to get HIV.
But no single human being can stand up on any platform and announce to the world that they will never get TB. Nobody can say that. Anybody that says that will be lying. ... All that it needs is for you to breathe, and we all breathe continuously.
Last November, the Stop TB Partnership released a report, "The Paradigm Shift: The Global Plan to End TB," which lays out the steps needed to eradicate tuberculosis. Do you think it's starting to shift people's perspectives on TB?
Not yet. I will really feel there has been a paradigm shift if we are able to reach all heads of states. I don't think we've been able to. Within the U.N. itself, who is a champion general? Who is going to be talking about TB -- compared with Ebola, compared to malaria, compared with Zika now, compared with HIV?
Until this issue goes to high-level meetings with heads of state, I won't really say that paradigm shift has taken place.
Also, we will say the paradigm shift has taken place when, like us in South Africa, most of the money for TB comes from internal sources rather than from donors like Global Fund [a public-private partnership that supports anti-AIDS, TB and malaria programs]. At the moment, the Global Fund is the biggest donor for TB processes, and many countries rely on that only.
It'd be helpful if heads of state see the need that their own revenue must be utilized. Eighty percent of the treatment in South Africa is [our] own revenue, and we'd like to see the whole world doing that.
If you had all the money in the world to dedicate to TB, where would you start?
We have calculated in the Stop TB Partnership what it will take to stop TB. If we are not to spend many, many decades fighting the disease, we need urgent intervention. We need a vaccine immediately.
We are going to struggle for a very long amount of time, spending huge amounts of money. But if we could get a vaccine, it would be a complete game-changer. Just like it happened with smallpox, just like it's about to happen with polio.
The [World Health Organization] is on the verge of announcing that polio has been wiped off the face of the Earth. We need something like that for TB. I am very eagerly looking forward to the day that that happens.
This interview has been edited for clarity and length.
Popular in the Community