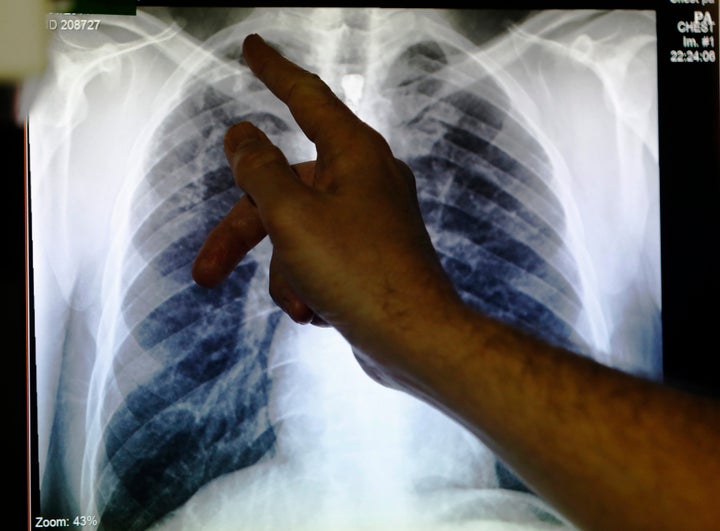 The number of tuberculosis cases is at its lowest point since the Centers for Disease Control and Prevention began reporting it in 1953. But the decline is far from enough to eliminate the treatable and curable disease in the U.S. during this century, the agency stressed.
A further dramatic drop in cases will be needed to accelerate efforts to wipe out the disease, and that won't be possible without marked investment in programs to control TB and tackle latent infections, experts said.
"With better diagnostic tests, shorter treatments, and new guidelines to assist physicians in testing, the United States has a greater opportunity than ever before to eliminate TB in this country," Dr. Philip LoBue, director of CDC's Division of Tuberculosis Elimination, told HuffPost in an email. "Though we've come a long way, these data are a reminder that we must intensify our efforts and expand a dual approach to put an end to this disease."
However, Donna Wegener, executive director of the National TB Controllers Association, a group of public health officials, said she worries the surveillance data doesn't tell the full story of TB in the U.S.
"Despite the lower cases reported for 2017, we still have a lot of work to do as any significant number of cases in the U.S. of a disease that is totally preventable and curable should not be tolerated," Wegener said.
She pointed to the rising number of cases in New York City as particularly alarming, considering the city is recognized for expertise and best practices for fighting TB.
Erica Lessem, deputy executive director of the TB project at advocacy organization Treatment Action Group, said last time cases jumped in New York was the horrific TB outbreak of '80s and early '90s that cost the city over $1 billion to control.
Data collected by the group shows that overall federal, state and local funding for New York's TB efforts has dropped by more than half in inflation-adjusted numbers, to $14.7 million, from $34.3 million in 2007.
"We're seeing a similar pattern of TB cuts at the federal, state and local levels, and we're very concerned this is a harbinger of what's to come," Lessem said.
Treatment of one case of tuberculosis can cost from $18,000, to over $500,000 for drug-resistant forms of the disease.
That flat funding sends a mixed message on fighting TB, Wegener said.
"We've really exhausted what we can do given the current resources."
While half of all reported TB cases are in New York, California, Florida and Texas, 19 states saw an uptick in the latest data. Connecticut, Tennessee and Colorado show significant rises.
According to the CDC's LoBue, reactivation of latent TB infection is the "primary driver of TB cases in the United States."
About 13 million people in the U.S. have latent tuberculosis, the nonactive form of the disease. The CDC has called the number of infectious TB cases in the U.S. the "tip of the iceberg," as some 5 percent to 10 percent of people with latent TB will progress to active tuberculosis. That means as many as 1.3 million cases of infectious tuberculosis could become activate in the U.S. over the lifetimes of people with latent TB.
Wegener warned that without more proactive treatment of TB ― screening through local health care providers, increased education and other outreach ― that reservoir of lurking TB could cause future case numbers to increase.
"We have the ability to be one of the first countries to eliminate TB," Wegener said. "But we've really exhausted what we can do given the current resources."
CORRECTIONS: This article previously misstated the percentage decrease in TB cases last year, due to an error on the CDC's fact sheet, and misspelled Erica Lessem's last name.
Popular in the Community