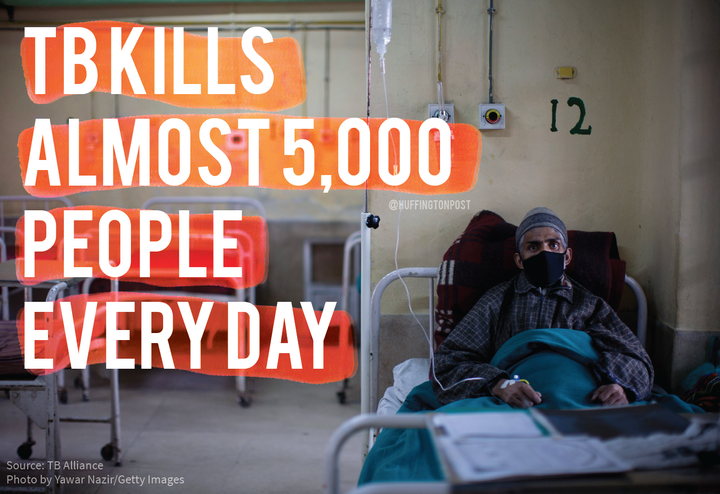 Every minute, three people die of tuberculosis, the world's top infectious killer, even though the scourge is treatable and curable.
And usually on World TB Day on March 24, the global health community rallies around that point. Then another year goes by.
But this year, advocates agree, the energy is different.
"I've been at this a long time and seen issues like HIV be a focal point and a rallying point, and there's a point where an issue reaches a critical mass," Dr. Eric Goosby, the U.N. special envoy on tuberculosis who previously served as the U.S. Global AIDS coordinator, told HuffPost. "I think we're at that moment."
David Bryden, a TB advocate for the nonprofit Results, also stressed the importance of the groundswell in attention and the resulting political will surrounding TB.
"The shift is real," Bryden told HuffPost. "This is real momentum that we're seeing."
Top world leaders have begun to rally around the fight to end TB in the past year, kicked off in November by Russian President Vladimir Putin. Russia faces some of the highest rates of multidrug-resistant TB ― a deadlier form of the disease. Putin spoke of the need to address TB not only at home but also globally, saying, "I am convinced that only together by closing the ranks will we be able to counter the threat which has acquired truly global character."
Putin and Modi's commitments will hopefully spur other world leaders to do the same, Dr. Tedros Adhanom Ghebreyesus, director general of the World Health Organization, told HuffPost in an email two weeks ago.
"We hope this produces a snowball effect and that other world leaders step up and commit to an ambitious plan of action to rapidly drive down TB deaths and suffering."
Only four other such meetings have been held: one for HIV/AIDS in 2001, one for noncommunicable diseases in 2011, one for Ebola in 2014 and one for antimicrobial resistance in 2015.
"We have no more time anymore to wait," Dr. Tereza Kasaeva, the new director of the World Health Organization's Global TB Programme, told HuffPost. "If we do not succeed in this period, we will have failed."
And the language itself around the fight against TB has begun to shift, according to Irene Koek, the senior deputy assistant administrator in the U.S. Agency for International Development's Global Health Bureau, who has worked on TB for decades.
She pointed to USAID head Mark Green's repeated public insistence that this is "a fight we can win."
"If we do not succeed in this period, we will have failed."
Goosby also highlighted the change in attitude toward the fight against TB, saying it was pivotal in attracting top political leaders to the fight.
"It's an opportunity for political leadership to see this as their personal legacy in each country, as ending TB is doable," Goosby said. "We are within the point where you can see progress in two to three years, which is well within a politician's tenure."
And those kinds of promises from world leaders lead to a trail of accountability that leads to progress, according to Goosby ― a sentiment that Kaseava echoed.
"The idea is that we should not only be active on World TB Day," Kasaeva said. "A day should become a week, a week should become month, a month should become a year."
Popular in the Community